Examination of the JVP should be conducted with the patient supine at a 45º angle.
Assessment of the JVP can be very challenging in clinical practice. It takes time and practice, so don't be disheartened if you're unable to do it straight away.
Set-up
Traditionally, the right IJV should be assessed from the right-hand side of the bed. Therefore, the patient needs to be placed in the correct position.
The patient should be lying supine at a 45º angle
The neck should be extended with the sternocleidomastoid muscles relaxed
Ask the patient to turn their head slightly to the left
Identify the IJV
Try to visualise the right IJV that will be located between the ear lobe and the medial end of the clavicle. It may be visible just above the clavicle between the two heads of the sternocleidomastoid. In a very elevated JVP, the venous pulsation may cause the lower part of the ear lobe to pulsate or wiggle.
A light source (e.g. pen torch, bedside lamp) may be used to shine light across the neck to improve visualisation. This should be tangential (i.e. light shone on an object at a very low angle).
Measurement of JVP
Assessment of the height of the column of blood within the IJV gives us the JVP height. This measurement is combined with the distance from the mid-right atrium to the sternal angle:
JVP height: length (cm) of the jugular venous column above the sternal angle
Right atrium to sternal angle (5 cm)
The combination of these two measurements gives an estimation of right atrial pressure (JVP height + 5 cm). In healthy individuals, the JVP height should be < 3cm when lying in a 45º supine position.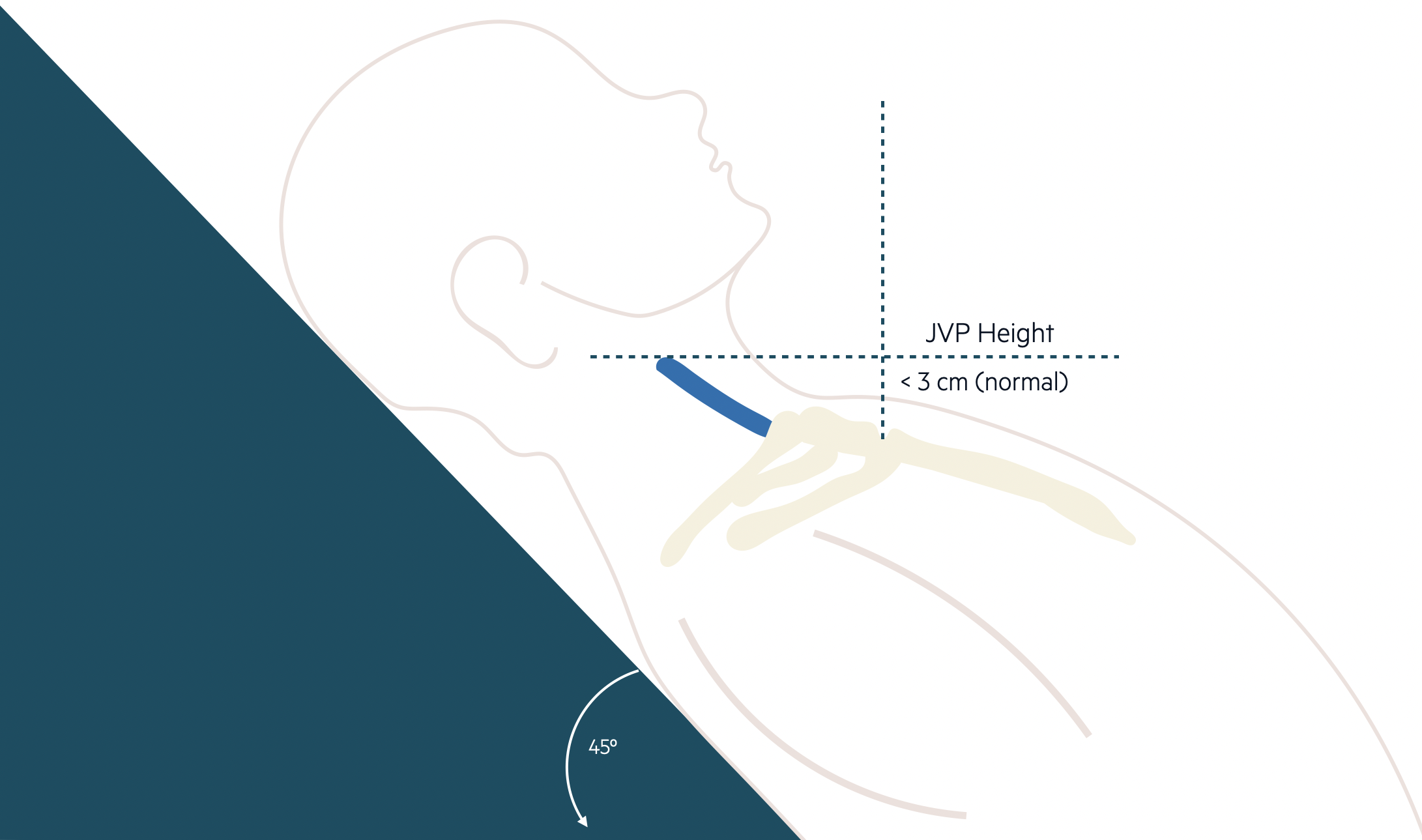 Measurement of the JVP
Differentiating venous and arterial pulsation
The jugular venous pulse has a characteristic double pulsation within the neck. However, it can be difficult to differentiate this from the arterial pulsation of the carotid artery. The following features help differentiate the two pulses:
Number of pulsations: the JVP has two pulsations, whereas the carotid has one
Effect with inspiration: the JVP will fall on inspiration. The carotid is unaffected
Compression: the JVP pulsation will cease if the base of the neck is compressed. The carotid is unaffected
Hepatojugular reflux (see below): the JVP pulsation may increase on abdominal palpation. The carotid is unaffected
Palpation: JVP pulsation is not easily palpable, whereas the carotid pulse is easily felt
Using the EJV
When it is difficult to visualise the IJVs (right or left), the EJV may be used to estimate the JVP but it is less reliable. This is because it is not in direct line with the right atrium and two tight angulations.
Assessment of the EJV
Compress lower EJV: place a finger just above the clavicle to compress the lower EJV
Time to distend: allow a short time for the vein to distend from above (due to draining blood)
Compress upper EJV: place a second finger to compress the EJV superiorly
Release: release the first finger that is situated just above the clavicle
Assess column height: the venous pressure can now be measured as the best reflection of right atrial pressure