When a rhythm originates from above the ventricles in the atria, it is termed a supraventricular rhythm.
SR is an example of a supraventricular rhythm, which originates within the SAN above the ventricles. However, when we discuss 'supraventricular' rhythms we are usually referring to ectopic rhythms that originate from an abnormal position.
If the AVN node and His bundle complex are in tact, electrical activity that is derived from any supraventricular area (including the AVN itself) will pass normally through the ventricular conducting system. This means the QRS complex, which is a marker of ventricular depolarisation, will remain the same. In other words, it remains narrow (< 120 ms). Therefore, an ectopic supraventricular rhythm is seen as an abnormality in the preceding P wave and/or PR interval.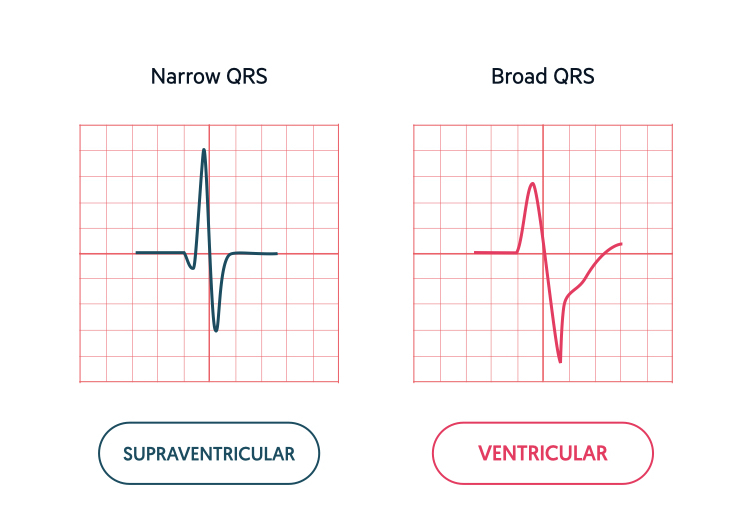 NOTE: The caveat to this rule is the presence of a bundle branch block, which will appear as a wide QRS (> 120 ms) even if the rhythm has a supraventricular origin.
Origin of supraventricular rhythms
An abnormal supraventricular rhythm may arise due to failure to generate or propagate (transmit) electrical activity leading to the concept of an escape rhythm. An escape rhythm is when another area of the conducting system (e.g. AVN) kicks in as the primary pacemaker for that, and any subsequent, cycles. An example is a junctional escape (electrical activity initiated in the AVN).
In a sinus pause, there is failure of the SAN to generate a P wave. This leads to a pause on the ECG followed by the SAN node kicking in again or an escape beat from pacemaker cells lower down.

Alternatively, an abnormal supraventricular rhythm may arise because another area has initiated, and potentially continued to initiate, electrical activity. Common supraventricular rhythms include atrial ectopics (discussed below), atrial tachycardia, atrial fibrillation, atrial flutter and supraventricular tachycardia (nodal and non-nodal). In each of these rhythms, initiation of ectopic electrical activity has a unique aetiology.