There are different patterns of ST elevation on the ECG, which depend on the underlying cause.
Myocardial ischaemia
An acute STEMI typically presents with ST elevation of varying morphology. The ECG criteria for a STEMI is broadly defined as a ≥2 mm ST segment elevation in 2 contiguous chest leads or ≥1mm ST segment elevation in 2 contiguous limb leads (there may be slightly different variations of these ECG definitions based on age and sex).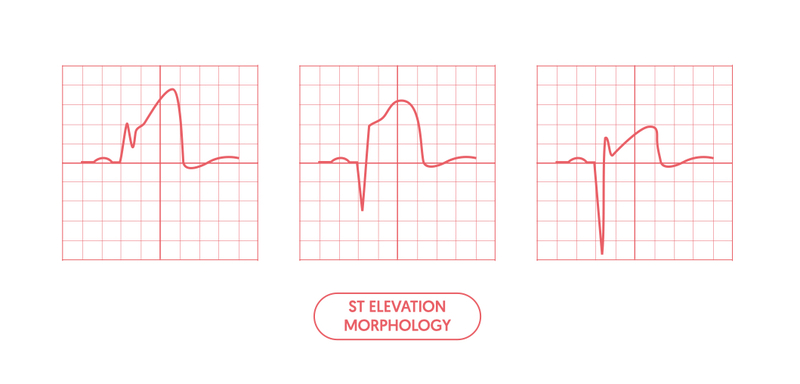 The ST elevation usually occurs alongside Q waves and will occur in the leads that represent a coronary artery vessel territory:
Anteroseptal STEMI: V1-V4
Lateral STEMI: V5-V6, I, aVL
Inferior STEMI: II, III, aVF
Posterior STEMI: no ST elevation on routine ECG. Dominant R wave V1. May be ST elevation by placing posterior leads V7-V9.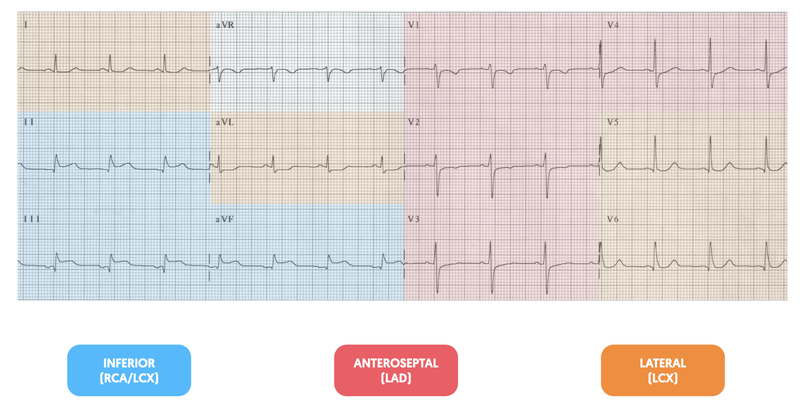 During a STEMI, there are usually reciprocal changes. This refers to ST depression in the leads opposite those with ST elevation. Typical examples:
Anterolateral STEMI: inferior ST depression (II, III, aVF)
Lateral STEMI: inferior ST depression (II, III, aVF)
Inferior STEMI: lateral ST depression (aVL, I)
Posterior STEMI: anterior ST depression (V1-V3)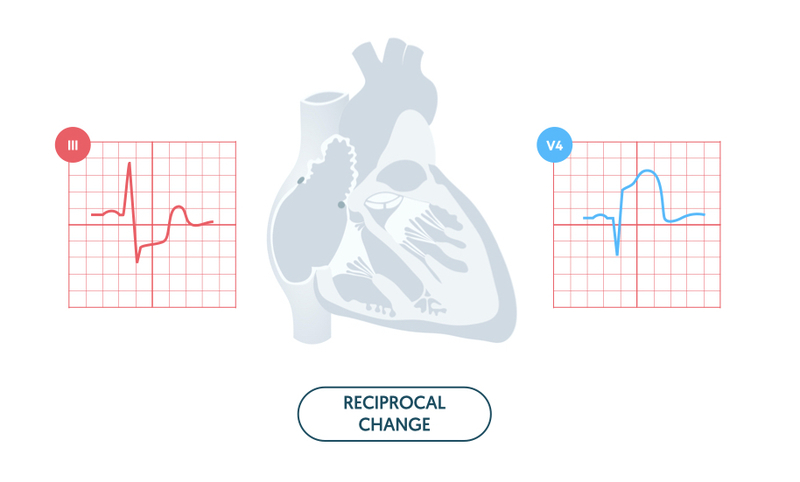 Several characteristic ECG changes occur during the natural history of a STEMI.
Minutes to hours: hyperacute T-waves
0-12 hours: ST-elevation
1-12 hours: Q-wave development
Days: T-wave inversion
Weeks: T-wave normalisation and persistent Q-waves
Pericarditis
This refers to inflammation of the lining of the heart known as the pericardium. It leads to classic saddle-shaped ST elevation that is widespread and not related to a coronary artery territory. The other salient feature is PR depression. If reciprocal changes occur, they will be seen in aVR as ST depression and PR elevation.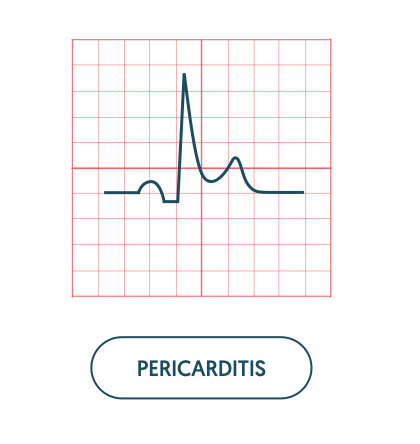 Early repolarisation
This is a benign condition that is seen as mild ST elevation and tall T waves, particularly in young, healthy patients. There may be notching of the J point, which refers to the junction between the end of the QRS complex and start of the ST segment. In clinical practice, early repolarisation is often referred to as 'high take-off'.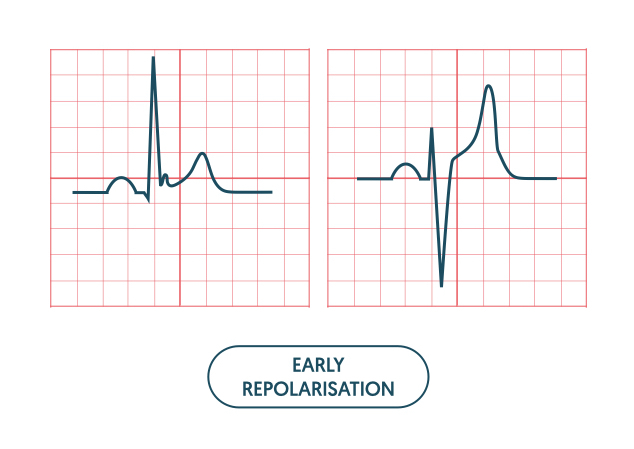 Other
There are various other causes of ST elevation including left bundle branch block, left ventricular hypertrophy, ventricular aneurysm, ventricular paced rhythms and Takotsubo Cardiomyopathy (otherwise known as broken heart syndrome).
Finally, the inherited channelopathy Brugada syndrome can cause a classic ST elevation with partial right bundle branch block pattern in V1/V2.