The two important side-effects of statins are drug-induced liver injury (DILI) and myopathy.
Statins are associated with a number of mild side-effects. These range from gastrointestinal disturbances to headaches. Important serious or rare side-effects include DILI, myopathy and neuropathy. There are some statin-specific side-effects like angio-oedema that is associated with atorvastatin.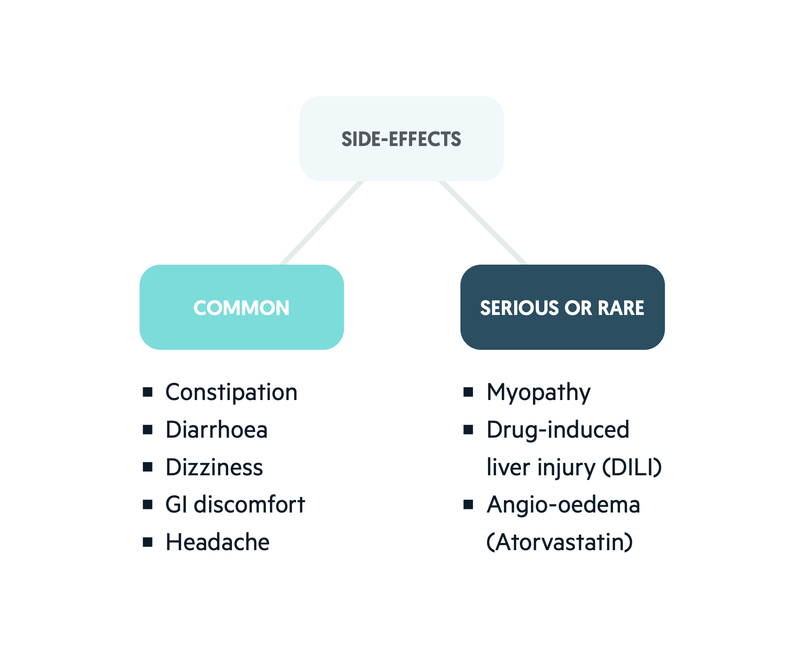 Drug-induced liver injury
Statin therapy has been associated with development of varying degrees of severity of DILI. Patients with features of hepatotoxicity should have liver function tests checked and NICE recommend routine checks at 3 and 12 months. If transaminases are >3 time upper limit of normal, discontinue statin.
Myopathy
Myopathy describes any type of muscle disease. Statin therapy is associated with a spectrum of skeletal muscle disorders. These disorders include:
Myalgia (muscle ache, normal creatine kinase)
Myositis (muscle pain and weakness, inflammation, creatine kinase elevated)
Rhabdomyolysis (muscle pain and weakness, inflammation, muscle breakdown, creatine kinase markedly elevated).
Immune-mediate necrotising myopathy (muscle pain and weakness, immune-mediated inflammation, mild-to-moderate CK elevation)
Rhabdomyolysis can be a life-threatening condition associated with acute kidney injury, disseminated intravascular coagulation and multi-organ failure. In patients with muscle cramps and elevated creatine kinase (CK), statins should be discontinued. In mild episodes of myopathy, statins can be reintroduced at a lower dose but expert advice should be sought.