Methods that are used in the collection of data include questionnaires, in-depth interviews, clinical measurements, medical notes and detailed clinical descriptions.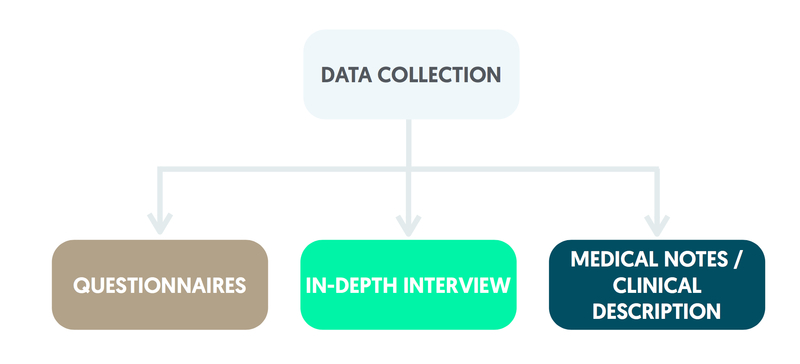 With most questionnaires, the focus is on closed questions that have a short list of responses. A single response may be requested although some questions allow two or more responses to be selected.
For a Likert scale, responses are ordered (e.g. strongly agree, agree, indifferent, disagree, strongly disagree). A visual analogue scale allows a patient to mark the point on a horizontal line that describes their level of pain where the left and right extremes of the line represent no pain and the highest level of pain imaginable respectively. Open questions, usually just a few at the end of a questionnaire, allow the patient to response in their own words.
Data from closed questions can be analysed by frequency counting, cross tabulation and statistical methods. Responses to open questions are listed and frequently made comments are highlighted.
Patient views can be explored in detail using in-depth interviews. A transcript of the discussion is created, which is analysed by looking for recurrent themes emerging from the interviews. In-depth interviews can take around an hour to conduct whereas a questionnaire might only take 5 or 10 minutes, so best use of staff time needs to be considered carefully at the planning stage. It is not necessarily true that questionnaires are better than interviews; the appropriate method needs to be selected. For studies that involve patient follow-up, a member of the research team may take routine clinical measurements. Medical notes are another useful source of information.