Patients with suspected acute pericarditis require formal assessment, blood tests, ECG, CXR and echocardiogram.
Blood tests
FBC
U&Es
CRP
Troponin: if elevated, suggests myocardial involvement (i.e. myopericarditis)
Selective blood tests may be completed based on suspected aetiology. These include cultures, virology, autoimmune screen or tuberculosis work-up.
ECG
The characteristic ECG findings are widespread saddle-shaped ST elevation with PR depression.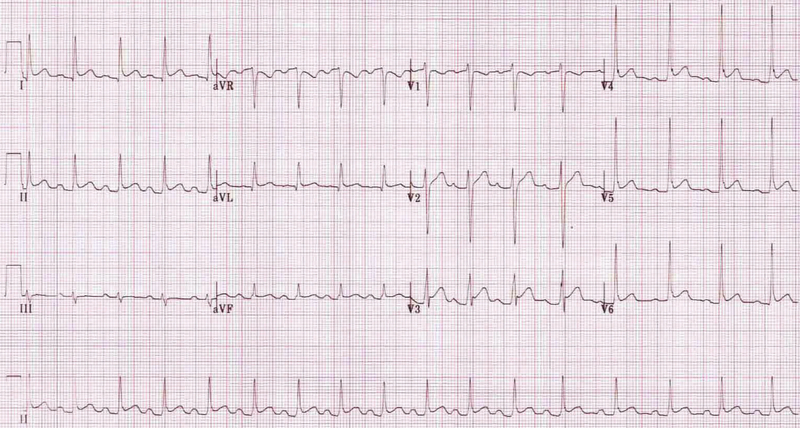 ECG showing widespread saddle-shaped ST elevation
Image courtesy of Popfossa
Most cases show ST elevation in both limb and chest leads. May be difficult to distinguish from myocardial infarction or benign repolarisation. T wave changes and q waves rarely seen in acute pericarditis, which would favour myocardial infarction. Reciprocal ST depression sometimes seen in aVR and V1 as shown in ECG above.
Chest x-ray
Useful to exclude an alternative diagnosis in any patient presenting with chest pain. In addition, helps exclude pneumonia if raised inflammatory markers. May show enlarged cardiac shadow if significant pericardial effusion.
Echocardiogram
In acute pericarditis, typically normal. Essential in patients with suspected pericardial effusion as helps to quantify amount and assess for any haemodynamic compromise of cardiac function.
Useful if concern regarding myocardial infarction or myocardial involvement. Able to look for any regional wall motion abnormalities that represent focal areas of myocardial dysfunction due to myocarditis or ischaemia.
Other
Cardiac MRI and CT may be needed in specific cases. Cardiac MRI is useful for the assessment of myocardial involvement. CT is useful at assessment of surrounding pulmonary and pleural structures that may suggest a specific underlying cause (e.g. tuberculosis).