Management of AF comprises a combination of rate control, rhythm control and prevention of thromboembolic events.
NICE released new guidelines (NG196) for the diagnosis and management of AF in 2021 (NG196). This summarises the key components of management including:
Rate control
Rhythm control
Management of acute AF
Prevention of thromboembolic events
In any new-onset AF, the underlying causes should be identified and treated (e.g. antibiotics for infection, antiplatelets for myocardial infarction). A decision then needs to be made as to whether patients should be treated with a rate or rhythm control strategy. Finally, patients need to be risk-stratified to decide on whether anticoagulation to reduce the risk of embolic events (e.g. stroke) is appropriate.
Other useful guidelines include the European Society of Cardiology 2020 guidelines.
Rate control
This is the most common type of management and aims to control AF that presents with a fast ventricular rate. In patients with AF that is not of acute onset, rate control is usually the first-line strategy.
Options include:
Beta-blockers (e.g. metoprolol, bisoprolol)
Rate-limiting calcium channel blockers (e.g. verapamil, diltiazem)
Digoxin: usually reserved for patients that do no or very little physical exercise (e.g. bedbound) or other drugs are inappropriate (contraindicated, side-effects, patient preference).
A combination of rate-controlling agents may be needed to control the ventricular rate.
Rhythm control
Rhythm control aims to restore and/or maintain the heart in normal sinus rhythm. Rhythm control may either be pharmacological or electrical:
Pharmacological: using medications to restore and/or maintain sinus rhythm. Examples include amiodarone, flecainide, beta-blockers (e.g. sotalol).
Electrical: using DC cardioversion to revert the heart into sinus rhythm.
The term cardioversion is essentially a form of 'acute rhythm control' with the aim to immediately restore sinus rhythm either in an emergency setting or planned elective setting.
Outside of acute onset AF, a rhythm control strategy is indicated in patients with ongoing symptomatic AF despite adequate rate control to improve quality of life. Patients who may be suitable for rhythm control include:
New-onset AF
Identifiable reversible cause
Heart failure (exacerbated by AF)
Associated with atrial flutter (and ablation strategy appropriate)
Rhythm control felt more suitable (clinical judgement)
Rhythm control strategy depends on the onset of AF (see acute atrial fibrillation below) and whether patients have been adequately anticoagulated.
Acute atrial fibrillation
In patients presenting acutely with AF, it is first important to perform a clinical assessment (e.g. ABCDE) and determine haemodynamic stability:
Life-threatening haemodynamic instability: carry out emergency electrical cardioversion
Haemodynamic stability: rate or rhythm control strategies
In patients who are stable, the key determinant to further management is the precise time of onset. This is because cardioversion (restoration of sinus rhythm) is associated with an increased risk of embolic events.
Onset > 48 hours or unclear: increased risk of thromboembolism. Patients need adequate anticoagulation (minimum 3 weeks) to reduce thromboembolic risk prior to cardioversion.
Onset < 48 hours: low risk of thromboembolism. Patients' can be considered for immediate electrical or pharmacological cardioversion.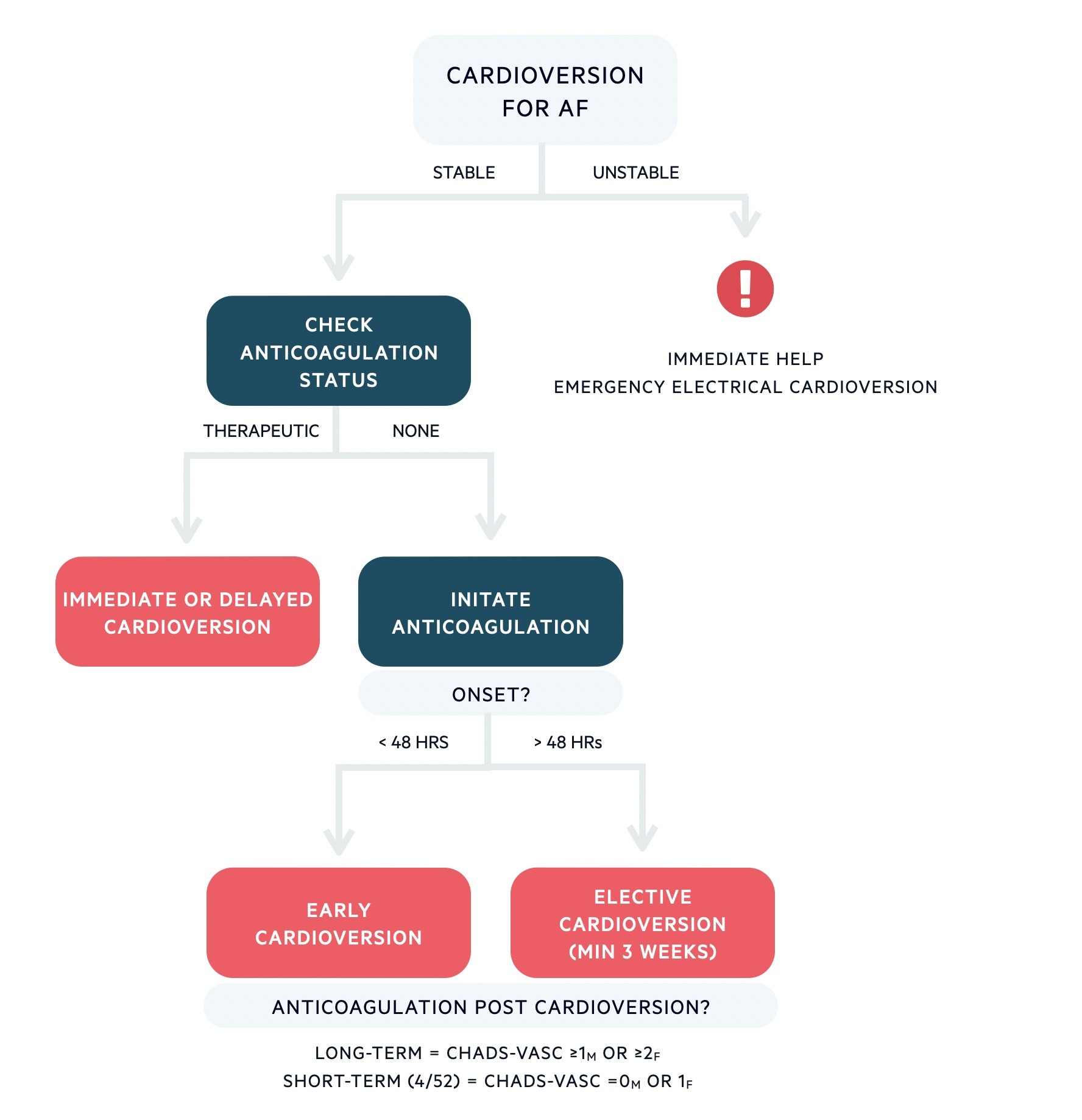 Algorithm for cardioversion in AF
In patients with early cardioversion (performed within 48 hours), pharmacological cardioversion is usually preferred with amiodarone or flecainide. Assessment of the cardiac function with echocardiography is required because flecainide (type I antiarrhythmic) is dangerous in structural heart disease (pro-arrhythmic and increased risk of sudden cardiac death). Electrical cardioversion is usually preferred in delayed cardioversion.
Following cardioversion, anticoagulation is commonly given for a minimum of 4 weeks, even in patients at low-risk because of the risk of thromboembolism from atrial stunning post-restoration of sinus rhythm. Long-term continuation is then guided by usual risk stratification (i.e. CHADS-VASc).
Prevention of thromboembolic events
As discussed, patients with AF are at increased risk of thromboembolic events due to stasis of blood and formation of clots, predominantly in the left atrial appendage. To reduce this risk patients can be offered anticoagulation. The use of anticoagulation is based around risk stratification of both thrombosis and bleeding risk. This is discussed further below.
The two main options for anticoagulation include:
Vitamin K antagonists (e.g. warfarin): have been the mainstay for many years. Regular INR measurements are required. Target INR is usually 2-3.
Direct-acting oral anticoagulants (DOACs): newer agents such as Direct Xa inhibitors (e.g. apixaban, rivaroxaban) and direct thrombin inhibitors (e.g. Dabigatran). No monitoring is required.
Occasionally, left atrial appendage occlusion devices may be considered in patients where anticoagulation is not tolerated or contraindicated.