Cardiac tamponade is diagnosed with urgent echocardiography.
Echocardiography (i.e. ECHO) is the principal investigation for cardiac tamponade that is able to demonstrate the pericardial effusion and its haemodynamic impact on the heart. Any patient with suspected cardiac tamponade requires an urgent ECHO.
ECHO features
Some examples of echocardiographic features of cardiac tamponade include:
Chamber collapse: early diastolic collapse of the right ventricle and late diastolic collapse of the right atrium
Respiratory variation in volume and flow: alteration in mitral valve flow, ventricular septal motion, and ventricular volumes
IVC plethora: dilatation of the IVC and < 50% reduction in diameter during inspiration are features of elevated venous pressure
Other investigations
An ECG is an important baseline investigation for suspected cardiac tamponade. It may show features of acute pericarditis or simply sinus tachycardia with low voltage complexes (i.e. small). Another typical finding may be electrical alternans, which describes beat-to-beat variation in the size of QRS complexes.
A chest x-ray may show an enlarged cardiac silhouette. However, findings may be normal, particularly in acute cardiac tamponade when only a small amount of fluid is needed to precipitate significant haemodynamic compromise.
A pericardial effusion may be detected on CT or MRI. However, these should not be requested for acute cardiac tamponade that can be life-threatening.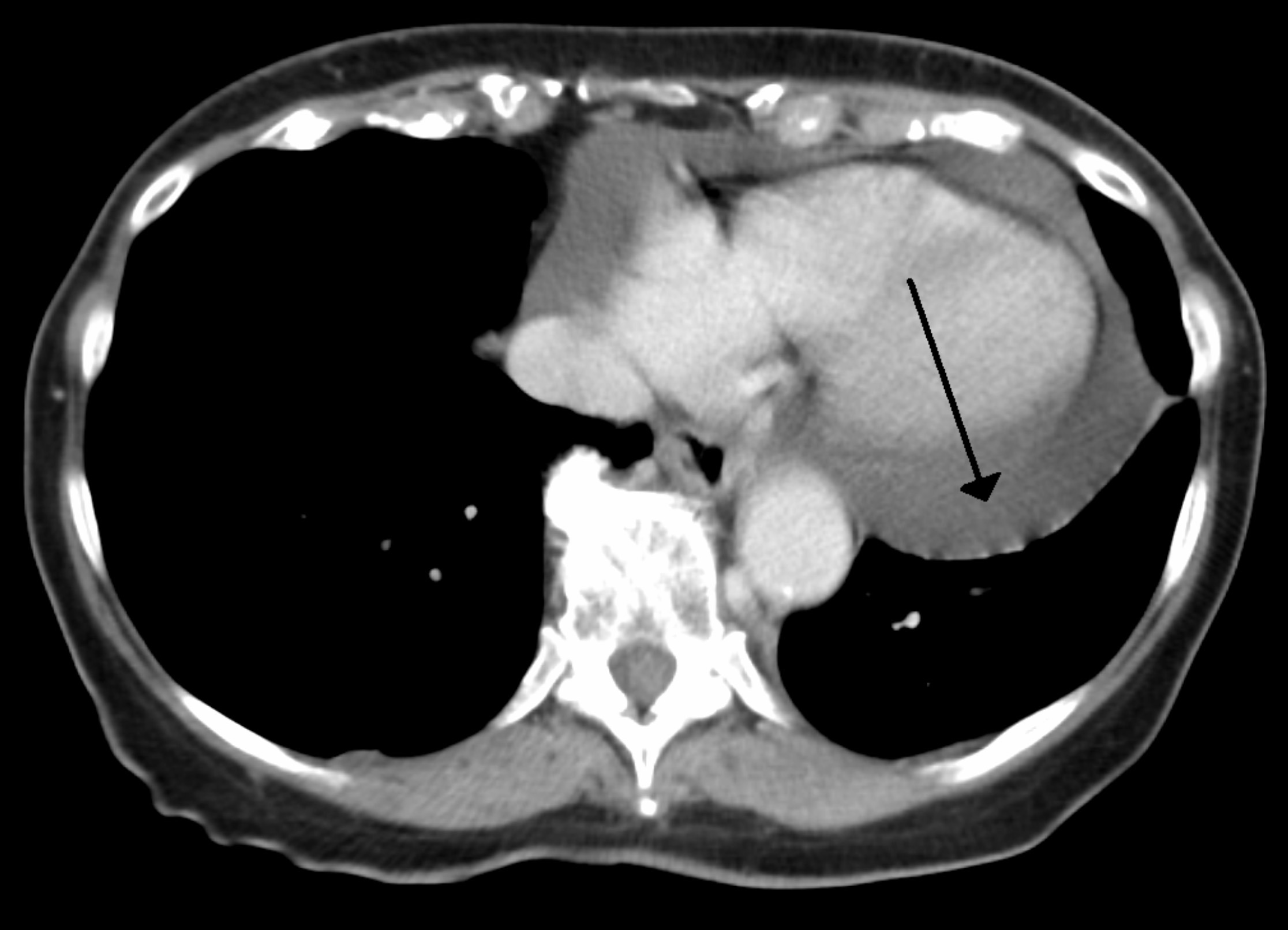 CT thorax showing a pericardial effusion (black arrow)
Image courtesy of James Heilman, MD. Wikimedia commons.