NICE recommends echocardiography and specialist assessment​ in patients with suspected heart failure. BNP is used to stratify risk in those without previous history of myocardial infarction.
In patients with suspected heart failure, the first step is taking a detailed history and performing a clinical examination. The next step is measuring a BNP, which is used to risk stratify patients and determine the urgency of referral. At this point, an ECG should be performed in all patients. Consideration should be made regarding further blood tests, chest radiograph, urinalysis and lung function testing (if alternative diagnosis is suspected). However, it is reasonable to await the BNP result.
BNP
B-type natriuretic peptide (BNP) is a protein released by cardiomyocytes in response to excessive stretching. It is used to assess the likelihood of heart failure. Conditions other than heart failure which may raise BNP levels include diabetes, sepsis, old age, hypoxaemia (PE and COPD), kidney disease, and liver cirrhosis. It has an exclude negative predictive value, which means a negative test should warrant investigation into others causes of the patients symptoms.
The BNP, along with a detailed history and examination and other relevant investigations, may be used to decide who to refer for further assessment: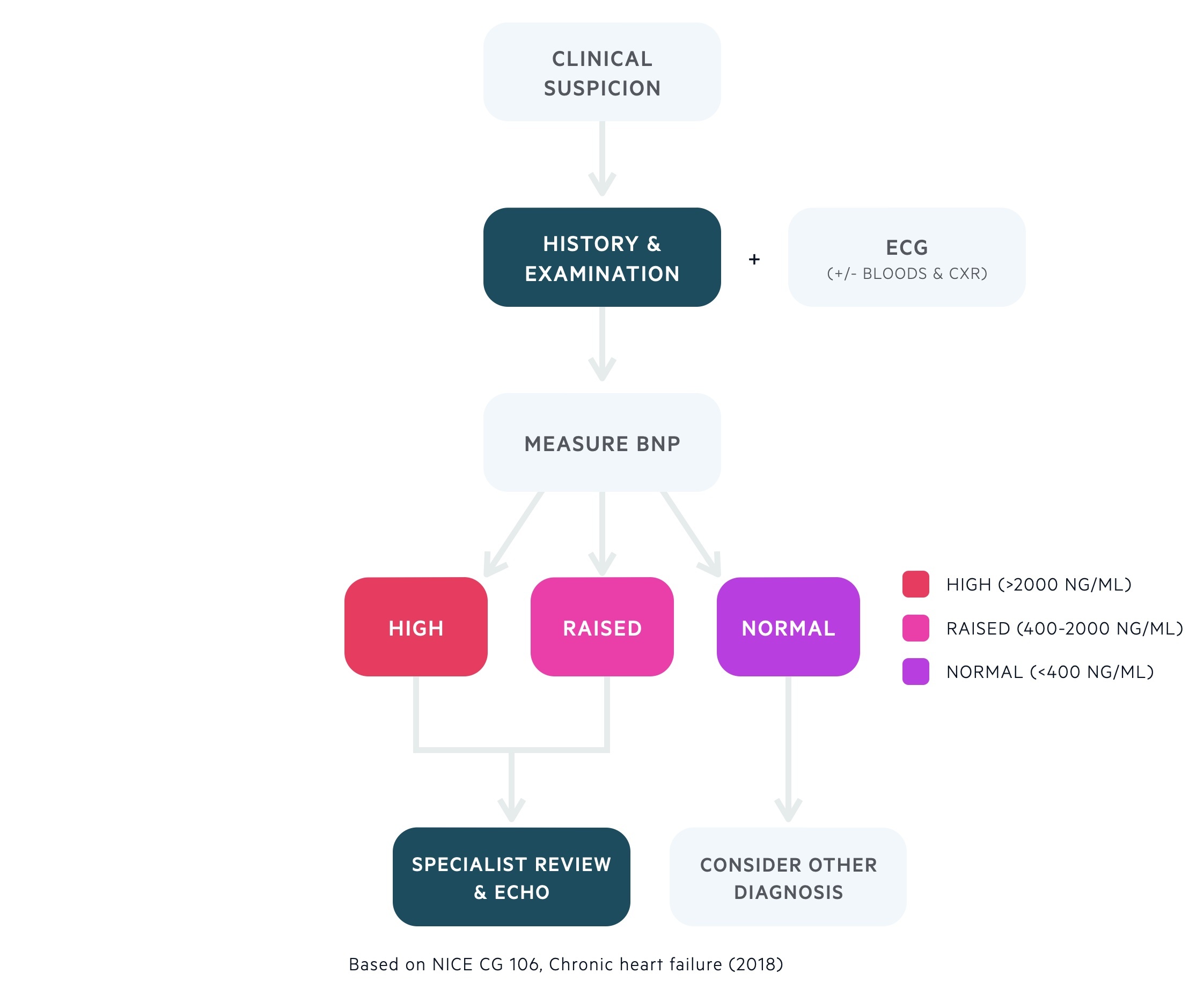 Echocardiography
A transthoracic echocardiography (TTE) is the main investigation for the confirmation of heart failure. It should be completed in patients with an elevated BNP. A TTE may still be warranted, regardless of BNP, if clinical examination reveals a murmur or the ECG is abnormal for example.
The main determinant of an TTE is to look at the ejection fraction of the heart. This helps to differentiate suspected heart failure into three groups:
Heart failure with reduced ejection fraction (HFrEF): LVEF <40%
Heart failure with minimally reduced ejection fraction (HFmrEF): LVEF 40-49%
Heart failure with preserved ejection fraction (HFpEF): LVEF ≥50%
NOTE: additional echo criteria are used to help diagnose HFpEF or 'diastolic heart failure'. These are broadly based on ventricular thickness, chamber size and other features