The relationship between ventricular stretching and contractility. Essentially stretching of cardiac muscle (within physiological limits) will increase the force of contraction.
Discovered in the mid-19th century by Otto Frank and Ernest Starling. The ability of the heart to respond to increased venous return by increasing the stroke volume is essential to normal cardiac function. Failure to do so would result in input-output mismatch and pooling of blood in either the systemic or pulmonary circulation.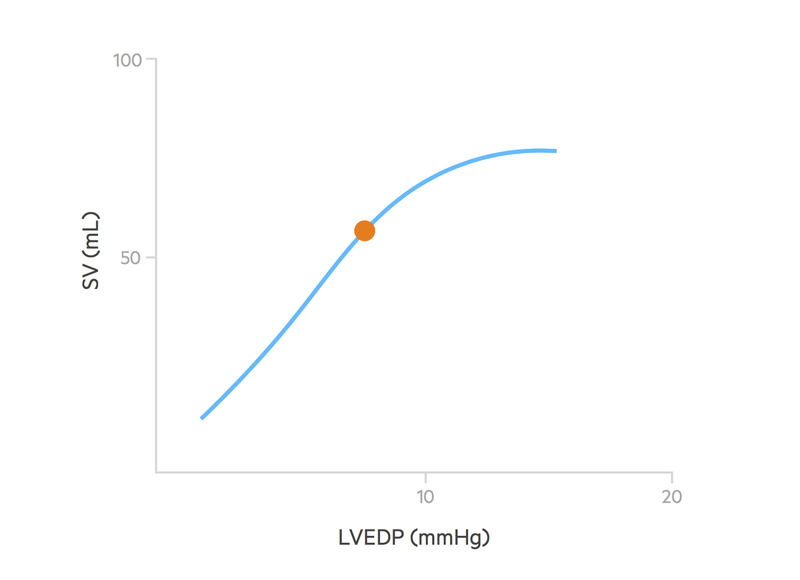 The titles of the axis may vary slightly. Here we display stroke volume (SV) and left ventricular end-diastolic volume (LVEDV) - essentially the preload.
In a normal heart, increased venous pressures lead to increased venous return and raised end diastolic volume (EDV). This increased EDV means an increase in the preload (see definition above), as there is increased stretch on the cardiomyocytes. This increased stretching - an increase in the length of the sarcomere - leads to a more forceful contraction. In turn, this increase in contractility leads to an increase in the stroke volume.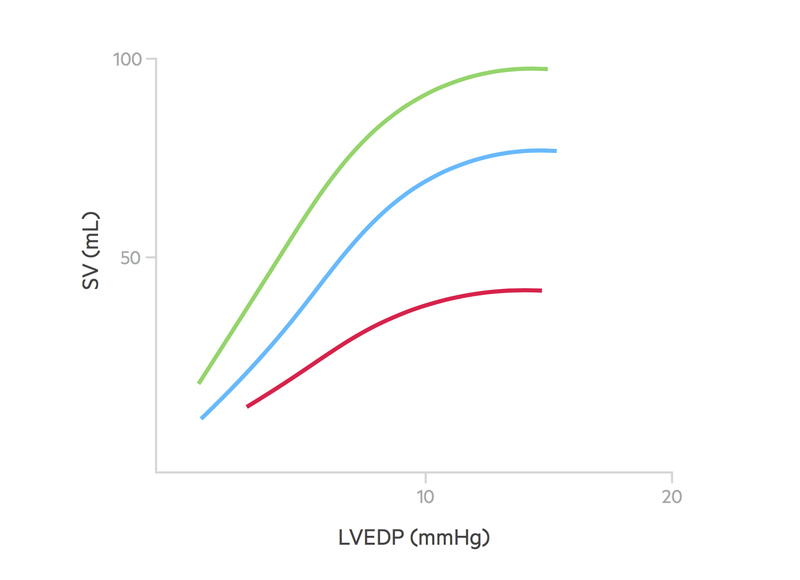 Interestingly, the heart does not sit on a single curve, rather it is affected by afterload and the inotropic state.
Reduced afterload and increased inotropy - move the curve up and to the left (green)
Increased afterload and decreased inotropy - move the curve down and to the right (red).
In effect, venous return governs where on the curve the heart sits while the pre-existing afterload and inotropic environment control which curve it sits on.
In summary, the primary determinants of stroke volume are:
Preload
Myocardial contractility
Afterload
The relationship between increasing preload and increasing stroke volume does not continue unfettered. At a point, increases in preload lead to a depression of contractility and stroke volume - this concept is crucial in understanding heart failure.