Psoriasis is a complex skin condition with a number of clinical subtypes, the most common being chronic plaque psoriasis which accounts for 80-90% of cases.
Chronic plaque psoriasis
Chronic plaque psoriasis is the most common subtype and is characterised by raised, scaly, well-demarcated plaques. It is typically symmetrically distributed and often affects the scalp, extensor surfaces, trunk, gluteal cleft and knees. Lesions are typically itchy and may become fissured and painful over joint lines, on the palms of the hand or soles of the feet.
The appearance of psoriasis may differ depending on skin colour. In fair-skinned populations, plaques are typically described as erythematous and pink or red with a silver-white scale. In Hispanics the plaques may be salmon coloured with a silver-white scale. On black skin, psoriasis may have a somewhat violet appearance with a scale that appears more greyish. On more pigmented skin post-inflammatory hyperpigmentation may occur.

Chronic plaque psoriasis
Nail psoriasis
Nail changes can be seen in patients with all subtypes of psoriasis. Fingernails are involved in around 50% of cases and toenails in 35%. In patients with psoriatic arthritis, nail changes are very common affecting 90%.
Typical changes include:
Subungual hyperkeratosis
Nail pitting
Oil drop discolouration (yellow/pink patches)
Leukonychia (white discolouration)
Onycholysis (detachment of the nail from the nail bed)
Splinter haemorrhages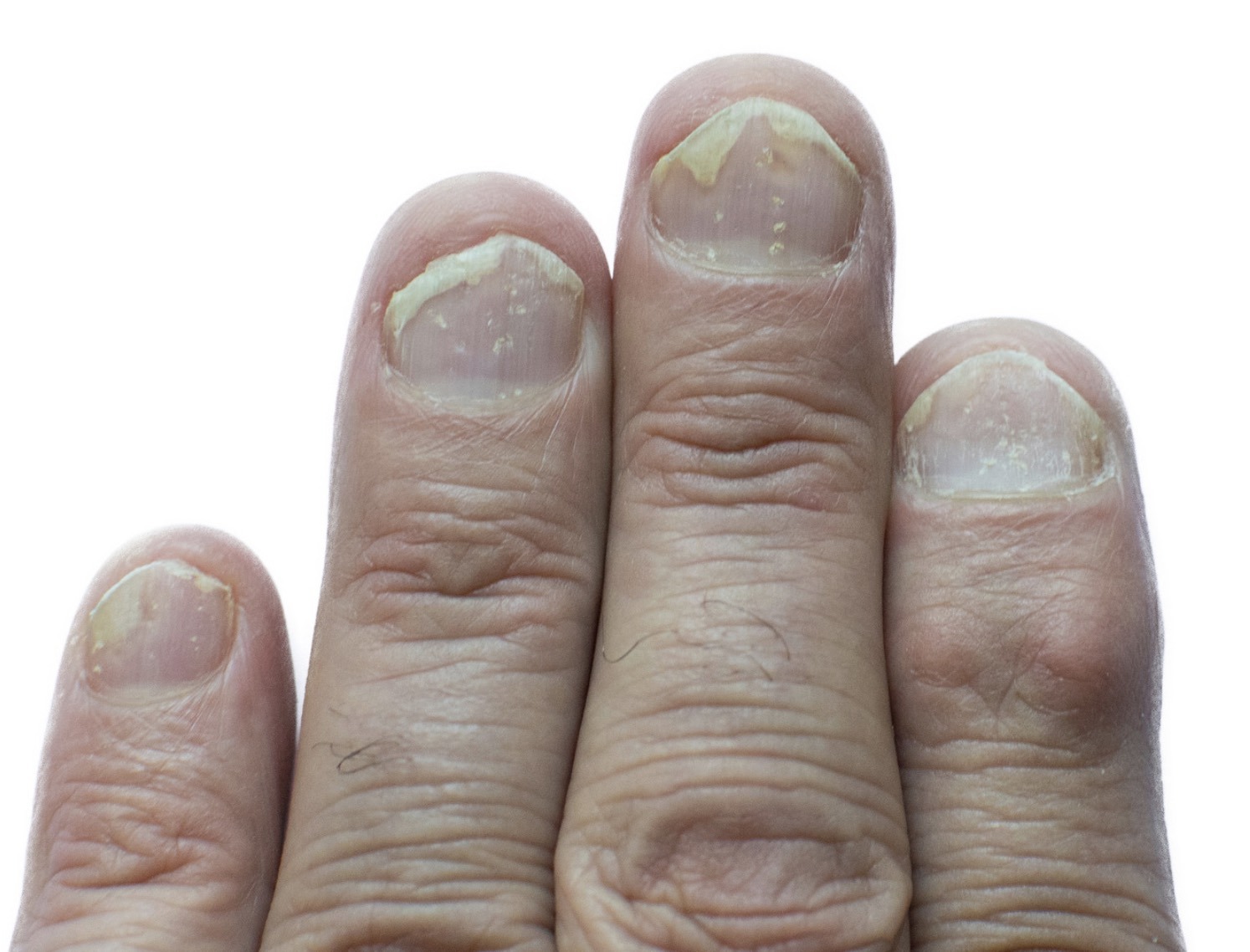 Nail psoriasis
Inverse psoriasis
Also termed flexural psoriasis, inverse psoriasis follows a different pattern of distribution to chronic plaque psoriasis. It affects 'Intertriginous' areas - points where skin touches/rubs together. Areas affected include the axilla, groin and genital area, inframammary folds and gluteal cleft.
Guttate psoriasis
Also termed raindrop psoriasis, it presents as a sudden eruption of small circular plaques classically 2 weeks following a streptococcal sore throat. It can also occur as a flare of disease in patients with pre-existing psoriasis.
It is generally self-limiting resolving over 3-4 weeks but around a third will develop classic plaque psoriasis.

Guttate psoriasis
Erythrodermic psoriasis
Erythrodermic psoriasis is a rare subtype accounting for around 1-2.5% of cases. It refers to a severe form of the disease characterised by widespread erythema and psoriasis affecting a large portion of the bodies surface area (at least 75-90%). It often occurs on the background of known psoriasis but may represent the first presentation.
Triggers include recent illness (particularly infectious), medications (e.g. steroids) and emotional stress. It presents with a range of severity but can be life-threatening. Patients require hospitalisation (in most cases), supportive care and specialist management. Immunosuppressive agents and biologics (e.g. infliximab) are used in its treatment.
Generalised pustular psoriasis
Generalised pustular psoriasis (GPP) can be subdivided into acute GPP and generalised annular pustular psoriasis. Acute GPP is characterised by rapidly developing and widespread erythema and pustules. The pustules may coalesce forming 'lakes of pus'. They tend to resolve over days leaving the erythema and scaring. It can represent a dermatological emergency and patients are often systemically unwell with fever, malaise and arthralgia.
Generalised annular pustular psoriasis follows a subacute, recurring course. Patients develop plaques with peripheral pustules.
Localised pustular psoriasis
Localised (palmoplantar) psoriasis generally affects the hand and feet. Pustules develop along with plaques. It is strongly associated with smoking.