Patients presenting with DKA have a significant fluid deficit, are acidotic with high ketone and blood glucose levels, and high risk of electrolyte derangements.
The joint British diabetes society for inpatient care released excellent guidelines on the management of DKA.
The main goals of management in a patient presenting with DKA are:
Restore circulating volume and tissue perfusion
Clear serum/urinary ketones and halt ketogenesis
Decrease serum glucose towards a normal level
Correct electrolyte derangements
Identify and treat underlying precipitant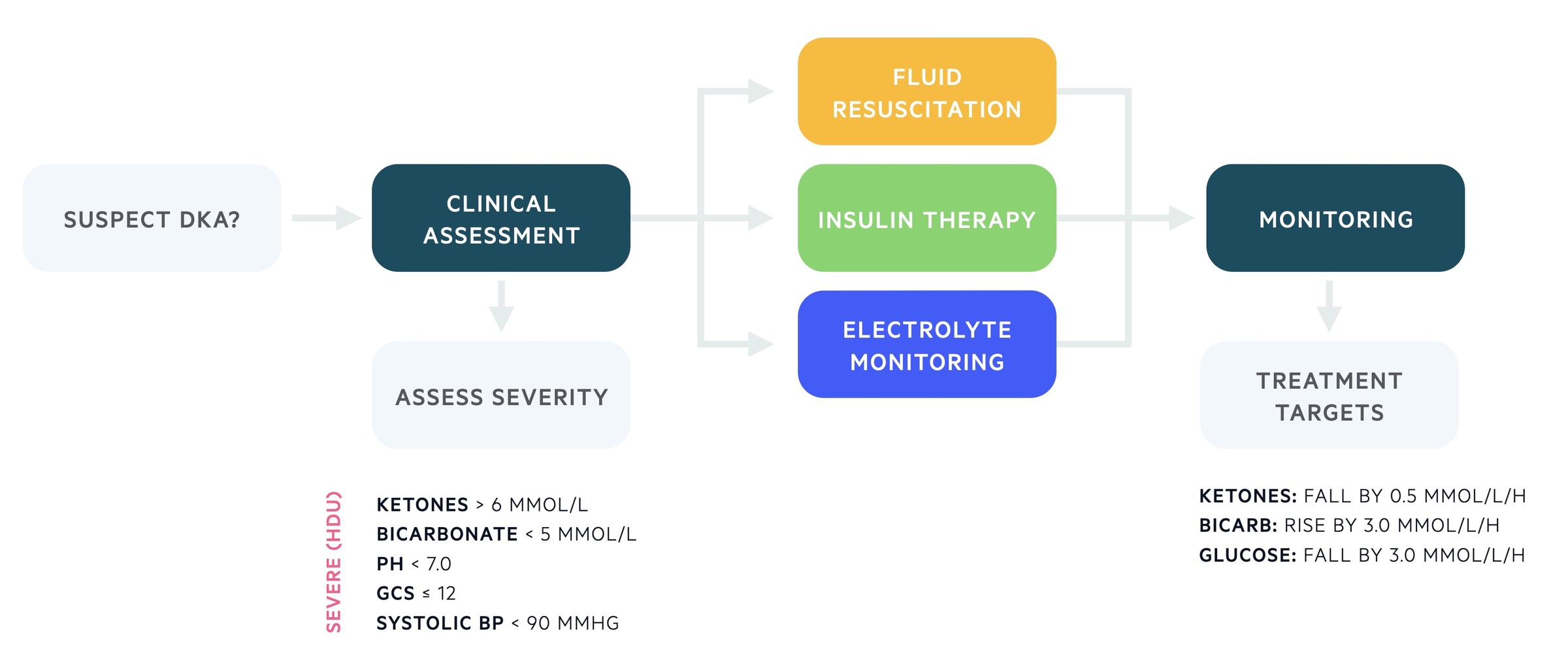 Initial assessment
All patients should undergo a clinical assessment with respect to airway (A), breathing (B), and circulation (C).
Important aspects of the clinical assessment include a formal Glasgow coma score (GCS) and a full set of observations (HR, Temp, RR, BP, Sats). Concurrently, a series of initial investigations and interventions should be completed, which include:
Intravenous access (x2 large bore cannula)
Blood / urinary ketones
Capillary & plasma blood glucose
FBC, U&Es, venous blood gas (VBG)
Blood cultures
Urinalysis +/- MSU, Pregnancy test (as indicated)
ECG
Cardiac monitoring
Establish usual diabetic pharmacotherapy
Severity
Assessment of severity is important to establish the level of care that patients require for ongoing management.
One or more of the following parameters would warrant referral to a high-dependency unit (level 2 care).
Blood ketone > 6 mmol/L
Bicarbonate level < 5 mmol/L
pH < 7.0
GCS ≤ 12
Systolic BP < 90 mmHg
Hypokalaemia on admission < 3.5 mmol/L
Restoration of circulating volume
Patients presenting with DKA will be intravascularly depleted with a significant fluid deficit requiring intravenous fluid replacement.
Fluid status should be assessed based on clinical and biochemical measurements. A urinary catheter may be required for more accurate monitoring.
The initial fluid of choice is 0.9% normal saline and patients should be given this immediately, especially in the presence of hypotension (Systolic BP < 90 mmHg). If the systolic BP does not improve with fluid (i.e > 90 mmHg), senior help should be sought and another cause for hypotension considered. The debate between 0.9% sodium chloride or another balanced crystalloid is ongoing in research.
A typical fluid regime for an average patient presenting with DKA would be a 1 litre of normal saline over 1 hour, followed by 2 litres each over 2 hours, followed by 2 litres each over 4 hours. At all times potassium replacement should be considered and patients fluid status regularly assessed for ongoing intravenous fluid needs. The typical water deficit in a patient with DKA is 100 ml/kg (i.e. up to 7 litres in a 70 kg person!).
Potassium replacement
Patients with DKA will be started on an intravenous insulin regime, which will decrease plasma potassium levels leading to profound hypokalaemia.
Potassium levels should be closely monitored with early replacement often needed depending on the levels. Regular monitoring of potassium is essential throughout the treatment of DKA.
The serum potassium concentration should be maintained between 4.0 and 5.5 mmol/L.
Intravenous insulin therapy
Patients with established DKA need to be started on a fixed rate intravenous insulin infusion (FRIII) immediately, which is based on the patients weight (can be estimated).
Patients should be given a fixed infusion at 0.1 units/kg/hr. This means a 60 kg female will get an hourly rate of 6 units. The infusion is set up by mixing 50 units of short-acting insulin (ACTRAPID®) with 50 mls of 0.9% normal saline.
When blood glucose levels fall < 14 mmol/L, intravenous 10% dextrose should be administered at a rate of 125 ml/hour (i.e. 8-hourly bag). Importantly, this is run alongside both the FRIII and sodium chloride (i.e. it does not replace the sodium chloride). At the same time, you should consider reducing the rate of FRIII to 0.05 units/kg/hr to prevent hypoglycaemia and hypokalaemia.
If the patient is usually on a long-acting insulin therapy then this should be continued during the FRIII (e.g. Lantus®, Levemir®). The short-acting insulin should be held. In a newly diagnosed patient, a long-acting insulin can be commenced at 0.25 units/Kg subcutaneously.
Monitoring
Patients should be monitored regularly to assess for an adequate fall in ketones, glucose and rise in bicarbonate with normalisation of acid-base balance.
Each hour, blood ketones and blood glucose should be checked. If the capillary blood glucose reading is greater than 20 or reporting 'HI', a formal blood glucose should be sent. A venous blood gas should be used for the pH and bicarbonate at 1 hour and 2 hours, and then 2 hours thereafter. Potassium should be checked as a minimum of every 4 hours within the first 24 hours, but sooner if abnormal.
In those with severe DKA, they should have continual cardiac and saturation monitoring. An accurate fluid balance should be kept and if urine output is not possible due to anuria or incontinence then a catheter should be considered.
Metabolic treatment targets
A number of metabolic treatment targets should be achieved during the management of DKA.
Blood ketones: falling by at least 0.5 mmol/L/h
Bicarbonate: rising by at least 3.0 mmol/L/h
Blood glucose: falling by at least 3.0 mmol/L/h
Serum potassium: maintain between 4.0 - 5.5 mmol/L
Blood ketones are the most useful markers. In the absence of blood ketone monitoring, bicarbonate and blood glucose can be used.
The FRIII should be continued until the ketone measurement is less than 0.6 mmol/L, venous pH over 7.3 and/or venous bicarbonate over 18 mmol/L. If the blood glucose level falls below 14.0 mmol/L then 10% dextrose should be given at approximately 125ml/hr (8 hour bag) alongside the FRIII and 0.9% normal saline +/- potassium chloride.
Continuing care
The specialist diabetic team should always be informed regarding a presentation of DKA. Ideally, they should assess the patient within 24 hours.
It has been shown that early involvement of the specialist diabetic team is associated with reduced length of stay and better patient experience.
Once DKA is resolved (blood ketones < 0.6 mmol/L and pH >7.3) and the patient is eating and drinking appropriately, they can be converted to subcutaneous insulin therapy. This process should ideally be managed by the specialist diabetic team. Importantly, conversion to subcutaneous should occur prior to stopping intravenous insulin (i.e. subcutaneous insulin with a meal then stopping intravenous insulin 1 hour later). If the patient is not eating and drinking, they can be converted to a variable rate intravenous insulin infusion (VRIII).