The management of HHS has several important facets; aggressive fluid resuscitation alongside normalisation of blood glucose levels and osmolality.
The main goals of management in patients presenting with HHS are detailed below:
Normalise osmolality
Normalise blood glucose
Replace fluid and electrolytes
Prevention of arterial/venous thrombosis
Prevention of complications & foot ulceration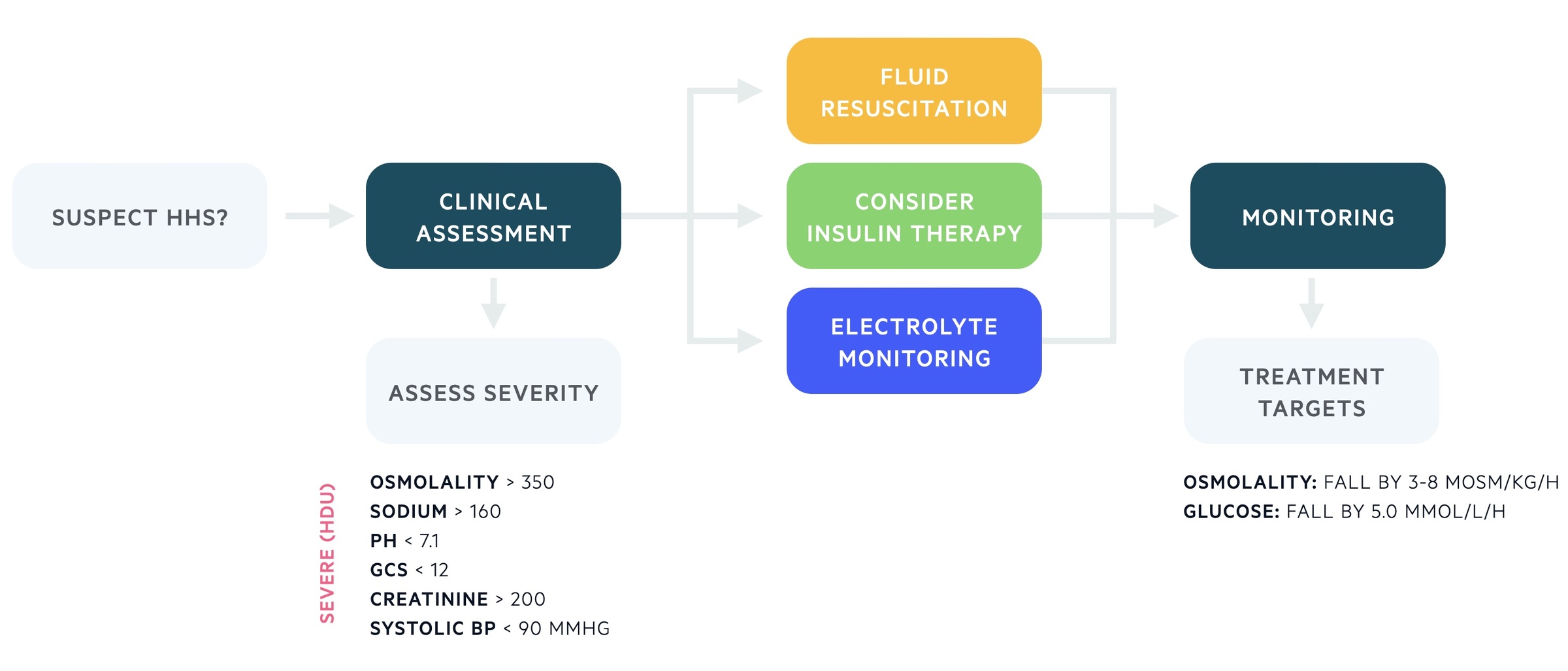 Initial assessment
All patients should undergo a clinical assessment following an ABCDE approach.
Important aspects of the clinical assessment include a formal Glasgow coma score (GCS) and a full set of observations (HR, Temp, RR, BP, Sats). Concurrently, a series of initial investigations and interventions should be completed, which include:
Intravenous access (x2 large bore cannula)
Blood / urinary ketones
Capillary & plasma blood glucose
FBC, U&Es, venous blood gas, plasma osmolality
Blood cultures
Urinalysis +/- MSU, Pregnancy test (as indicated)
ECG
CXR
Urinary catheter
Additional tests as indicated by the presentation/investigations (e.g. troponin, CT head).
Severity
Patients with HHS usually represent an elderly population with multiple co-morbidities and can be extremely unwell.
Ideally, patients should be managed in a high-dependency environment (level 2 care and above). The following features are markers of severity that would definitely warrant management in a high level of care:
Osmolality > 350 mosm/kg
Sodium > 160 mmol/L
pH < 7.1
GCS < 12
Systolic BP < 90 mmHg
Serum creatinine > 200 μmol/L
Macrovascular event (.e.g MI, CVA)
Severe electrolyte abnormalities (e.g. hyper/hypokalaemia)
Intravenous fluids
Patients with HHS can have a tremendous fluid deficit.
Due to the significant fluid deficit, the initial management requires fluid resuscitation to restore circulating volume. The initial fluid of choice is 0.9% sodium chloride (normal saline) and at least 1 litre should be given over an hour (quicker in the presence of significant hypotension).
Further fluids can be given aiming for a positive fluid balance based on hourly measurement of urine output. A proposed target is 2-3 litres positive by 6 hours. Initiation of normal saline may cause a transient rise in sodium levels, however, if the osmolality is falling appropriately this is not an indication for hypotonic saline (e.g. 0.45%). Importantly, rapid correction of the fluid deficit is not advisable as it can precipitate osmolar shifts leading to cerebral oedema (generally aim for 4 litres positive within the first 24 hour).
Insulin therapy
The use of insulin in HHS should be led by a specialist or senior clinician with experience of HHS management.
Insulin should only be commenced if there is evidence of significant ketonaemia (> 1 mmol/L) or ketonuria (2+ or more). If so, insulin should be commenced as a fixed rate intravenous insulin infusion (FRIII) at 0.05 units/kg/hr (half the dose used in DKA).
The other indication for a FRIII is when blood glucose levels are falling less than 5 mmol/L per hour. It is vital to assess the fluid balance and make sure this is adequate before prescribing insulin. Blood glucose levels should be maintained between 10-15 mmol/L in the first 24 hours with additional use of 5% or 10% dextrose if levels fall < 14 mmol/L.
Electrolyte replacement
Electrolytes including sodium, potassium, phosphate and magnesium should be monitored regularly (4 hourly minimum) and replaced as necessary.
Monitoring and replacing potassium is particularly important if insulin is started. This is because insulin drives potassium intracellularly leading to a low plasma concentration that could cause dangerous arrhythmias.
As a general rule for potassium:
Serum K+ > 5.5 mmol/L: Nil potassium replacement
Serum K+ 3.5-5.5 mmol/L: 40 mmol potassium replacement
Serum K+ < 3.5 mmol/L: Senior review for more invasive potassium replacement
Monitoring
Patients with HHS should be on cardiac monitoring and assessed at regular intervals.
Every hour, blood glucose, urea & electrolytes and a laboratory or calculated plasma osmolality should be completed for the first 6 hours. If there is a satisfactory fall in osmolality by 3-8 mOsm/kg/hr and glucose by 5 mmol/L/hr, then blood taking can be reduced to 2 hourly. At all times, an accurate fluid balance should be completed with the urine output documented hourly.
As there is improvement in clinical and biochemical parameters, monitoring can be reduced to 4 hourly and then 12 hourly. At all times, it is important to assess for any complications of HHS (e.g. stroke, DVT, cerebral oedema) and manage any underlying precipitant (e.g. infection, MI).
Metabolic treatment targets
There are two main metabolic treatment targets that should be achieved during the management of HHS.
Plasma osmolality: falling by 3-8 mOsm/kg/hr
Blood glucose/l falling by at least 5 mmol/L/hr
Continuing care
The specialist diabetic team should always be informed regarding a presentation of HHS. Ideally, they should assess the patient within 24 hours.
It is imperative that patients with HHS are started on prophylactic LMWH during admission as they are high risk for thrombotic complications. They should also have a regular foot assessment to look for any ulcerations and encouraged to mobilise early with removal of the catheter when clinically appropriate.
Following the initial management of HHS, patients should have a minimum of daily urinalysis, urea and electrolytes, and regular capillary blood glucose. The ongoing need for a FRIII or the decision to start on regular subcutaneous insulin therapy should be managed through the specialist diabetic team.
As a general rule, if a FRIII is started, it should not be stopped until plasma glucose levels are within target and the patient is over the acute episode. If they are still not tolerating oral intake they could be converted to a variable rate intravenous insulin infusion (VRIII) in the interim period.