The management of T2DM requires education, lifestyle changes, medications and the monitoring of complications.
The management of type 2 diabetes mellitus has become more complicated in recent years with the development of newer drugs and the increasing use of insulin therapy.
Where appropriate, management of diabetes should be individualised to the patient to try and achieve the best possible glycaemic control to prevent long-term sequelae without causing significant side-effects or reduced quality of life.
Here, we will discuss some of the essential aspects to the management of T2DM:
Lifestyle advice
Antidiabetic drugs
Insulin use in T2DM
Treatment targets
Monitoring for complications
Lifestyle advice
Lifestyle changes are crucial to all aspects of management in patients with T2DM. They predominantly refer to dietary changes, exercise and physical activity, alcohol consumption and smoking cessation.
Lifestyle modifications may be the earliest changes instigated in patients with or at risk of developing diabetes (e.g. HbA1c 42-47 mmol/mol). It is essential that these modifications continue once antidiabetic medications are introduced. Lifestyle advice can help patients achieve sustained weight loss, better physical fitness, improved diet and ultimately improved glycaemic control.
Patients should be encouraged to maintain a healthy balanced diet with plenty of fibre, low-index carbohydrate and controlling the intake of high-fat foods. In those with excess body weight, dietary plans can help with weight loss, targeted plans may be appropriate.
Exercise can lower blood glucose levels as it increases glucose use by muscles. Patients should be informed about the UK physical fitness guidelines and encouraged to exercise daily with at least 150 minutes of moderate intensity activity over a weekly period.
Patients should be encouraged to reduce alcohol consumption and stop smoking. Alcohol increases weight and may exacerbate or prolong hypoglycaemia induced by antidiabetic medications. Smoking cessation advice should be made available and offered to all patients with T2DM.
Antidiabetic drugs
There are a significant number of antidiabetic medications that are now available for the treatment of T2DM. The choice of treatment and intensity of therapy should take into account the individual patients needs, comorbidities, the ability to achieve a HbA1c target, tolerability of treatment and potential side-effects.
Metformin is one of the most commonly used medications in T2DM. Metformin is a biguanide, which lowers blood glucose levels through inhibition of hepatic gluconeogenesis whilst increasing peripheral insulin sensitivity and enhancing peripheral uptake of glucose. All patients with T2DM should be started on metformin unless contraindicated (e.g. CKD, those at risk of lactic acidosis, poorly tolerated).
Below is a summary of the current treatment algorithm for patients with T2DM. Please note the precise mechanism of all antidiabetic medications is beyond the scope of these notes.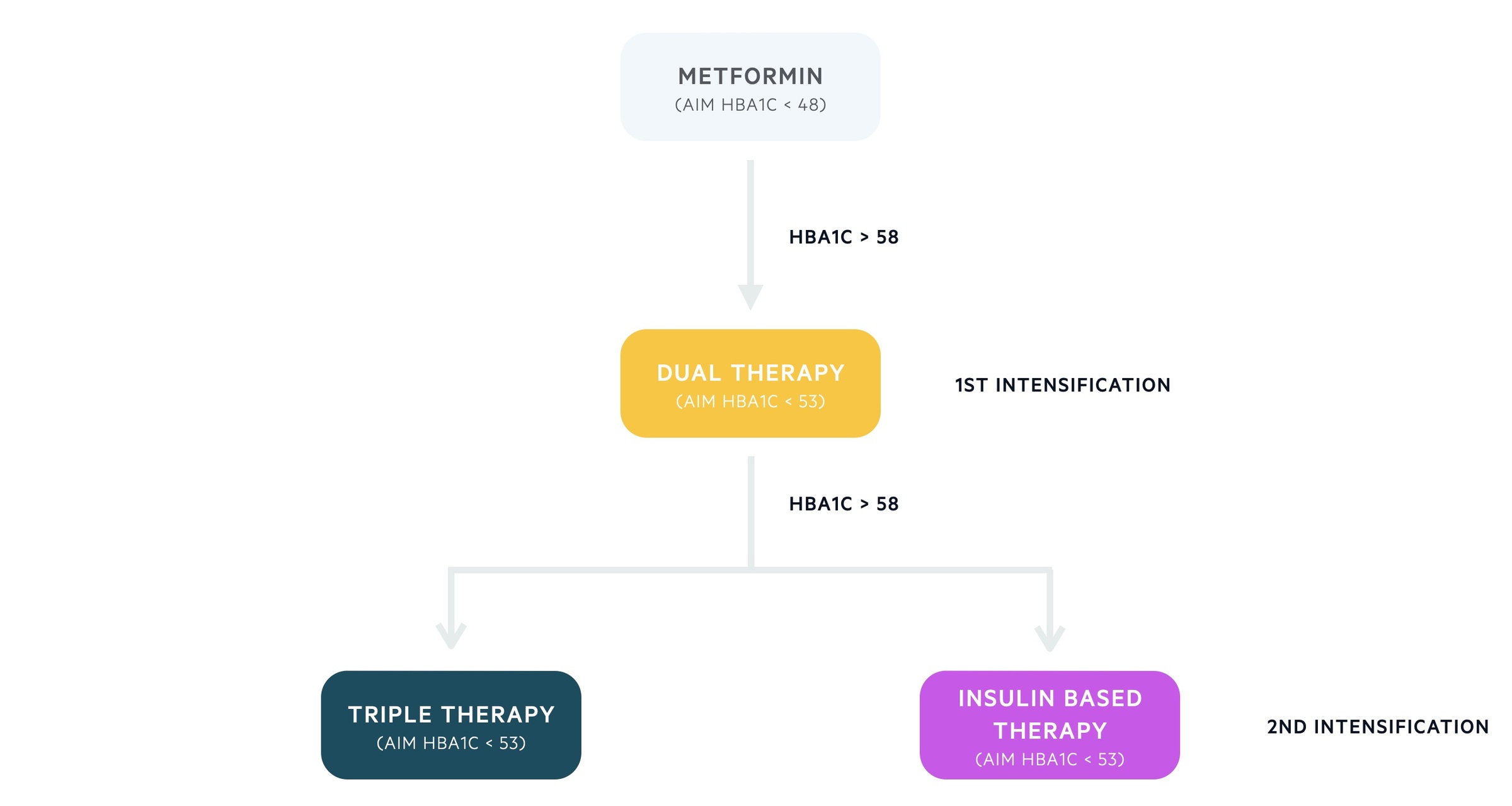 Step 1
Standard release metformin
Aim for HbA1c < 48 mmol/mol, increasing dose as needed
Monitor renal function, consider modified-release preparations if develop adverse GI effects
Step 2 (first intensification)
Consider dual antidiabetic therapy if HbA1c rises > 58 mmol/L
Metformin in combination with a second antidiabetic agent:

Sulfonylurea (SU)
Dipeptidyl peptidase-4 inhibitor (DPP-4i)
Pioglitazone
Sodium–glucose cotransporter 2 inhibitor (SGLT-2i)

Aim for HbA1c < 53 mmol/mol
Step 3 (second intensification)
Consider triple antidiabetic therapy or an insulin-based regimen if HbA1c > 58 mmol/mol

Metformin, DPP-4i and SU
Metformin, pioglitazone and SU
Metformin, pioglitazone/SU, and SGLT-2i

Insulin-based regimes are discussed further below
Step 4
In patients on triple antidiabetic therapy and ongoing poor glucose control, consider further intensification
Consider combination treatment with metformin, SU and glucagon-like peptide-1 (GLP-1) mimetic

It should be noted there are strict criteria for the use of a GLP-1 analogue and patients must achieve certain glycemic and weight targets to warrant continuing the medication

If already on an insulin-based regime, seek specialist advice
If metformin is contraindicated an alternative treatment ladder is used.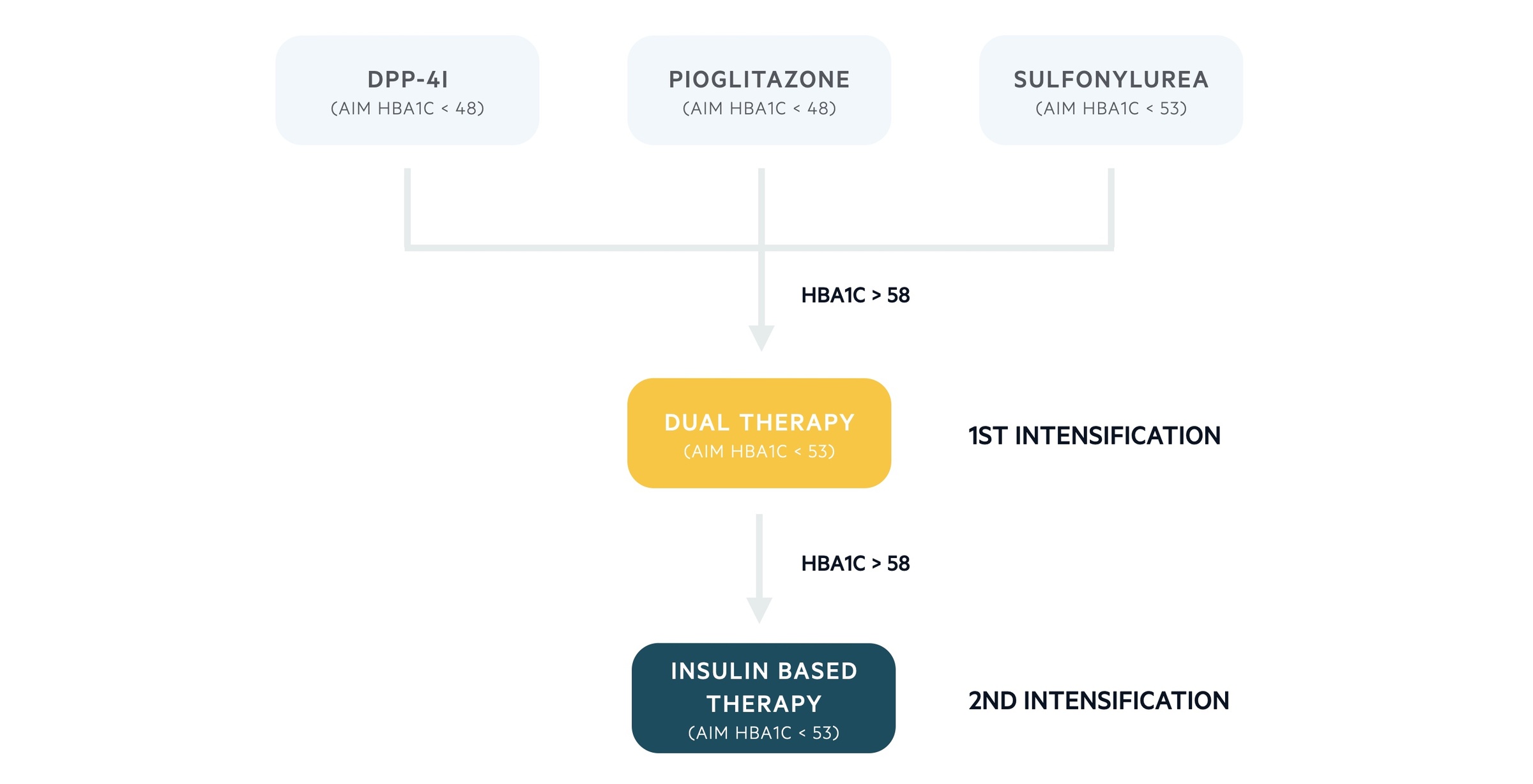 Alternative step 1
DPP-4i or pioglitazone or SU
Aim for HbA1c < 48 mmol/mol or < 53 mmol/mol if treatment with a SU
Alternative step 2 (first intensification)
If HbA1c rises > 58 mmol/mol consider a combination of:

SU and pioglitazone
SU and DPP-4i or
Pioglitazone and DPP-4i
Alternative step 3 (second intensification)
Consider an insulin-based regimen if HbA1c > 58 mmol/mol
Insulin-based regimens
The use of insulin should be considered early in the management of patients with T2DM. It is usually considered in patents with poor glycemic control despite dual antidiabetic with metformin and another agent.
Insulin therapy may not be appropriate for those at significant risk of hypoglycaemia, a personal preference against insulin or concerns relating to licensing for driving group 2 vehicles. Obese patients may find insulin may exacerbate weight issues, its use should be avoided where possible.
Insulin therapy should be initiated by healthcare professionals experienced with the use of insulin. There are a number of insulin regimes that may be used in patients with T2DM:
Once or twice daily intermediate-acting insulin (NPH)
Intermediate-acting insulin along-side a short-acting insulin as separate injections or a pre-mixed formula
Once daily long-acting insulin therapy (glargine, determir)
Basal-bolus regimes
In general, patients are offered an intermediate-acting insulin therapy such as NPH in the initial stages. If glycemic control is particularly bad (e.g. HbA1c > 75 mmol/L) patients may be started on mixed insulin (intermediate and short-acting). Long-acting insulin is usually reserved for patients where hypoglycaemia is a problem with NPH insulin or the patients rely on carers for help with their injections. Finally, patients on a pre-mixed insulin regime that still have inadequate blood glucose control should be assessed for conversion to a basal bolus regime.
There are many other facets to starting patients on insulin therapy such as equipment use, blood glucose monitoring, sick-day rules and rules for driving. These aspects of care are beyond the scope of these notes.
Treatment targets
Treatment targets for patients with T2DM are largely based on serial measurements of HbA1c.
Patients with poor glycaemic control require measurement of the HbA1c every 3 months. Patients with stable disease can have their HbA1c measured every 6 months.
The main treatment targets are shown below:
Management with lifestyle modifications only: aim HbA1c < 48 mmol/mol
Management with lifestyle and a single antidiabetic agent: aim HbA1c < 48 mmol/mol
Management with a drug associated with hypoglycaemia (e.g. SU): aim HbA1c < 53 mmol/mol
Management with higher intensification regimes: aim HbA1c < 53 mmol/mol
If HbA1c levels are not adequately controlled by a single drug and rise to ≥ 58 mmol/mol, then intensification of medical therapy should be considered. Additionally, reinforcement about dietary advice, lifestyle changes, adherence to medical treatment should be completed to support patients in achieving a HbA1c < 53 mmol/mol.
It is worth noting that where possible, treatment targets should be individualised to the patient to help them with the long-term management of their condition. HbA1c targets may be relaxed due to the risk of hypoglycaemia, reduced life-expectancy or minimal long-term benefit.
Monitoring for complications
T2DM is a systemic condition that is associated with a number of complications that can have a significant impact on morbidity and mortality. As such, patients should be regularly reviewed and complications assessed on at least an annual basis.
During each clinic review, patients should have their BMI checked, smoking status clarified and assessed for any psychosocial issues (e.g. anxiety/depression). Every 3-6 months, patients should have their HbA1c checked and management changed accordingly (discussed above). Finally, on annual basis patients should be screened for major complications of diabetes:
Retinopathy: annual retinal screening and eye check
Nephropathy: renal function (eGFR) and albumin:creatinine ratio (ACR)
Neuropathy and diabetic foot: assessment for peripheral neuropathy, autonomic neuropathy, full examination including footwear, monofilament assessment of neuropathy, vascular assessment +/- dopplers.
Cardiovascular risk factors: primary/secondary prevention strategy with optimisation of blood pressure and lipids.