Anti-thyroid drugs (thioamides), radioactive iodine (RAI) and surgery are all viable management options.
Management is complex! Here we will outline the three main modalities, discussing, in particular, the management of Graves', toxic multinodular goitre and solitary toxic adenoma (i.e. causes of thyrotoxicosis with hyperthyroidism).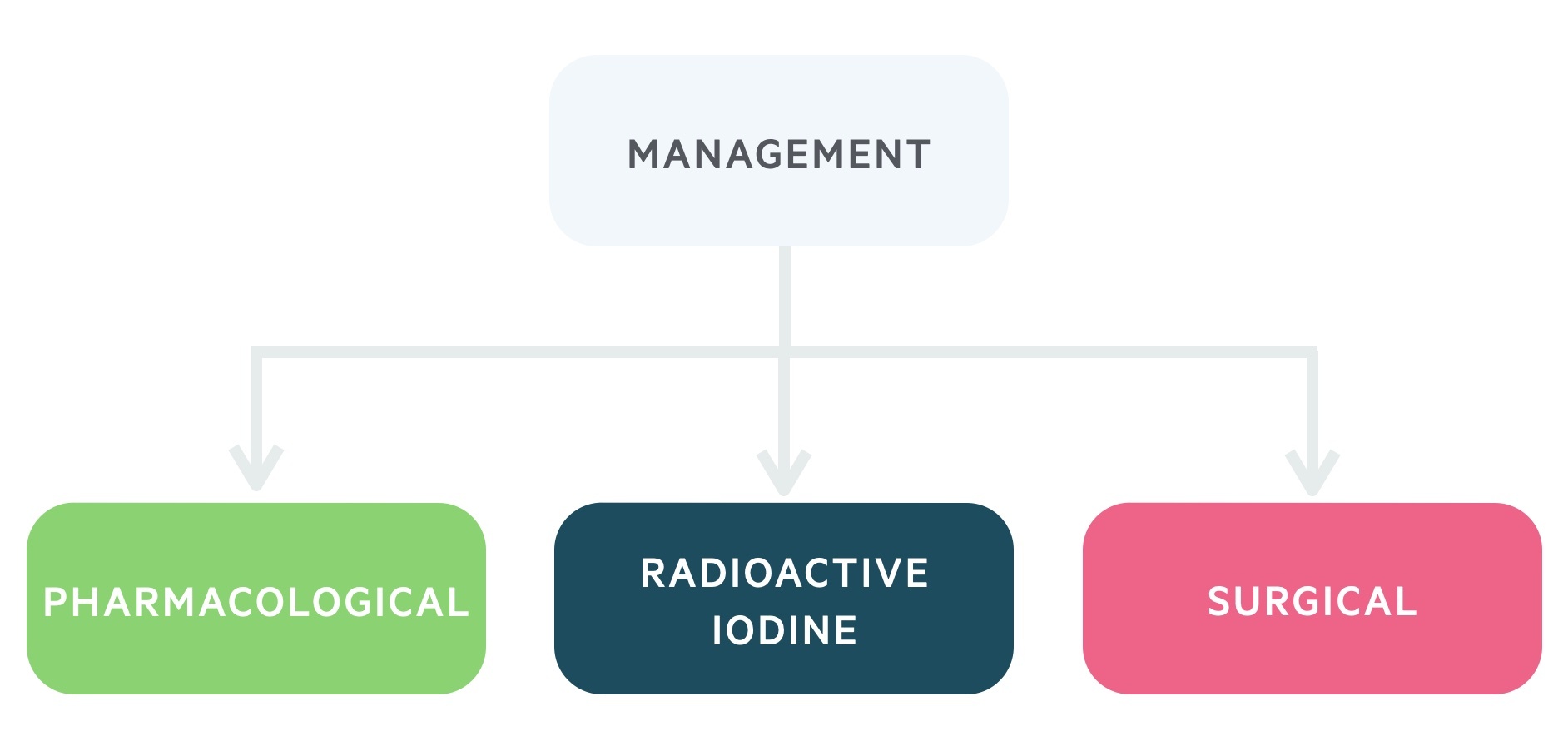 NICE guideline (NG145): Thyroid disease: assessment and management (published 2019, last accessed 2021) provide a comprehensive overview of the management of hyperthyroidism. Here we outline some of the key aspects of this guidance that you need to know as a student.
Initial therapy
Following diagnosis, patients are normally offered thioamides (carbimazole or propylthiouracil) whilst a decision on definitive therapy is being made. Definitive therapy may be radioactive iodine, ongoing thioamide therapy or surgery.
A beta-blocker or calcium channel blocker may be prescribed to treat adrenergic symptoms whilst the thioamides take effect.
Radioactive iodine
Iodine is key to the synthesis of thyroid hormones. As such when radioactive iodine (RAI) is given it is taken up by the thyroid causing destruction and reduced thyroid hormone release.
Due to the radioactive nature of the treatment, there are a number of contraindications:
Current pregnancy
Falling pregnant within 6 months of treatment
Breastfeeding
Fathering a child within 4-6 months of treatment
For a short time following treatment, the patient will emit some radiation. As such they will be advised to avoid close contact with members of their household and restrict any contact with children or pregnant women for several weeks.
It is typically offered first-line in Graves' in those suitable and not likely to enter remission. It is often offered as first-line definitive management for toxic multinodular goitre.
In Graves, RAI may exacerbate or cause ophthalmopathy.
Thioamides
The thioamides carbimazole or propylthiouracil may be used. These drugs reduce thyroid synthesis working over a number of weeks. May be offered first line in Graves' disease, particularly if likely to have remission (mild, uncomplicated disease). Remission may be seen after 18-24 months of treatment, demonstrated by a trial without therapy.
In the UK carbimazole is used first-line. It is teratogenic and subject to Medicines and Healthcare products Regulatory Agency guidance (found here) on safety in those with childbearing potential. It is associated with congenital malformations, particularly when taken in the first trimester. Those with childbearing potential must be aware of this risk and use effective contraception.
Propylthiouracil can be considered in adults where the patient is/has:
Intolerant/allergic to carbimazole
Pregnant or planning on pregnancy in the next 6 months
A history of pancreatitis
Baseline FBC and LFTs are obtained prior to the commencement of thioamides. Neutropenia or severely deranged transaminases are a contraindication to treatment. Agranulocytosis is a severe side effect associated with both thioamides. It refers to an absence or reduction of granulocytes - in particular neutrophils. This neutropenia puts patients at risk of severe infection and sepsis.
Two regimes available:
Block and replace: thioamides are given at a level sufficient to block endogenous T3/T4 production alongside levothyroxine. This regime must not be used in pregnancy.
Dose titration: thioamides are given alone, dose adjusted to give normal levels of TSH.
In those with toxic nodules, treatment is likely life-long if chosen as definitive management (hence surgery or RAI is often preferred).
NOTE: The decision about whether to treat subclinical hyperthyroidism is complex. Some 5% of patients with subclinical disease will develop overt features each year. Decisions about treatment should take the underlying aetiology, severity and associated comorbidities into account.​
Thyroidectomy
A thyroidectomy (removal of the thyroid gland) may be used as definitive therapy if malignancy is suspected, there is a compressive goitre or RAI/ anti-thyroid medications are unsuitable.
Hemithyroidectomy (removal of half the thyroid gland) may be offered to patients with a solitary toxic nodule.
Complications of the surgery include:
Hypocalcaemia: affects 10%, typically transient, may be permanent in a minority of cases. Due to the proximity of the parathyroid glands to the thyroid gland.
Recurrent laryngeal nerve injury: presents with hoarse voice post-operatively.