Coeliac disease develops due to intolerance to proteins called 'prolamins'.
Gluten is a general term for the proteins found within wheat and other cereal grains. It is a complex mixture of many proteins, particularly gliadin and glutenin.
Gliadin is an example of a prolamin found within wheat. Other prolamins may be identified in other cereal grains including hordeins (barley) and secalins (rye). Prolamins possess high proline and glutamate content which makes them resistant to digestive gastric enzymes.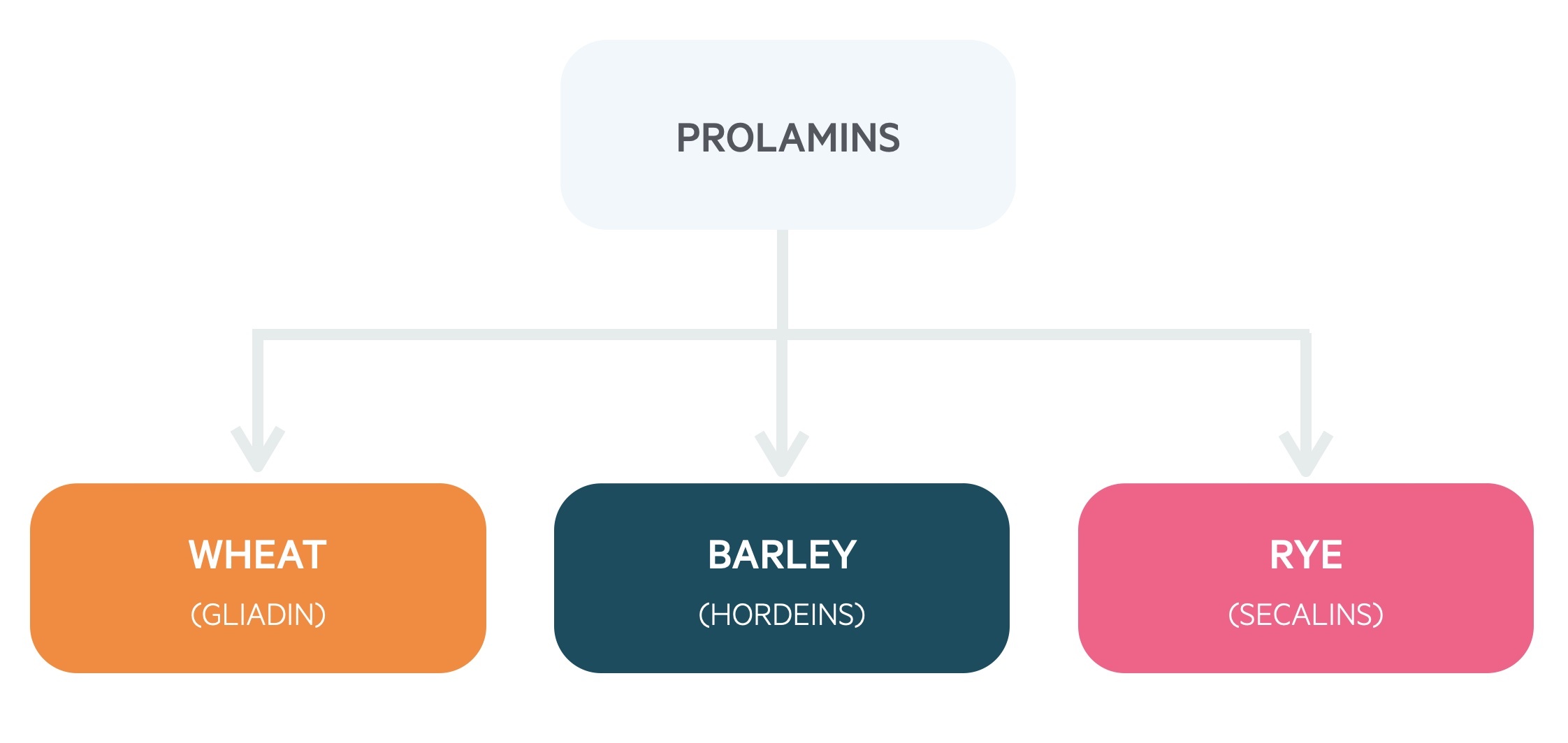 Ingestion of prolamins can result in immune-mediated damage of the intestinal mucosa. Mucosal damage reduces in severity moving distally towards the terminal ileum.
The development of sensitivity to dietary prolamins is thought to be multifactorial, and due to a complex interaction between prolamins and the patients' genetics, immune system and the environment.
Ultimately, coeliac disease causes chronic inflammation, intestinal mucosal atrophy and malabsorption.
1. Genetics
Genetics play an important role in the development of coeliac disease. There is a strong association between coeliac disease and two type II human leukocyte antigens (HLAs):
HLA-DQ2 - present in ~95%.
HLA-DQ8 - present in ~5%.
HLA testing has a strong negative predictive value. This means an absence of the gene is strongly associated with not having the disease. However, having the gene does not mean patients will develop the disease (up to 25% of the general population have HLA-DQ2/HLA-DQ8). It is estimated that >99 percent of individuals with coeliac disease have one of both of these MHC molecules.
Type II HLA genes code for proteins important in the formation of the major histocompatibility complex (MHC) class II. These are found on T helper cells and professional antigen-presenting cells (e.g. dendritic cells). They are involved in the presentation of extracellular peptides (e.g. antigens) to the immune system. They are important in the activation of the adaptive immune system (e.g. B- and T-cell-mediated immunity).
2. Immunology
Both the innate and adaptive immune systems are involved in the inappropriate response to dietary prolamins.
Activation of T helper cells leads to stimulation of B cells and the release of pro-inflammatory cytokines. The activation of the immune system leads to the recruitment of inflammatory cells in the lamina propria (infiltration) and subsequent hyperplasia in the crypts of Lieberkühn.
3. Environment
There is some suggestion that a number of environmental factors may be involved in the pathogenesis of coeliac disease.
Recurrent rotavirus infection infections during childhood increase the risk of developing the disease. Breastfeeding is thought to be protective.