The general principle in the management of UC is to induce and then maintain remission.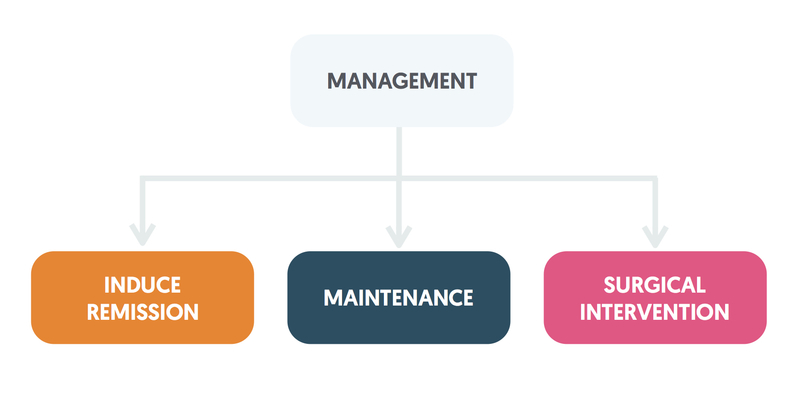 1. Induce remission
The choice of pharmaceutical agent to induce remission in UC is dependent on the extent of colonic involvement, frequency of inflammatory exacerbations and severity of presentation. The mainstay of treatment is with immunosuppressive agents (e.g. aminosalicylates, corticosteroids).
Patients with a mild-to-moderate proctitis / proctosigmoiditis can be managed with topical (rectal) or oral aminosalicylates. Those with left-sided and extensive UC require high-dose oral aminosalicylates. If aminosalicylates fail in this patient group then oral corticosteroids and tacrolimus ( a calcineurin inhibitor) should be considered.
Patients with a severe first presentation or inflammatory exacerbation of UC require intravenous corticosteroids. If patients cannot receive corticosteroids, symptoms worsen, or they fail to respond within 72 hours then therapy should be upgraded to intravenous ciclosporin ( a calcineurin inhibitor).
Aminosalicylates (e.g. sulphasalazine) are a group of drugs that contain the active compound 5-aminosalicylic acid (5-ASA). 5-ASA has immunosuppressive properties leading to a reduction in the immune response. Rare, but potentially severe side-effects of aminosalicylates include:
Acute pancreatitis
Hepatitis
Myocarditis
Pericarditis
Agranulocytosis
Aplastic anaemia
Skin reactions (e.g. Stevens-Johnson syndrome)
2. Maintenance
Most patients with UC are controlled with aminosalicylates (e.g. mesalazine). This includes patients with proctitis, proctosigmoiditis and extensive UC. Patients with UC limited to the rectum may be managed with topical aminosalicylates only.
Patients who present with multiple inflammatory exacerbations of UC may require the use of stronger immunosuppressive agents (e.g. azathioprine and mercaptopurine). In general, if patients have two or more inflammatory exacerbations requiring steroids, or remission is not maintained by aminosalicylates, then these agents should be considered.
3. Surgical intervention
Approximately 25% of patients with UC will have surgery at some stage.
There may be circumstances where patients require urgent surgical intervention. The indications for acute surgical management include toxic megacolon refractory to medical therapy, uncontrolled colonic bleeding, perforation, bowel obstruction secondary to suspected cancer or a fulminant attack refractory to medical therapy.
Indications for elective surgical intervention include disease refractory to medical therapy, chronic steroid dependency, systemic complications from steroids or neoplasia found on screening biopsy.