The general structure of a bacterium includes the cell wall, cell membrane, capsule, flagella, fimbriae, nuclear material, cytoplasm and other intracellular components.
Cell wall
The cell wall forms the outer aspect of bacteria, which protects it against host immune defences and external osmotic pressures. The cell wall differs depending on whether the organisms is gram positive or gram negative. These are the two major groups of bacteria.
Gram positive organisms have a thick peptidoglycan layer composed of polysaccharides and charged amino acids interlaced with other major polymers like teichoic acid. Underneath the peptidoglycan layers is the cell membrane.
Gram negative organisms have an outer cell membrane that contains lipopolysaccharides (LPS). Beneath the outer membrane is a smaller peptidoglycan layer compared to gram positive organisms and then the cell membrane. LPS is the key feature of gram negative organisms that contains lipid A. When broken down and released into the circulation, lipid A stimulates a profound inflammatory response that can lead to septic shock.
Some bacteria do not have a cell wall (i.e. mycoplasma). Bacteria without a cell wall replicate intracellularly within host cells. Due to the absence of a cell wall these bacteria cannot be identified on gram stain.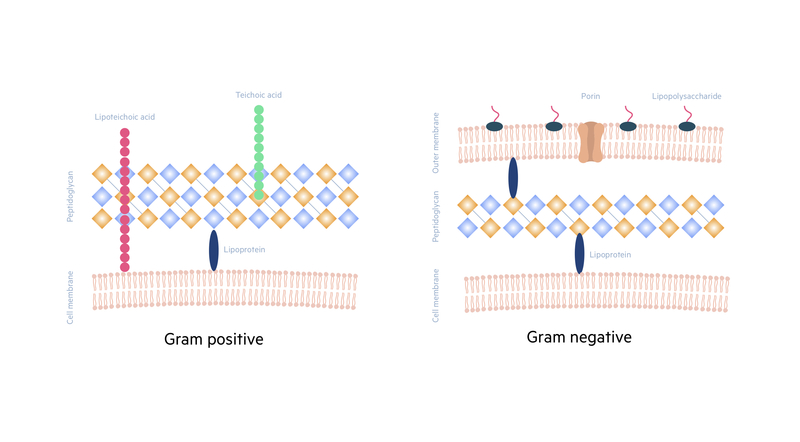 Cell membrane
Similar to the plasma membrane in mammalian eukaryotic cells, the cytoplasmic membrane surrounds the cytosol and acts as a chemical barrier controlling substances pass in and out the cell
Capsule
Some bacteria contain a capsule that is external to the cell wall. Bacterial capsules are composed of high-molecular-weight polysaccharides. We can use knowledge of capsular structure to subcategorise bacteria (i.e. Streptococcus pneumoniae).
Flagella
Flagella are spiral-shaped filaments consisting of protein and flagellin. They assist in bacterial movement.
Fimbriae
Small hair-like appendages, also known as pili, most commonly seen in gram-negative bacteria. Fimriae are composed of proteins called pilins (hence pili). Fimbriae assist in adherence to cell surfaces.
Nuclear material
Nuclear material in bacteria is free within the cytoplasm. In addition, DNA is found in structures known as plasmids, which are small rings of DNA found in the cytoplasm. Bacterial plasmids usually contain genes important for virulence and may be transferred from one microorganism to another.
Intracellular components
Bacteria contain many important intracellular components such as ribosomes. Ribosomes in bacteria are smaller (70S) than eukaryotic ribosomes (80S) and due to this difference they may be targeted by antibiotics.