Radiculopathy refers to symptoms or impairments related to the involvement of a spinal nerve root.
The spinal nerve roots serve as the main communication between the central nervous system (i.e. the spinal cord) and the peripheral nerves. The spinal cord is divided into four main regions termed cervical, thoracic, lumbar, and sacral. This is further divided into 31 spinal cord segments. Arising from the 31 spinal cord segments are the paired ventral and dorsal spinal nerve roots, which join to form the 31 paired spinal nerves (8 cervical, 12 thoracic, 5 lumbar, 5 sacral, 1 coccygeal).
Damage or impingement of a spinal nerve root is known as radiculopathy. Each spinal nerve root carries important sensory/motor functions along a specific distribution. These are known as myotomes and dermatomes:
Myotome: a collection of muscles innervated by a single spinal nerve root
Dermatome: an area of skin supplied by a single spinal nerve root
Therefore, radiculopathy leads to symptoms and/or impairment in the distribution of the nerve roots myotome and/or dermatome. This can lead to weakness in some or all of the muscles innervated by that nerve root and sensory changes (e.g. paraesthesia, pain, sensory loss) in the skin corresponding to that nerve root.
Any nerve root can be affected although by far the most common are the lumbosacral nerve roots (e.g. L5 and S1). When multiple nerve roots are affected together, it is known as polyradiculopathy.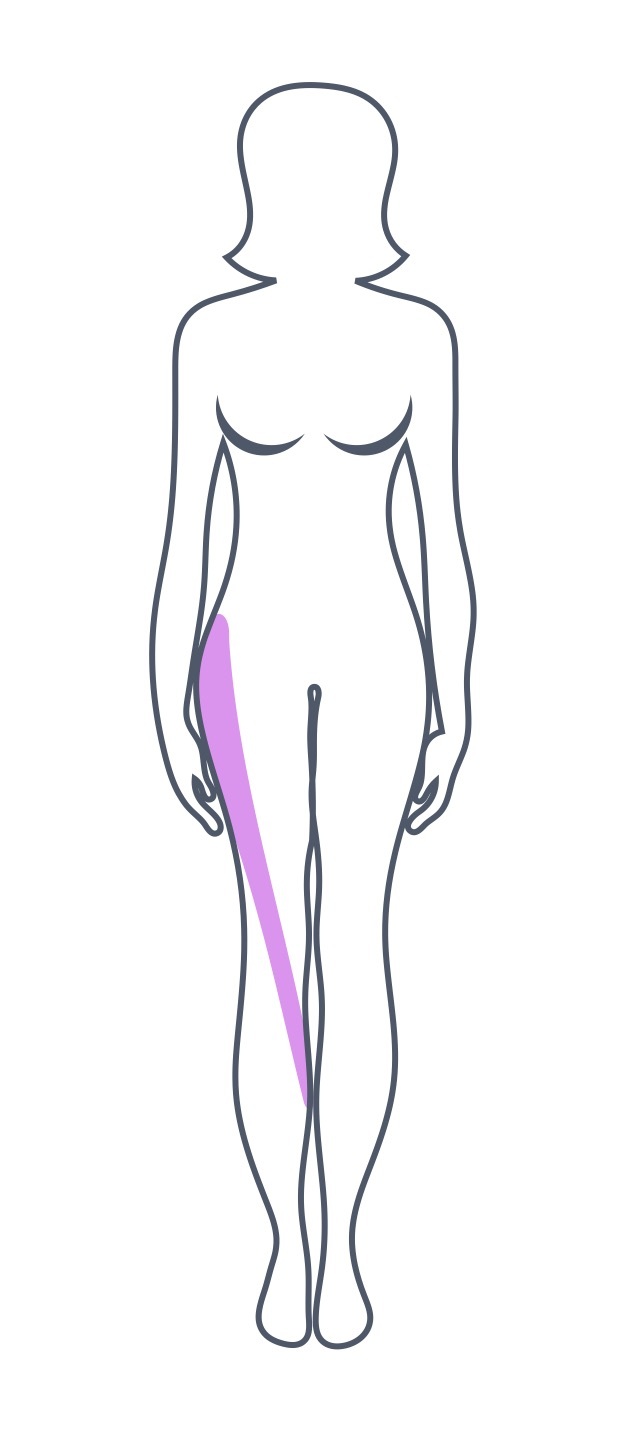 Dermatomal distribution of the L3 nerve root
Sciatica
One important point is the term sciatica. Sciatica is a non-specific clinical description of pain affecting the back and/or leg.
It is typically used to describe a sharp or burning pain that radiates from the buttock along the course of the sciatic nerve down the posterior/lateral leg and usually to the foot or ankle. The sciatic nerve is formed by a combination of nerve roots L4, L5, S1, S2, and S3. Therefore, the involvement of any of these nerve roots alone or in combination can cause a variety of sciatic-like symptoms.
Sciatica is therefore the clinical manifestation of lumbosacral radiculopathies. However, the difficulty arises in the fact that the term is used more generally as a reference to lower back pain that may be non-radicular in origin (i.e. not caused by radiculopathy). Therefore, when a patient has 'sciatica' it is important to determine exactly what is meant by the term and whether there is 'radicular' quality to the pain.
For more information see our Radiculopathies note.