Bacteria are the most commonly isolated organisms in neutropenic sepsis.
Other causes include viruses and fungi. Importantly, an infective organism is only found in 20-30% of cases.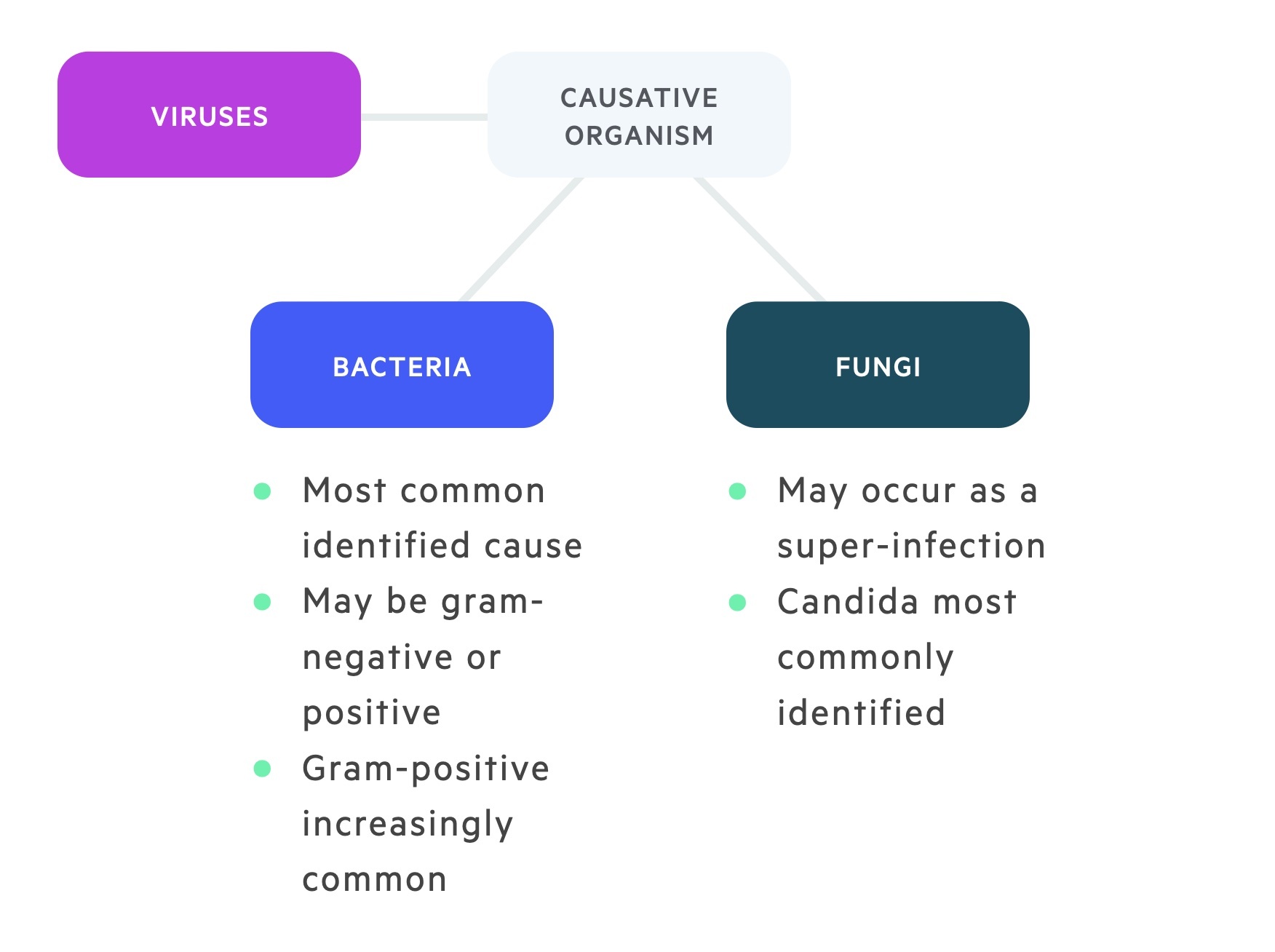 Bacteria
In the 1960s and 1970s the bacteria isolated were predominantly gram-negative. With the rising use of indwelling catheters in the decades that followed the incidence of gram-positive bacteria increased. Coagulase-negative staphylococci and pseudomonas aeruginosa septicaemias are now common. Enterobacteriaceae (e.g. E.coli, Klebsiella) remain important causes.
Examples of gram-positive and gram-negative bacteria leading to neutropenic sepsis are detailed below:
Gram-negative

Escherichia coli
Klebsiella spp
Pseudomonas aeruginosa

Gram-positive bacteria

Coagulase-negative staphylococci (e.g. S. epidermidis)
Staphylococcus aureus
Streptococcus pneumoniae

Other
Viruses
Viral causes of neutropenic sepsis may be seen in high-risk patients and are usually prevented with the use of prophylactic antiviral therapy. Offending organisms are usually part of the human herpes virus family including herpes simplex viruses (HHV 1 and 2), varicella zoster virus (HHV 3), Epstein-Barr virus (HHV 4), cytomegalovirus (HHV 5), and HHV 6 in bone marrow transplant patients.
These human herpes viral infections are usually secondary to reactivation of latent infections and can cause a wide variety of syndromes if not anticipated with prophylactic antivirals.
Other viral infections may include respiratory syncytial virus, influenza virus, and parainfluenza virus.
Fungi
Like viral infections, fungal infections are more common in high-risk patients. The overall risk of fungal infections increases with the length and severity of neutropenia and the number of cycles of chemotherapy.
Typical fungal pathogens include Candida spp. and Aspergillus spp. Candida is a normal commensal of the gastrointestinal flora and may translocate across damaged epithelium. Aspergillus may enter the respiratory tract via inhaled spores.
The use of prophylactic anti-fungal therapy is dependent on risk stratification of the patient and the underlying diagnosis. Patients with haematological malignancies often require anti-fungal prophylaxis (e.g. fluconazole).