Malignancy accounts for 60-80% of cases of SVCO.
The aetiology of SVCO has changed over the years. Where once infections (e.g syphilis) were the most common cause, malignancy now predominates. Lung carcinoma and non-Hodgkin's lymphoma (NHL) are most commonly identified.
Less common causes include thymic, breast and mediastinal germ cell tumours. SVCO may result from direct tumour growth or lymphadenopathy. It is estimated that 60% of patients presenting with malignant SVCO will have a previously undiagnosed malignancy.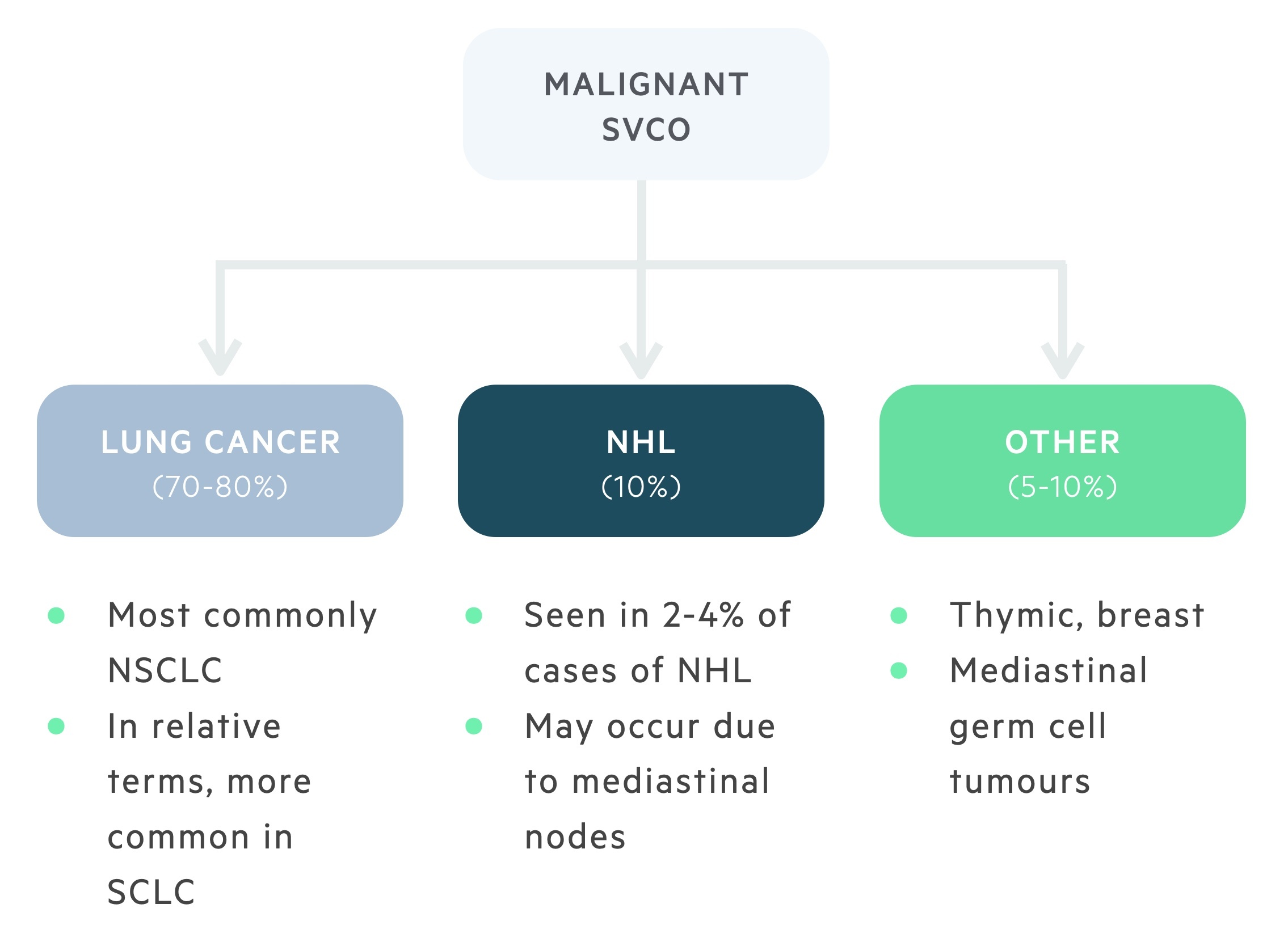 Obstruction of the SVC results in the formation of collateral vessels. Four collateral systems exist, the azygous system, internal mammary and long thoracic system (femoral and vertebral).
Collaterals take time to develop, therefore clinical features are dependent on the time frame over which the obstruction develops. A slowly progressing obstruction allows time for adequate collateral formation and as such symptoms may be mild.
Lung cancer
Less than 2% of patients with non-small cell lung carcinoma (NSCLC) will develop SVCO. However, due to the high incidence of NSCLC, it accounts for 50% of all malignant cases of SVCO.
Due to their central location and rapid growth, the incidence of SVCO in small cell lung carcinoma (SCLC) is greater than that of NSCLC at 10%, though SCLC itself is less common. SCLC is responsible for 25% of malignant cases of SVCO.
NHL
NHL accounts for up to 10% of cases of malignant SVCO. SVCO is seen in approximately 2-4% of NHLs. The overall prevalence of SVCO in NHL is dependent on the subtype, with diffuse large B-cell lymphoma and lymphoblastic lymphomas the most frequent causes.