A severe acute asthma attack represents a medical emergency. Prompt recognition and management is required.
Severity
The severity of an acute asthma attack is based on symptoms, observations and PEFR.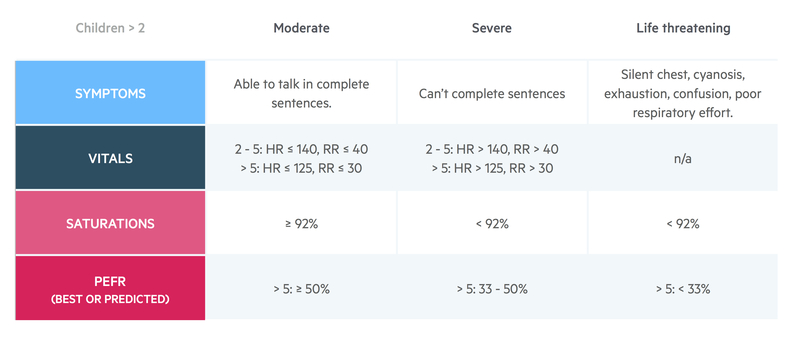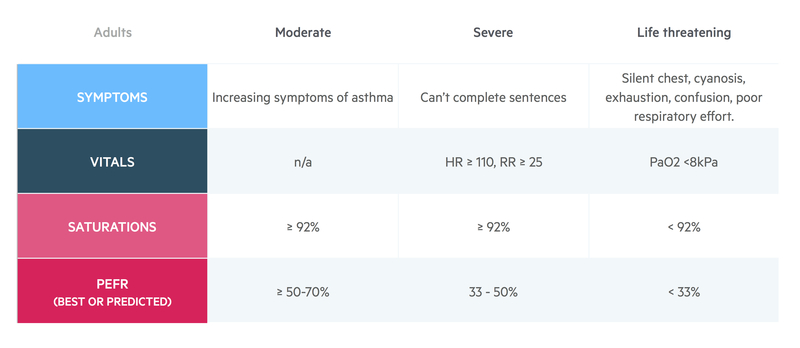 Acute Asthma
The below algorithm is based on SIGN/BTS 153 British guideline on the management of asthma. Patients not responding to first line therapies need senior clinician review and discussion with HDU/ICU/PICU.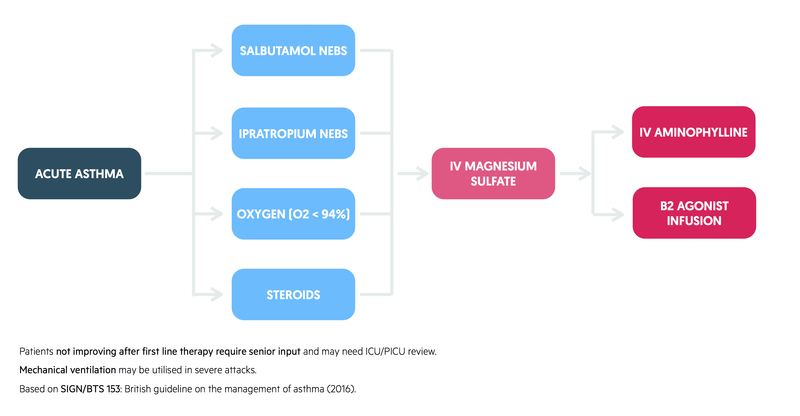 1. Initial management
Salbutamol
Salbutamol nebulisers, 2.5 - 5mg (preferably driven by oxygen) should be administered in adults. They may be repeated every 15 to 30 minutes. Children may more commonly be administered salbutamol via and inhaler and spacer device with 2-10 puffs.
If there is no access to nebulisers back to back inhalers should be given. IV beta-2 agonists should be reserved for those in whom inhaled therapy is not possible.
Oxygen
Oxygen should be started immediately in severe attacks and is typically titrated to saturations of 94-98%.
An arterial blood gas should be obtained and repeated tests may be necessary. The development of hypercapnia indicates a near-fatal attack, specialist and anaesthetic involvement is required.
Steroids
Steroids should be started. Either PO with prednisolone 40-50mg daily or IV with hydrocortisone 100mg six hourly. Children aged 2-5 receive prednisolone 20mg or hydrortisone 50mg.
They should be continued for at least five days. In cases where IV hydrocortisone has been used, switch to oral prednisolone when appropriate.
Ipratropium bromide
Ipratropium bromide nebulisers are given to most patients admitted with an acute asthma attack.
500mcg in adults and 250mcg in children four to six hourly can be given.
2. Second line therapies
Magnesium sulfate
There is a body of evidence indicating magnesium sulfate has bronchodilator effects.
Discussion with senior staff is necessary, a dose of 1.2 - 2 g IV magnesium sulfate may be given over 20 minutes in adults. Children receive a dose of 40mg/kg. Children may also be given magnesium sulfate added to their initial nebulisers.
Beta 2 agonist infusion
In patients still not responding B2 agonist infusions may be started.
Aminophylline
In an acute attack, there is little evidence IV aminophylline will result in additional bronchodilation.
It is often still used and requires senior input. A 5mg/kg loading dose (over 20 minutes) is followed by a continuous infusio. Aminophylline levels should be checked daily.