Spirometry measures the volume of air on forceful expiration following maximal inspiration.
Spirometry is a relatively straightforward procedure that can be completed quickly. It involves the patient taking in a deep breath to fill the lungs (maximal inspiration), followed forceful expiration - attempting to expire the air as quickly and for as long as possible into the mouthpiece of a spirometer.
During spirometry, the following is measured:
FVC: the forced (expiratory) vital capacity, a person's maximal expiration following full inspiration.
FEV1: the forced expiratory volume in one second, i.e the volume of FVC expelled after one second.
FEV1/FVC: derived from the two measurements above, may be given as a ratio or percentage. It is the proportion of the FVC that is expelled in the first second of forceful expiration.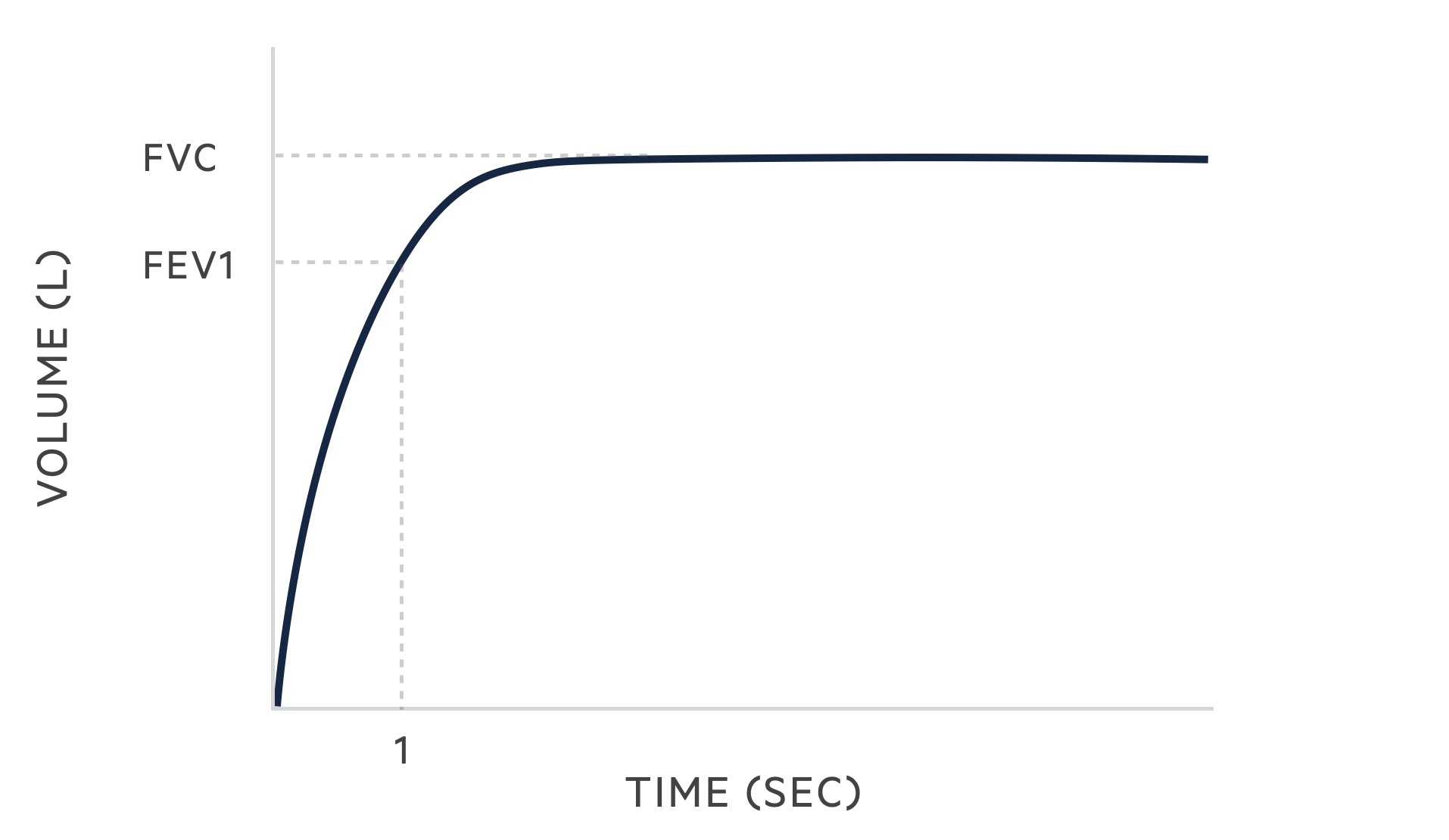 Normal values for FVC and FEV1 depend on gender at birth, height, weight, age and ethnicity. Reference values are used to determine normal results based on these factors. Different countries and populations may use different reference values. A healthy adult male may have an FVC of 5-5.5L whilst a healthy adult female may have an FVC of 3.5-4L.
Spirometry is an extremely useful and commonly completed test, it helps us distinguish between obstructive and restrictive lung diseases.
Obstructive
In obstructive lung disease, there is an increase in airway resistance and a decrease in the expiratory flow. Increased resistance may be secondary to airway inflammation and secretions, bronchospasm and/or reduced elastic recoil.
As such obstructive lung diseases are characterised by a greater reduction in the FEV1 than in the FVC, as such the FEV1/FVC ratio is < 70%.
Obstructive lung disease includes (ABC):
Asthma
Bronchiectasis
COPD (chronic bronchitis and emphysema)
Others (cystic fibrosis, bronchiolitis)
The following changes are seen in obstructive lung disease:
FVC: may be normal but often reduced due to air trapping
FEV1: reduced
FEV1/FVC: < 70%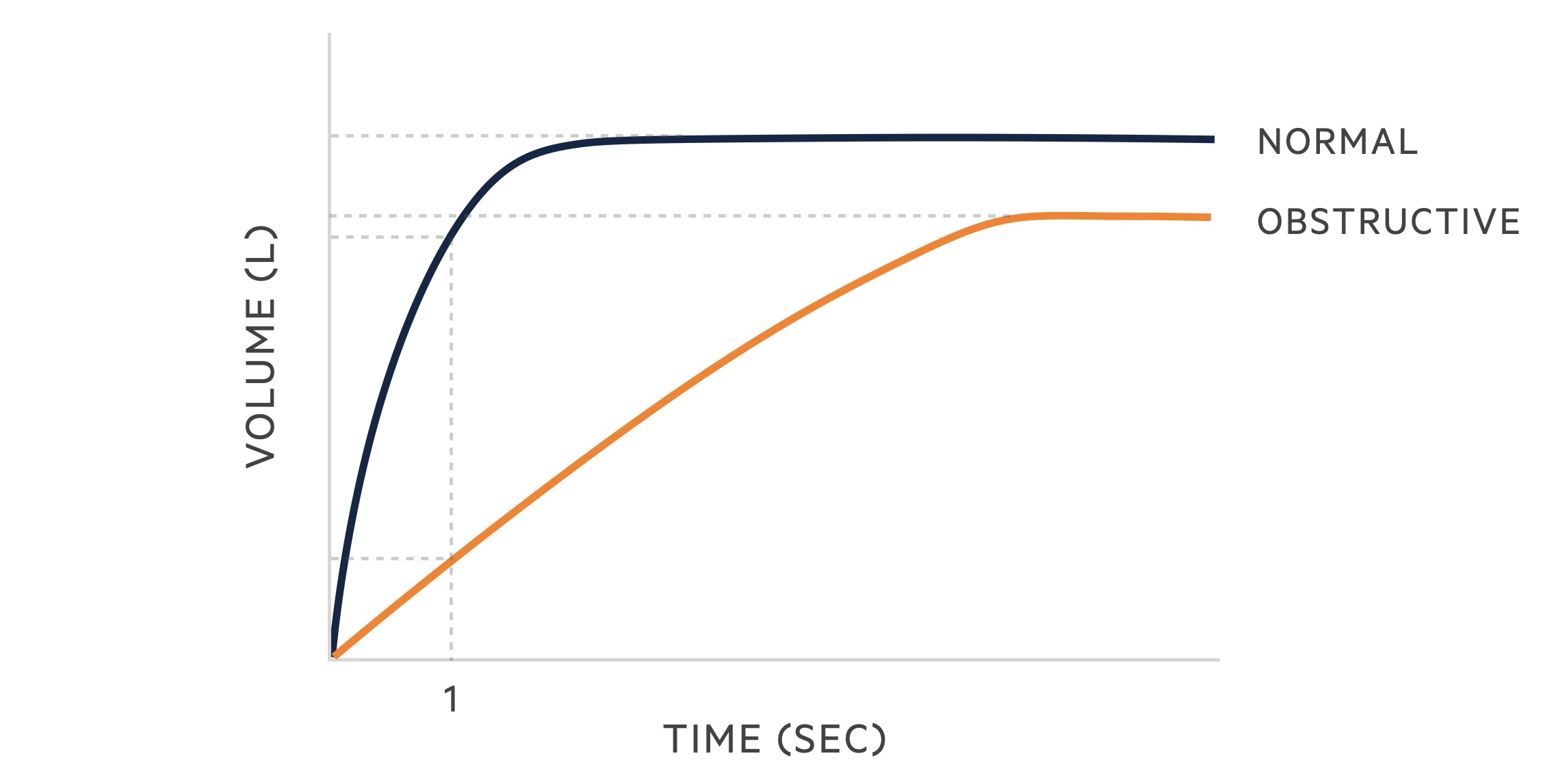 In patients with an obstructive picture on spirometry, reversibility testing may be used. Reversibility testing involves the adminstration of bronchodilator therapy and then repeating spirometry. Significant reveribility increases the chances of asthma being the correct diagnosis, though this can also be seen in COPD at times.
Restrictive
Restrictive lung diseases are characterised by a reduced TLC. Spirometry tends to reveal a reduced FVC with a relatively preserved FEV1. There are many causes of restrictive lung (PAINT):
Intrinsic:
Pleural (e.g. pleural effusions, chronic empyema)
Alveolar (e.g. oedema, haemorrhage)
Interstitial (e.g. idiopathic pulmonary fibrosis, sarcoidosis)
Extrinsic:
Neuromuscular (e.g. myasthenia gravis, ALS)
Thoracic/extrathoracic (e.g. kyphoscoliosis, obesity, ascites)
The following changes are seen in restrictive lung disease:
FVC: reduced
FEV1: reduced
FEV1/FVC: > 70%