Volumes and capacities reveal much about the physiology of the lungs. They have a tremendous reserve to be utilised in times of increased oxygen demand, not only by increasing respiratory rate but the volumes with which we breathe.
Volumes
Lung volumes during inspiration and expiration may be categorised into:
Tidal Volume (VT): During normal breathing we inspire and expire around 500ml of air.
Minute volume, the amount we respire in a minute is calculated by multiplying VT by the respiratory rate.
Inspiratory reserve volume (IRV): The additional volume inspired with maximal effort (3L).
Expiratory reserve volume (ERV): The additional volume expired with maximal effort (1.2L).
Residual volume (RV): The volume that remains after maximal expiration (1.2L).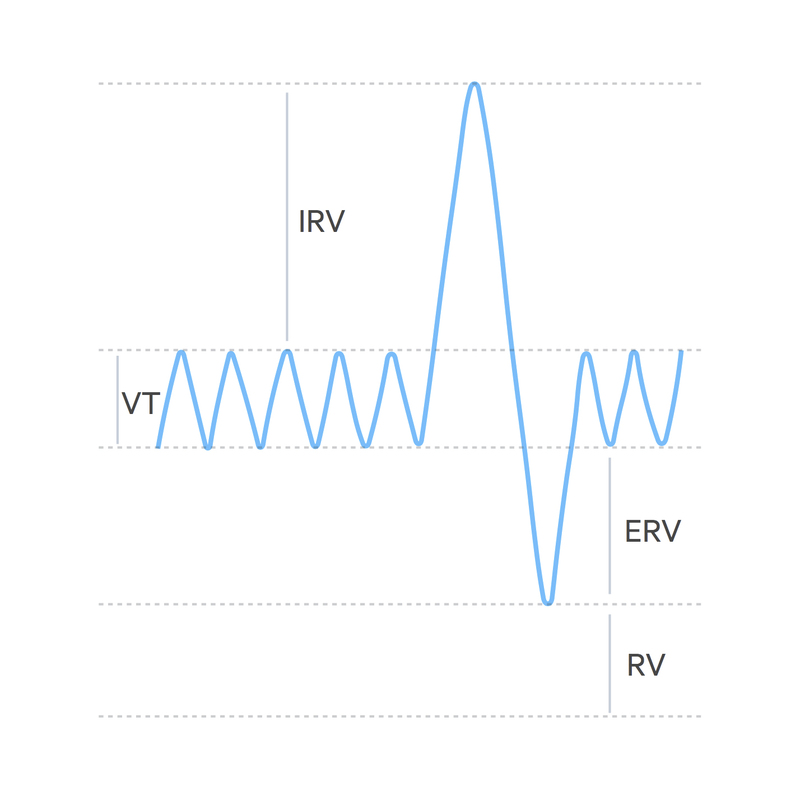 Capacities
Lung volumes may be combined to give capacities:
Functional residual capacity (FRC): This is a combination of the ERV and RV (2.4L).
Vital capacity (VC): Volume of gas on maximal inspiration and expiration (5L).
Total lung capacity (TLC): The total volume of gas in lungs at maximal inspiration. TLC helps define the difference between obstructive and restrictive lung disease:
Reduced TLC: Restrictive lung disease may occur due to parenchymal disease, neuromuscular disease or chest wall deformities which lead to a reduced TLC.
Normal or increased TLC: Obstructive lung disease may occur due to increased resistance in the conducting airways, typically with a normal TLC. In emphysematous disease, TLC may be increased.