The diaphragm is a musculotendinous structure that separates the thoracic and abdominal cavities. It is the muscle that is primarily responsible for respiration.
When the diaphragm contracts both domes descend, expanding the thoracic cavity. This increase in volume causes a drop in intrathoracic pressure, drawing air in. At the same time, it increases the intra-abdominal pressure. The combination of raised intra-abdominal pressure and reduced intrathoracic pressure 'sucks' venous blood to the heart aiding venous return.
During normal breathing, the diaphragm may only move by 1.5cm, during deep breathing this may increase to 7cm.
Structure
The diaphragm is a double-domed structure with the muscular fibres blending into a central tendon. The surrounding muscular component is divided into three parts:
Sternal: two muscular slips which attach to the posterior aspect of the xiphoid process.
Costal: attach to the inferior six ribs and costal cartilages.
Lumbar: arises from lumbar vertebrae 1-3 and the medial and lateral arcuate ligaments.
The right dome is typically higher due to the presence of the liver below.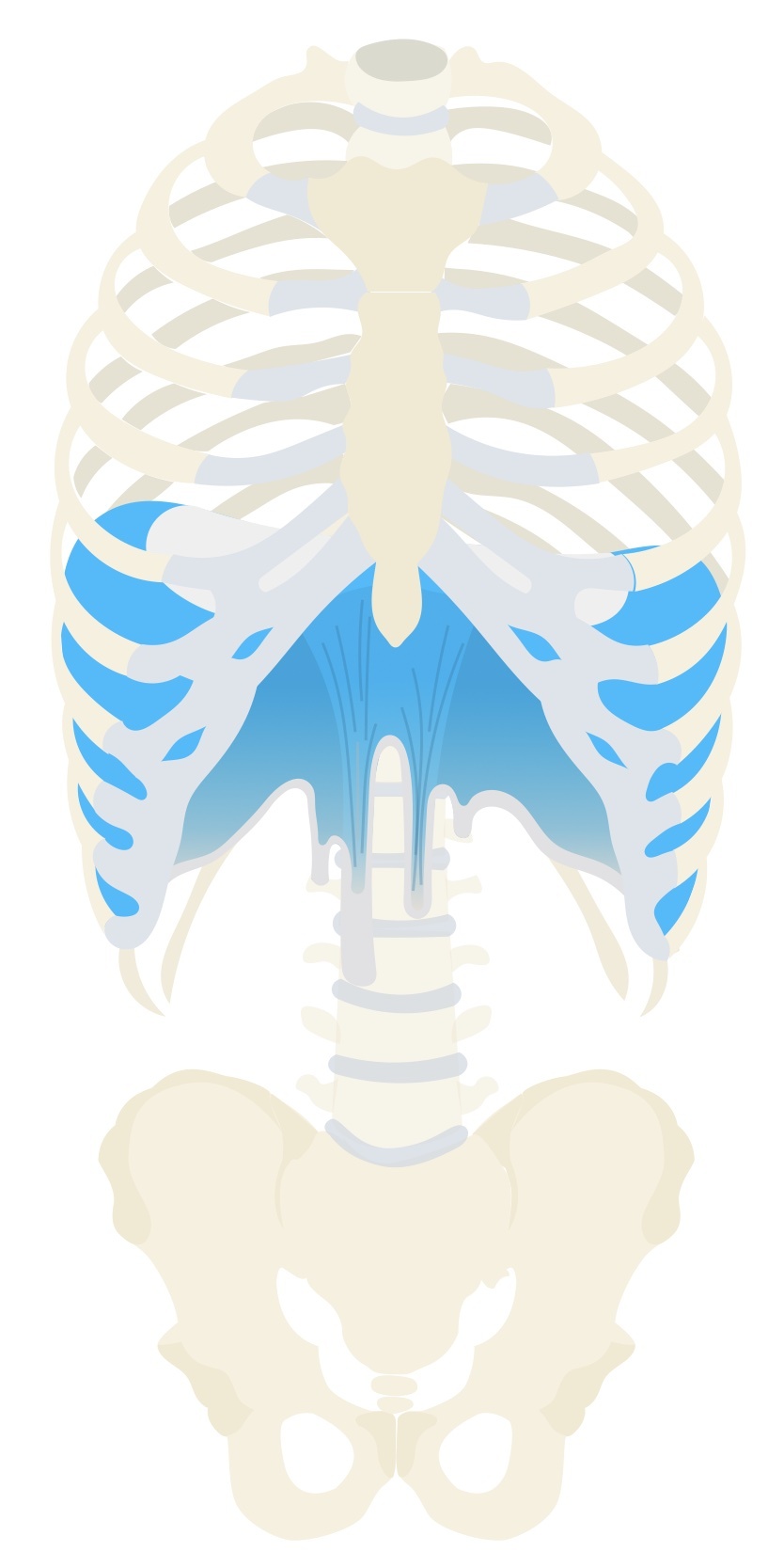 Vascular supply and innervation
The diaphragm is innervated by the phrenic nerve, which arises from the spinal nerve roots C3, C4 and C5. This can be remembered using the phrase 'C3, 4, 5 keep the diaphragm alive'.
It has an extensive blood supply:
Arterial supply: the superior surface is supplied by the superior phrenic arteries (from the thoracic aorta), musculophrenic and pericardiacophrenic arteries (from the internal thoracic arteries). The inferior surface is supplied by the inferior phrenic arteries (from the abdominal aorta).
Venous drainage: the superior surface is drained by the superior phrenic vein, musculophrenic and pericardiacophrenic veins. The inferior surface is drained by the inferior phrenic veins (to IVC and suprarenal vein).
Apertures
The diaphragm has three major apertures:
Caval hiatus: the inferior vena cava passes through this hiatus, found in the central tendon, at the level of T8. Branches of the right phrenic nerve also pass through this opening.
Oesophageal hiatus: the oesophagus passes through this hiatus found in the right crus (though left of the midline) of the diaphragm at the level of T10. The vagus nerves and small oesophageal arteries also pass through this hiatus.
Aortic hiatus: the aorta passes through this hiatus at the level of T12 located between the crus and the vertebral column. The azygous and hemiazygous veins and the thoracic duct also pass through this hiatus.