Active TB may be heralded by weight loss, malaise, fever and symptoms specific to the site affected.
Active TB most commonly affects the lungs but other organs and tissues may be affected. Clinical features will often reflect the underlying site involved.
Pulmonary TB
Pulmonary TB is the most common clinical manifestation of TB affecting around 55% with active disease. It may be asymptomatic or present with the classic triad of:
Shortness of breath and haemoptysis can also be present. Additional symptoms may be seen with laryngeal and pleural involvement.
Chest radiograph may demonstrate consolidation, cavitation (typically upper lobe) and effusion.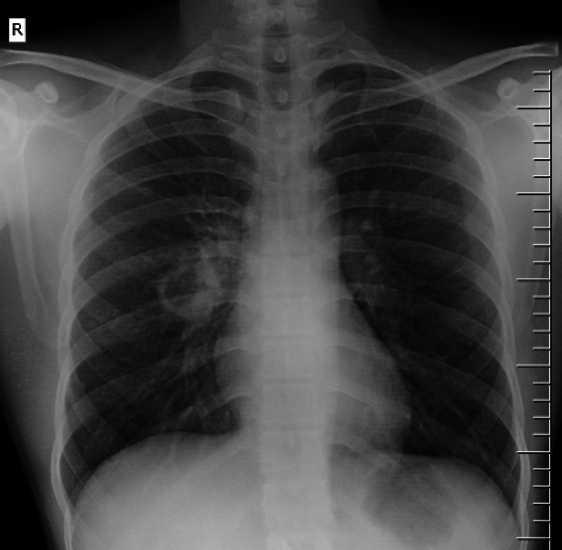 Pulmonary TB with a cavitary lesion in the right mid zone
Image courtesy of Dr Aditya Shetty and Radiopaedia
Lymph-node TB
The lymph nodes are the most common extra-pulmonary site. Nodes are typically described as:
It most commonly affects cervical and supraclavicular nodes. In chronic cases, suppuration and formation of a sinus tract can occur.
Genitourinary TB
TB frequently affects the genitourinary tract. 'Sterile' pyuria may be seen. Other features include:
Salpingitis
Epididymo-orchitis
Renal abscess
Miliary TB
Miliary TB is the disseminated haematogenous spread of the bacilli. The term miliary comes from the characteristic chest radiograph finding - the appearance of millet seeds throughout the lung fields.
CNS TB is present in 20%. Multiple organ failure and organomegaly may develop.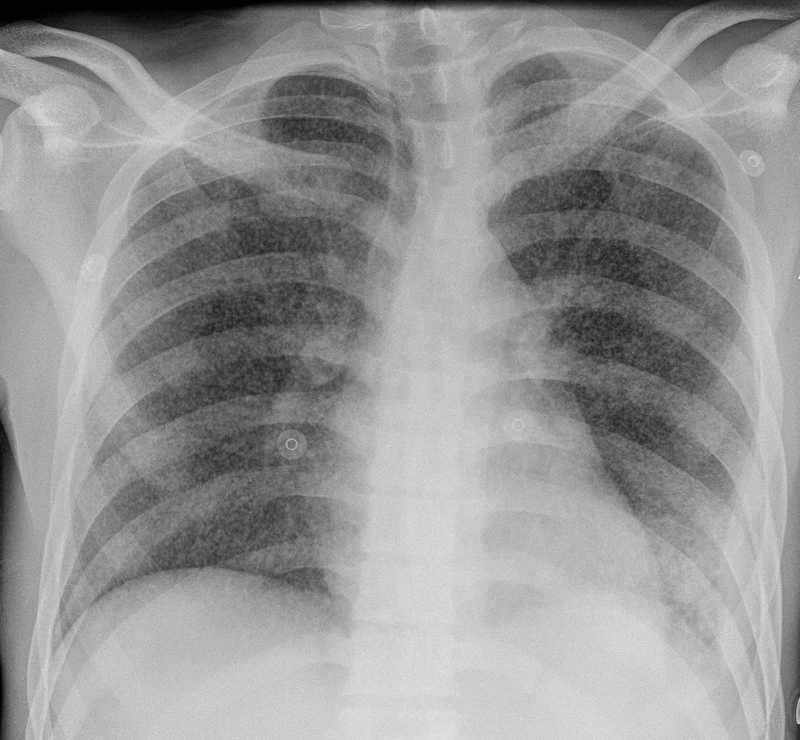 Miliary TB on CXR
Image courtesy of Dr Mark Holland and Radiopaedia.org
CNS TB
CNS TB has numerous manifestations, the most common being TB meningitis. TB meningitis tends to present with fever, malaise and headache.
In TB meningitis CSF sampling shows:
High protein
Low glucose
Lymphocytosis
Vertebral TB
TB affecting the spine is called Pott's syndrome. Symptoms include:
Fever
Weight loss
Back pain
Neurological deficits are seen in 50% and the development of spinal deformities, typically kyphosis, is common.
Other
Cutaneous TB: There are many manifestations including lupus vulgaris and scrofuloderma. TB may trigger erythema nodosum - a delayed hypersensitivity reaction seen in a number of conditions.
Pericardial TB: This can lead to pericardial effusions or constrictive pericarditis.
Adrenal TB: TB is the leading cause of Addison's disease worldwide. See our Addison's disease notes for more details.
Gastrointestinal TB: TB may affect the intestines, characteristically causing terminal ileitis. Peritoneal spread may lead to ascites.