Diagnostic tests typically begin with USS and CA125, which along with menopausal status are used to calculate the Risk of Malignancy Index.
Diagnosis of ovarian cancer can be via a number of routes. Commonly investigations will follow a presentation to GP with persistent non-specific symptoms. Others may be diagnosed after an acute presentation to hospital or incidentally on imaging.
There are two national guidelines from SIGN (2013) and NICE (2011). The British Gynaecological Cancer Society (BGCS) also published guidance in 2017.
Initial investigations
A Ca125 +/- USS are typically the first investigations ordered in patients with suspected ovarian cancer. These can be used to calculate the Risk of Malignancy Index.
Alpha-fetoprotein (AFP) and human Chorionic Gonadotropin (hCG) can be sent in women under the age of 40 to help identify non-epithelial ovarian cancers.
Risk of Malignancy Index (RMI)
The RMI score is calculated from the CA125, menopausal status and ultrasound findings. It is the product of the three scores (U = USS, M = Menopausal status):
RMI = U x M x CA125
A number of RMI scores exist - primarily with differences in how ultrasound findings are scored. NICE and SIGN guidelines advise the RMI 1 score is used.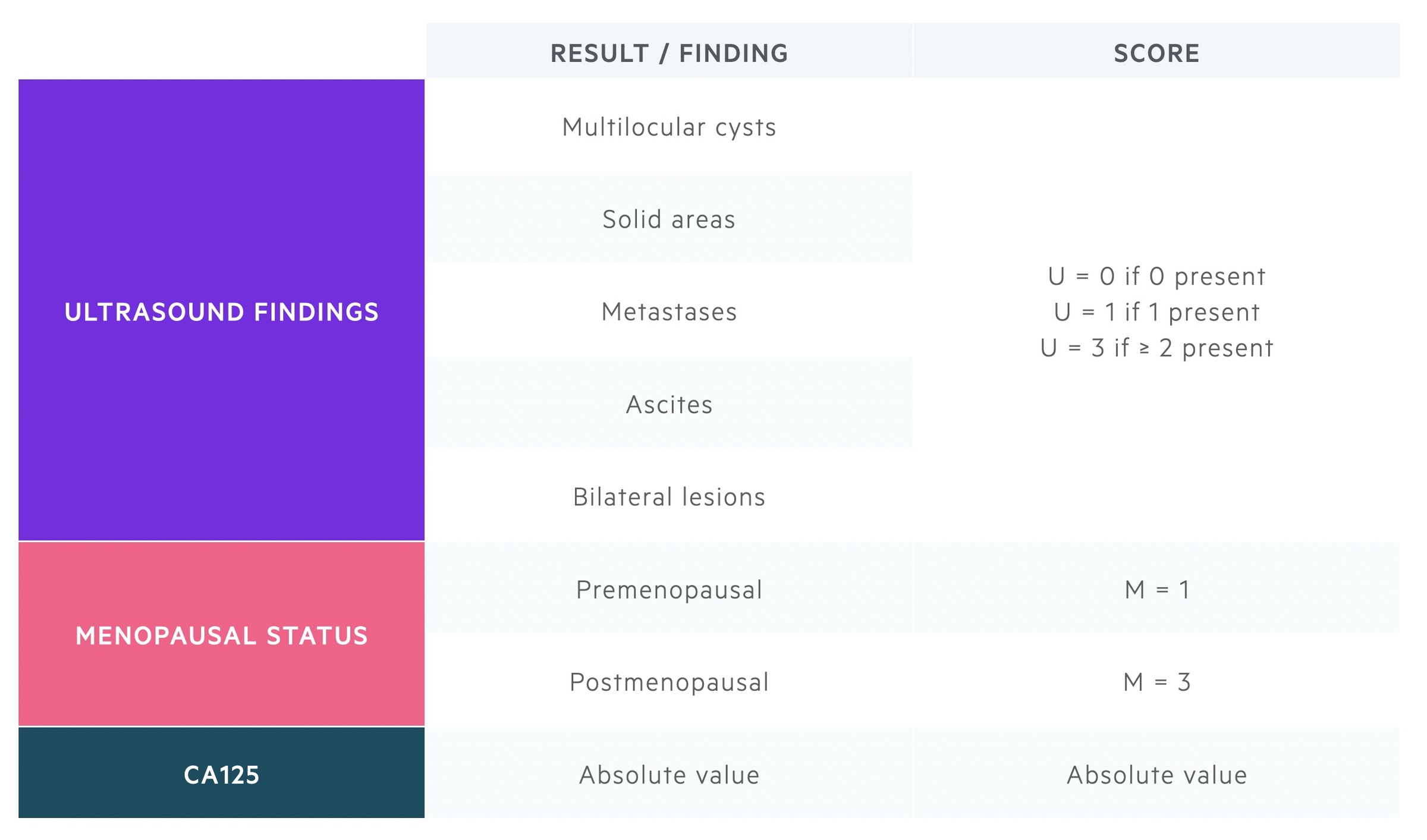 Further investigations
Local services may have different RMI cut-offs regarding discussion at specialist MDT (NICE advise > 250, SIGN advise > 200), with other patients being managed at local centres. Additional investigations are likely to be ordered including CT scans (for radiological staging) and other tumour markers.
Depending on patient findings and MDT discussion many further tests may be ordered. This may include gastroscopy, colonoscopy, hysteroscopy, mammography and biopsies.
Tissue diagnosis
The final diagnosis is often obtained during surgery after appropriate MDT discussion. In cases where cytotoxic chemotherapy is being offered for advanced disease, a histological sample is normally attained before treatment is commenced.