The characteristic sign of croup on plain film radiograph is the steeple sign.
Basic bedside observations are vital in any unwell child to determine the severity of illness. This includes regular assessment of respiratory rate, heart rate and oxygen saturations. Further investigations depend on the severity and the possibility of an alternative diagnosis.
Laboratory investigations
Rarely indicated in children with croup. Management is largely based on clinical assessment and subsequent treatment.
Most cases of croup are self-limiting, therefore, further investigations including viral culture is not necessary. However, if being admitted to hospital or when a firm aetiological diagnosis is required, confirmation by viral culture of secretions from the nasopharynx or throat can be completed. In hospital, this is typically needed for infection-control purposes.
Imaging
Imaging is not required for the diagnosis of croup. However, on plain film radiograph, the classical sign of croup is the 'Steeple sign'. This refers to subglottic airway narrowing seen on x-ray due to inflammation and mucosal oedema.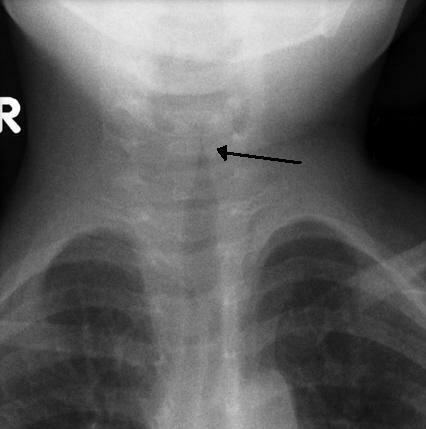 Steeple sign on X-ray, arrow shows subglottic airway narrowing
Image courtesy of Dr Michael Sargent, Radiopaedia.org