Unexplained breast lumps should undergo specialist assessment.
The one-stop breast clinic incorporates a triple assessment in one appointment. It requires localities to have access to appropriate specialists and diagnostic equipment but offers patients a convenient and efficient service.
The majority of patients can be reassured that they do not have evidence of breast cancer following a single visit. Some may need to await further tests (e.g. core biopsy results) whilst others may be given a likely diagnosis.
In young patients (< 25 years) with a low-risk history; examination and imaging findings - these alone may be sufficient to make a diagnosis of fibroadenoma. In older patients or those with indeterminate (or concerning) examination or imaging, a biopsy must be considered.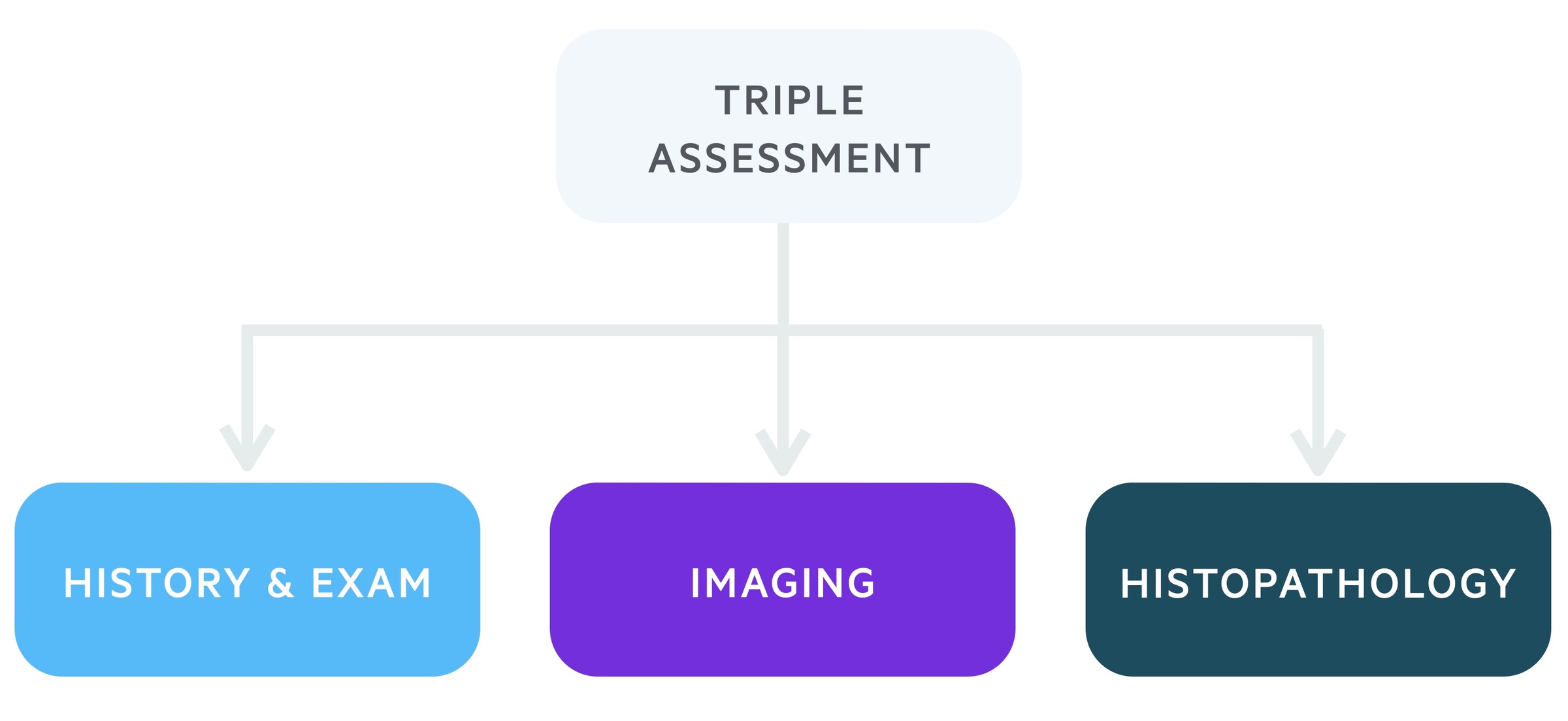 1. Clinical history and examination
Each patient referred to the two-week wait one-stop clinic will be reviewed by a specialist. This will involve a detailed history including family history. Following this, the patient will be carefully examined.
2. Imaging
This will depend in part on the history and examination and the patient's age. Clinics are set up to conduct both breast ultrasound scans (USS) and mammograms.
Mammogram: A mammogram utilises x-rays to image breast tissue. Finding suggestive of cancer include soft tissue masses and microcalcifications.
USS: Breast USS is the modality of choice in women under the age of 40. It is also used in older women, particularly when mammogram and clinical findings do not align. High-resolution scanners meeting NHSBSP standards are used.
3. Histopathology
Depending on what is found in the first two steps a tissue/cellular sample may be taken. This may be in the form of fine-needle aspiration (provisional same-day results) or core biopsy (often provisional same-day results, sometimes may have to wait a few days).