A diagnosis of haemorrhoids can be made through clinical history, physical examination, and excluding alternative pathologies.
The diagnosis of haemorrhoids is usually suggested by the history of bright red rectal bleeding on wiping with perianal irritation. This is then followed by a clinical examination to visualise the anorectal region and identify haemorrhoids. A formal diagnosis is made by direct visualisation. To ensure the entire anal canal is visualised this usually requires a procedure (e.g. proctoscope)
The European Society of Coloproctology advises that a procedure (e.g. rigid anoscope, proctoscope or rectoscope) should be used to visualise the entire anal canal to diagnose and classify haemorrhoids. If the facilities or expertise are not available to perform this in primary care, then patients may need to be referred for further assessment.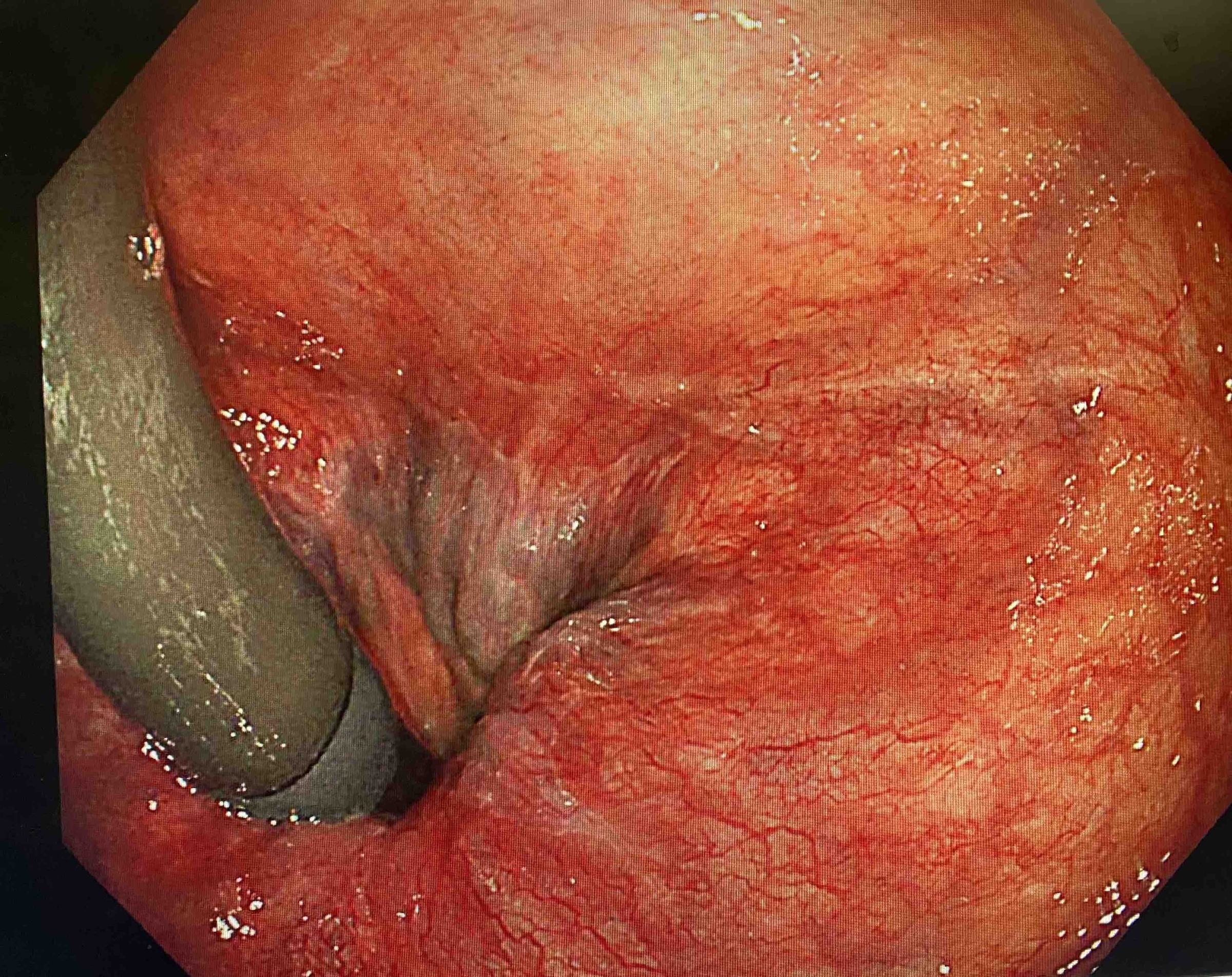 Grade I internal haemorrhoids
Seen on retroflexion during colonoscopy
Differential diagnosis
Many conditions may also present with anorectal symptoms and the presence of haemorrhoids does not exclude other pathology. Therefore, it is vital to take a thorough history and perform a good clinical examination to exclude other causes.
The major differentials to consider include:
Anorectal polyp
Anal fissure
Cancer: Anal or colorectal
Anorectal fistula
Diverticular disease
Inflammatory bowel disease
Perianal abscess
Rectal prolapse
Sexually transmitted infection
Laboratory tests
In patients with clinical signs of anaemia or significant rectal bleeding, it is important to arrange a full blood count and consider iron studies. Unexplained iron-deficiency anaemia is concerning and warrants urgent referral for investigation of gastrointestinal cancer.
Endoscopic assessment
A basic procedure such as anoscopy or proctoscopy should ideally be used to diagnose and classify haemorrhoids. They are also useful to exclude alternative anal pathologies (e.g. fistula, fissure, polyp).
More invasive endoscopic assessment including flexible sigmoidoscopy and colonoscopy depends on the clinical presentation and suspected underlying cause. For example, patients with suspected inflammatory bowel disease or colorectal cancer need an urgent referral for colonoscopy (e.g. patients with positive qFIT, patients > 60 with change in bowel habits).
Referral
If there is a concern for another cause (e.g. inflammatory bowel disease, colorectal cancer) patients should be referred appropriately. Ensure you are familiar with the lower GI two-week wait pathway referral criteria, which are discussed further in our Colorectal cancer note.