General management consists of analgesia, appropriate fluids and nutritional support.
The majority of cases of acute pancreatitis are treated with supportive measures. This normally includes:
IV fluids
Analgesia
Nutritional support
Most patients will be managed by the general surgeons though some hospitals have pathways that send patients to gastroenterology (in particular those with pancreatitis secondary to alcohol excess). In more severe cases organ support may be needed for systemic complications with HDU/ITU care indicated. In these severe cases, and patients who may require intervention, transfer to a tertiary hepatobiliary department should be considered.
The Glasgow score (see above) can help to identify patients that need critical care input, though clinician judgement must be used. Even if the patient doesn't need admission to HDU/ITU immediately, it is good practice to involve the intensivists early on in those that may deteriorate.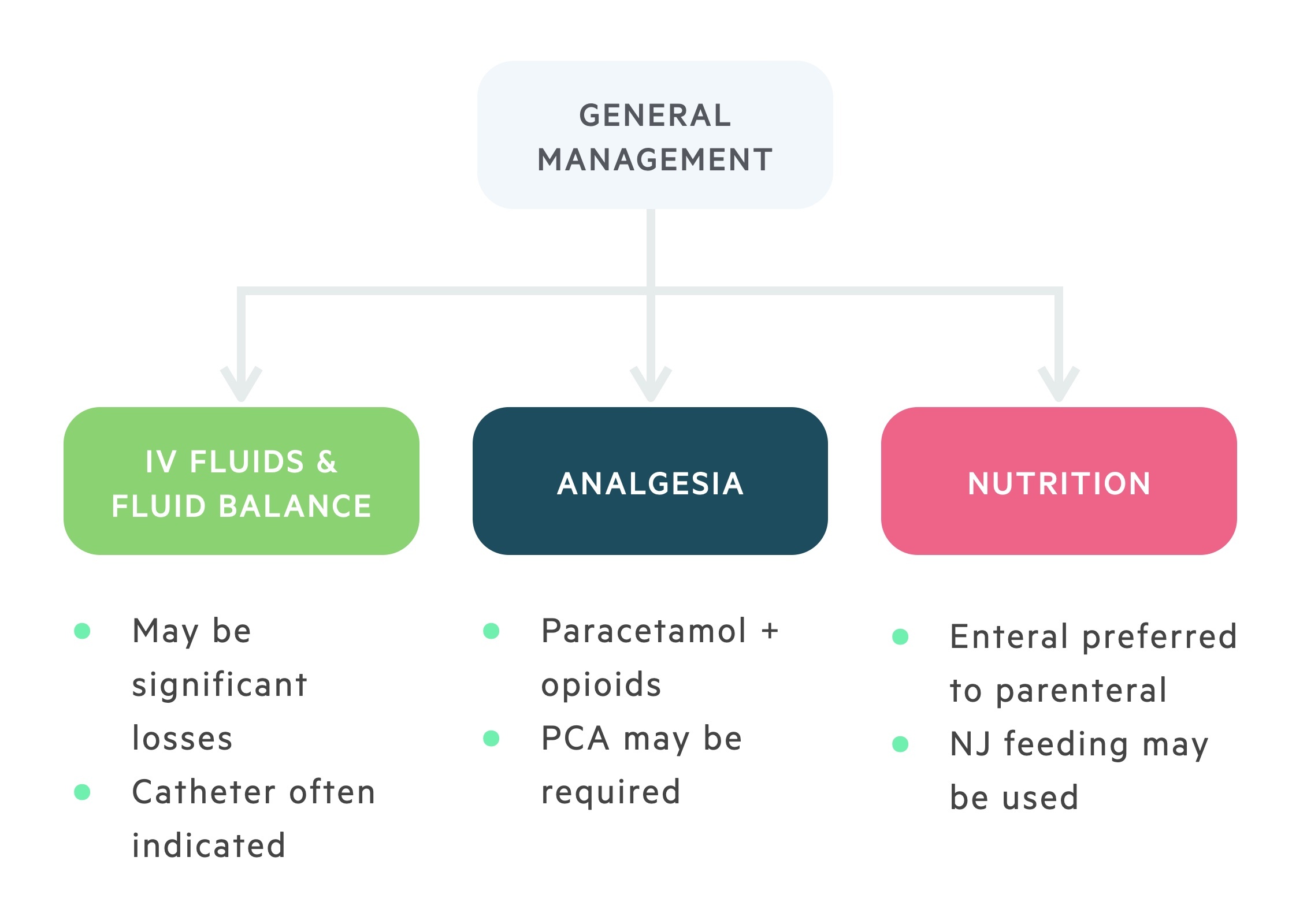 Supportive
Pain is the most common complaint and patients should receive adequate analgesia. Morphine can be used, but may lead to spasm of the sphincter of Oddi. Pethidine and buprenorphine are alternatives.
Patients require fluid resuscitation to compensate for third-space losses. They may need aggressive intravenous fluids, particularly in the first 24 hours. A careful fluid balance should be recorded and a urinary catheter is indicated in all but the mildest cases.
Nutrition
Our understanding of how to best manage nutrition in patients with acute pancreatitis continues to evolve. In mild cases, a low-fat diet may be reintroduced once tolerated by the patient (i.e. the pain has settled and they have an appetite).
In patients with severe disease where a normal diet is not tolerated other options must be explored. As a general rule enteral feeding is preferred to total parenteral nutrition (TPN). It is thought enteral feeding helps maintain the mucosa and prevents translocation of bacteria. Nasojejunal feeding is commonly used.
TPN should be used in patients with ileus or where nutritional requirements are not being met.
Antibiotics
Antibiotics are not routinely indicated in acute pancreatitis and they should not be used prophylactically. Antibiotics should be commenced in patients with suspected/confirmed infected pancreatic necrosis, cholangitis or another infective source.