There are several clinical sub-types of BCC, including: nodular, superficial, morphoeic, pigmented & basosquamous.
There are multiple clinical sub-types of BCC described in literature, with some variation between sources. Below are listed five common variants.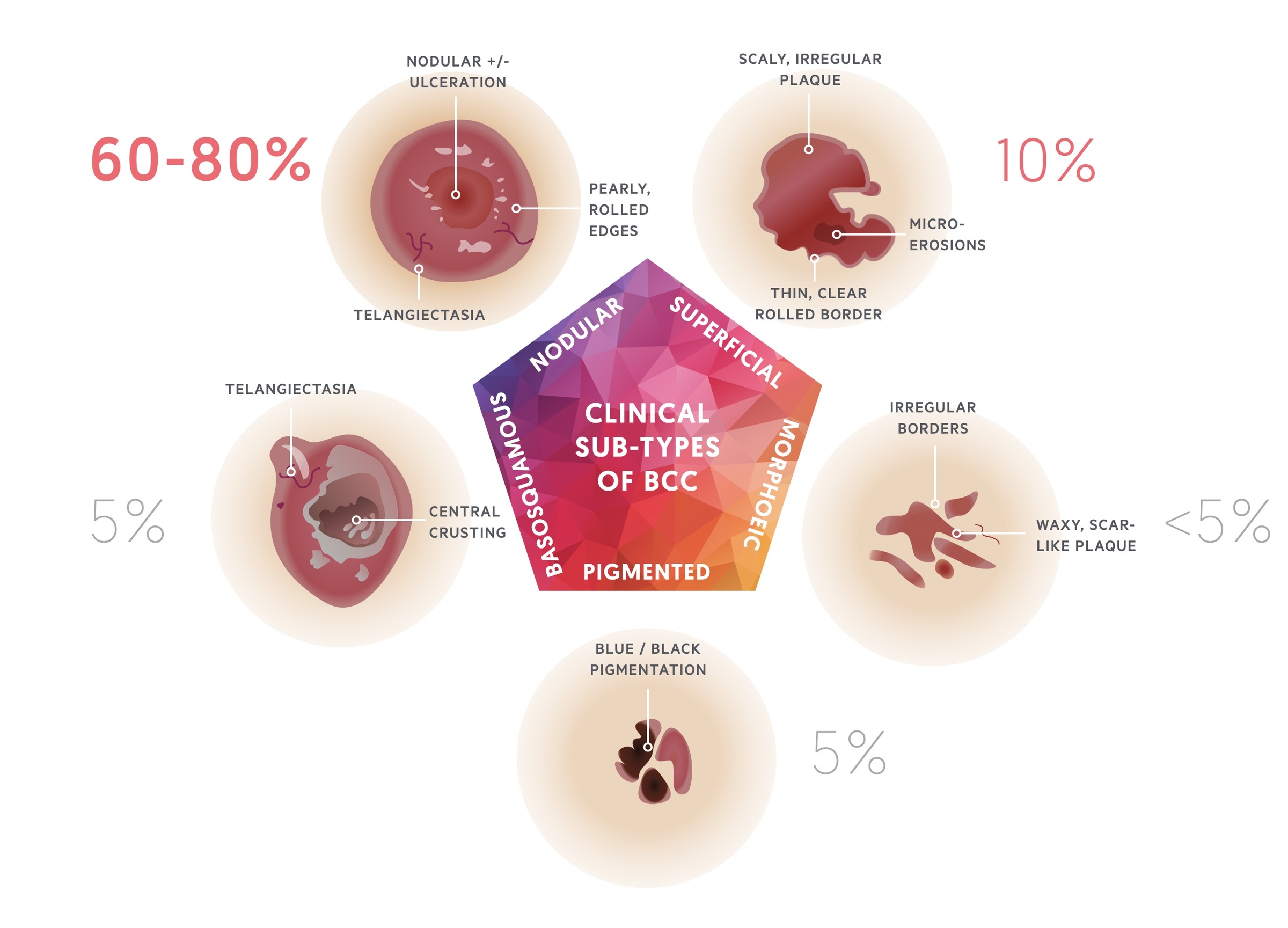 1. Nodular BCC
Nodular BCCs comprise about 60-80% of cases and occur most commonly on the head.
Nodular BCCs are red / flesh-coloured and have well-defined borders with overlying telangiectasias. As they grow, they may develop central ulceration (Rodent ulcer).
They commonly arise on the face, particularly on the forehead, temples, nose and upper lip. However, they rarely develop on mucosal surfaces.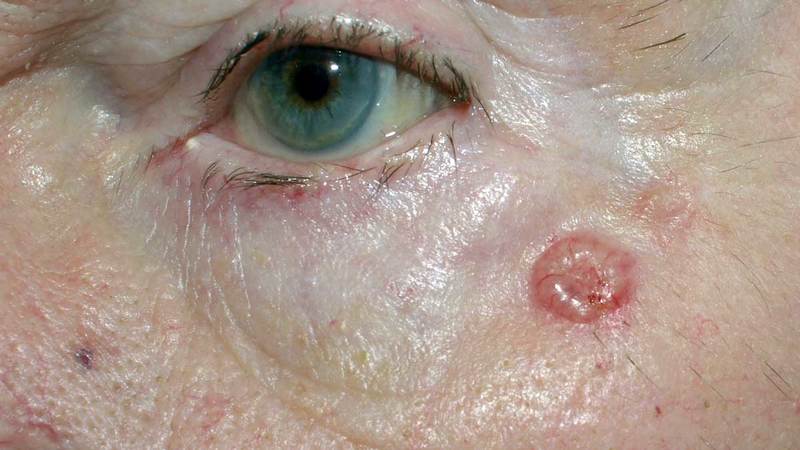 A nodular BCC on the face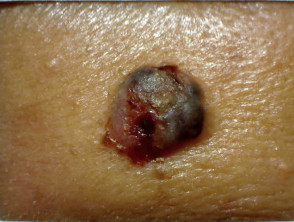 A nodulocystic BCC
2. Superficial BCC
Superficial BCCs present as an erythematous plaque, most commonly on the trunk and limbs.
Superfical BCCs present as slow-growing erythematous plaques that may be dry or crusted or have a slight bluish tinge. They represent approximately 10-30% of BCCs and are often difficult to distinguish from dermatitis or SCC. Occasionally, nodular BCCs can emerge within these lesions. Areas of spontaneous regression areas often present as pale sections with fibrosis. Numerous superficial BCCs may be indictive of arsenic exposure.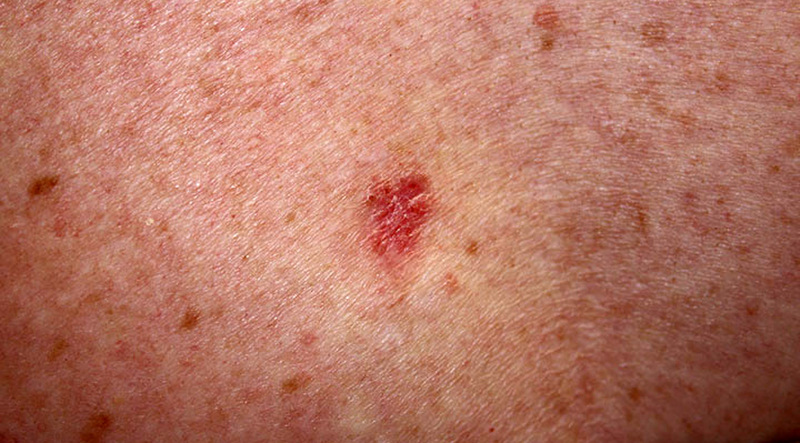 A superficial BCC
Image courtesy of Kelly Nelson via Wikipedia Commons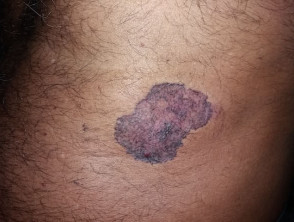 A superficial BCC
3. Morphoeic (Infiltrative) BCC
Morphoeic BCCs present as a scar-like lesion or indentation; they commonly occur on the upper trunk or face.
Morphoeic BCCs are typically difficult to distinguish. They present as a whitish, compact, poorly-defined plaque or scar. They are often deeply invasive.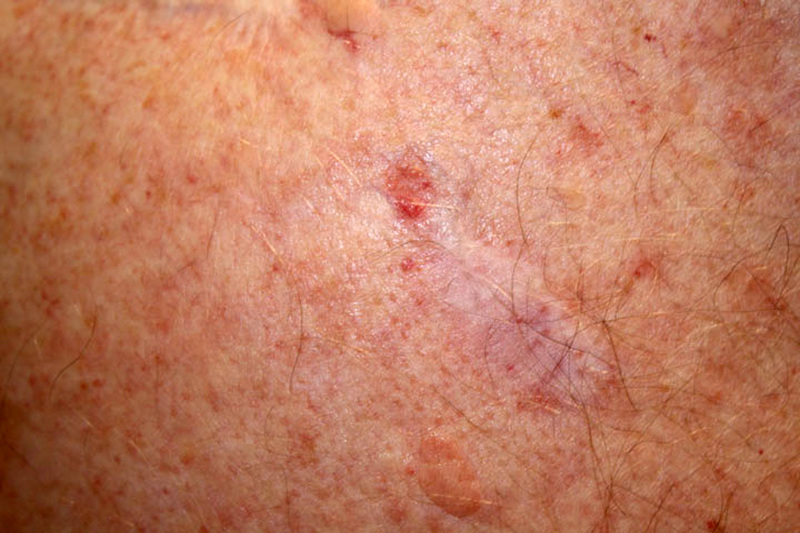 A morphoeic (infiltrative) BCC
Image courtesy of Kelly Nelson via Wikipedia Commons
4. Pigmented BCC
Pigmented BCCs may be difficult to distinguish from melanoma.
These represent approximately 5% of BCCs. Pigmentation is caused by melanin production, hence why these lesions are often mistaken for melaonomas. In clinical practice, these lesions are often excised with a narrow (2mm) margin in the same manner as any pigmented lesion suspicous of melanoma.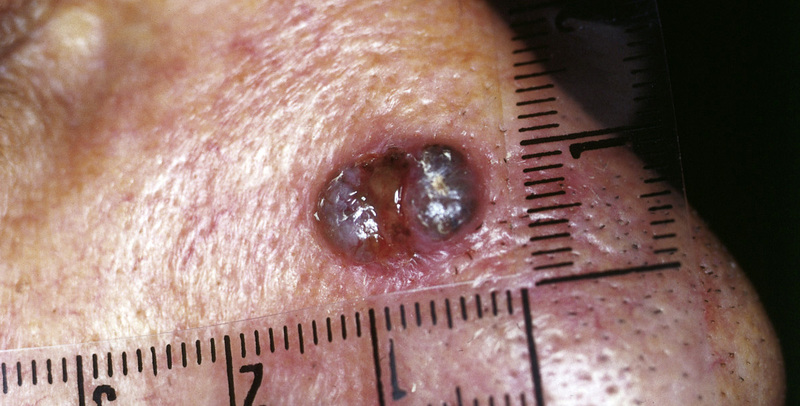 A pigmented BCC
5. Basosquamous
A rare, but aggressive form of BCC with increased risk of recurrance and even metastasis.
A contraversial sub-type. Essentially a BCC with differentiation towards SCC. Hence, why it possesses macro- and histopathological features of both. A potentially aggressive skin cancer with metastatic potential.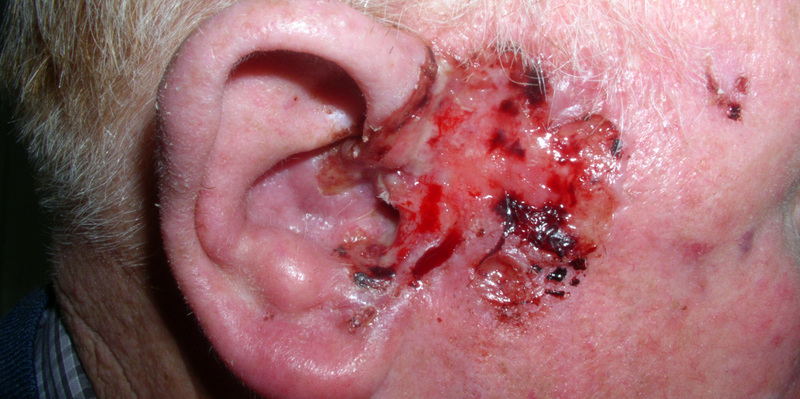 A basosquamous lesion on the face