CTS is due to compression of the median nerve as it passes through the carpal tunnel in the wrist.
As the median nerve crosses the wrist, it passes through the carpal tunnel. Compression here is typically due to anatomic compression and inflammation. Several risk factors have been identified that increase the risk of median nerve compression in this region.
Carpal tunnel
The carpal tunnel has two key boundaries superiorly and inferiorly:
Superior boundary: Flexor retinaculum, also known as the transverse carpal ligament. On the ulnar side of the wrist, it is attached between the pisiform bone and hook of the hamate bone. On the radial side of the wrist, it attaches to the scaphoid bone and part of the trapezium bone
Inferior boundary: carpal bones of the wrist (hamate, capitate, trapezoid and trapezium)
Through the carpal tunnel runs the median nerve and nine flexor tendons.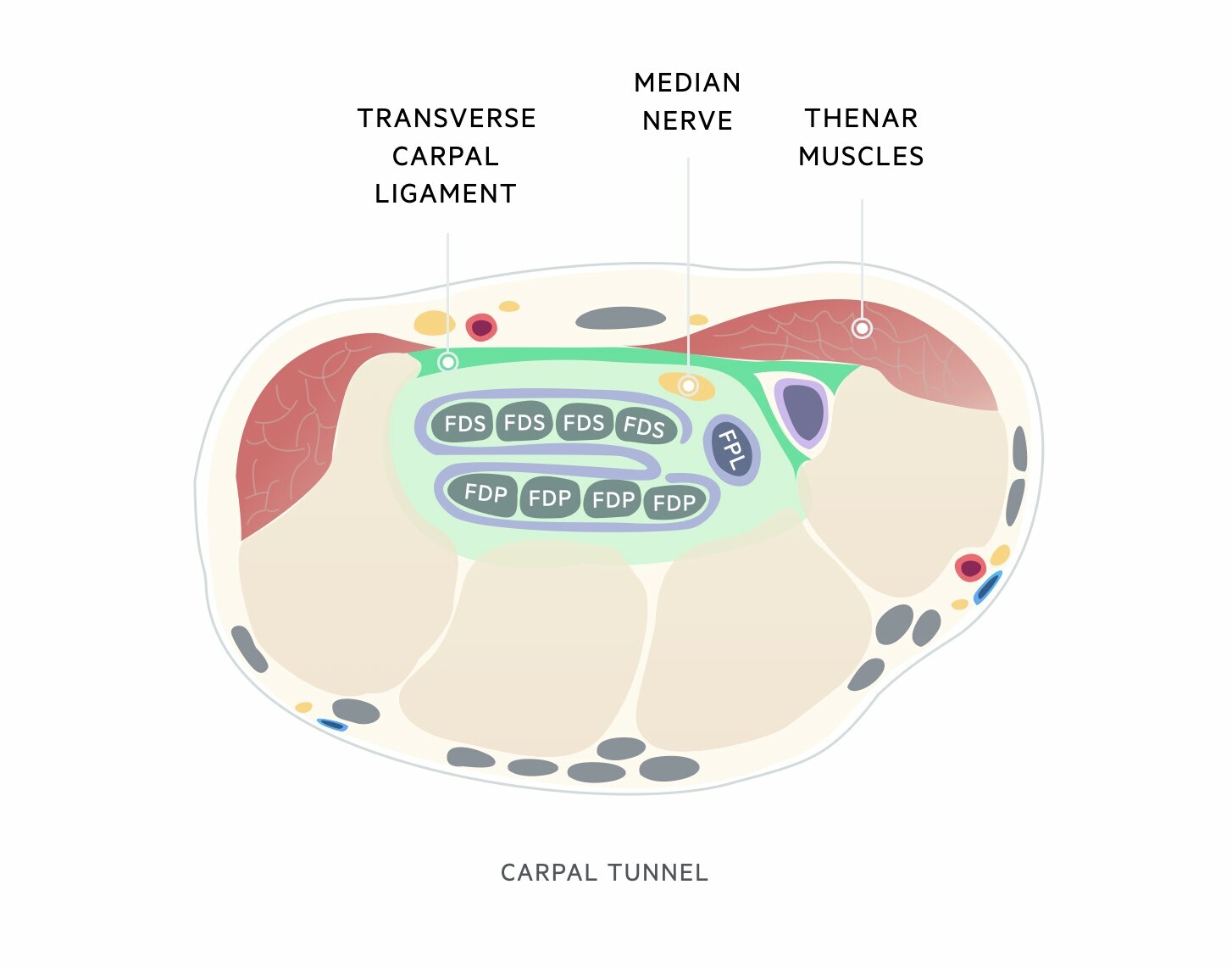 Median nerve
The median nerve is derived from the lateral and medial cords of the brachial plexus (C5-T1). It enters the upper arm at the axilla and travels alongside the brachial artery into the cubital fossa. It then travels in the anterior forearm before passing through the carpal tunnel to supply some intrinsic muscles of the hand.
Sensory function
The median nerve provides sensory innervation to the hand. This includes the palmar and distal dorsal aspects of the lateral three-and-a-half digits (thumb, index, middle, and half of the ring finger) and central palm. The sensation of the palm is provided by the median nerve and a small sensory branch known as the palmar cutaneous, which branches before the carpal tunnel.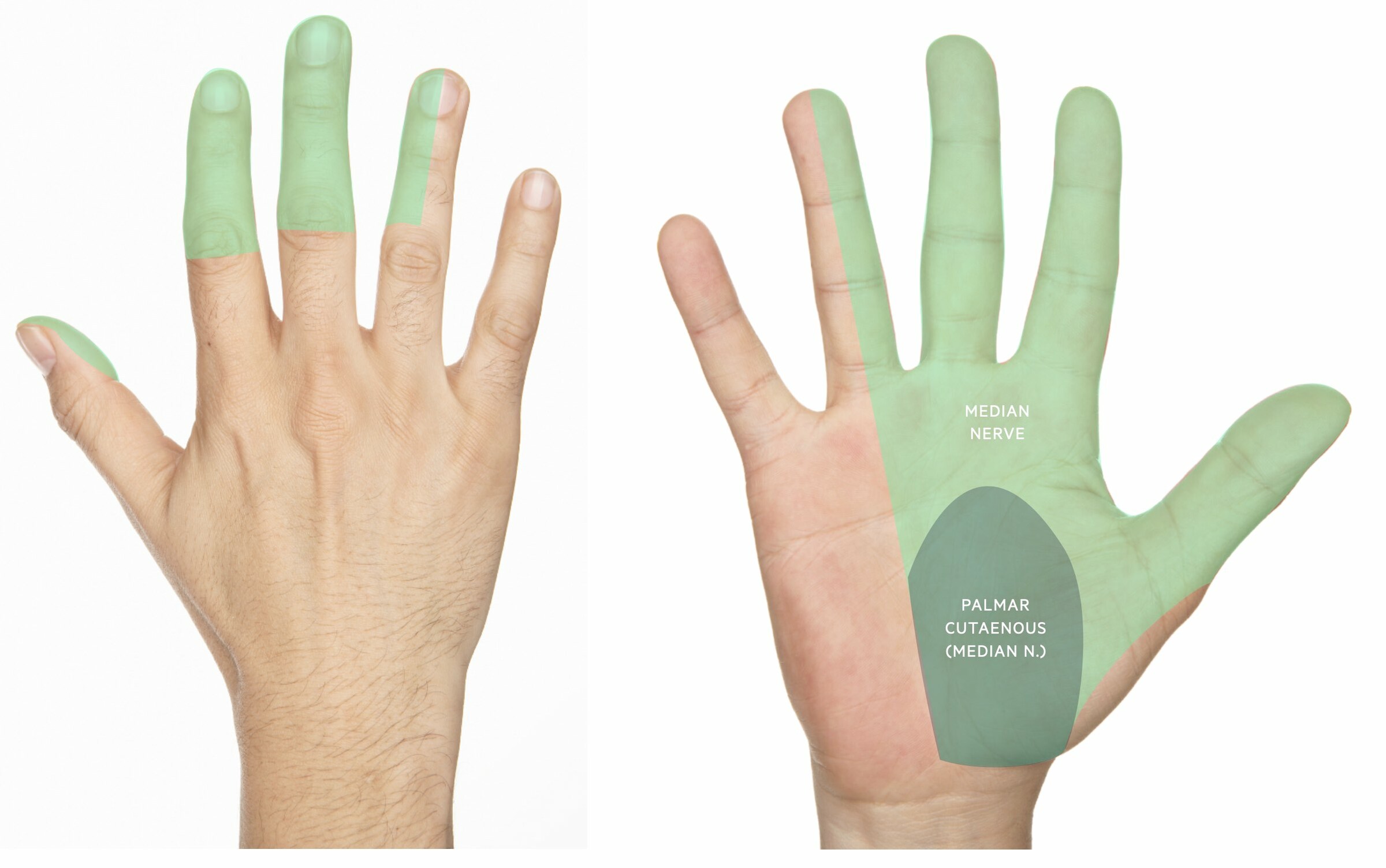 Motor function
In the forearm, the median nerve provides innervation for:
Pronator teres
Flexor carpi radialis
Palmaris longus
Flexor digitorum superficialis
A branch of the median nerve known as the anterior interosseous arises within the forearm and provides innervation for:
Pronator quadratus
Flexor pollicis longus
Part of the flexor digitorum profundus
Within the hand, the median nerve provides motor innervation to the thenar eminence muscles and two lateral lumbricals that can be remembered as '2LOAF'. This is why prolonged compression can lead to thenar eminence wasting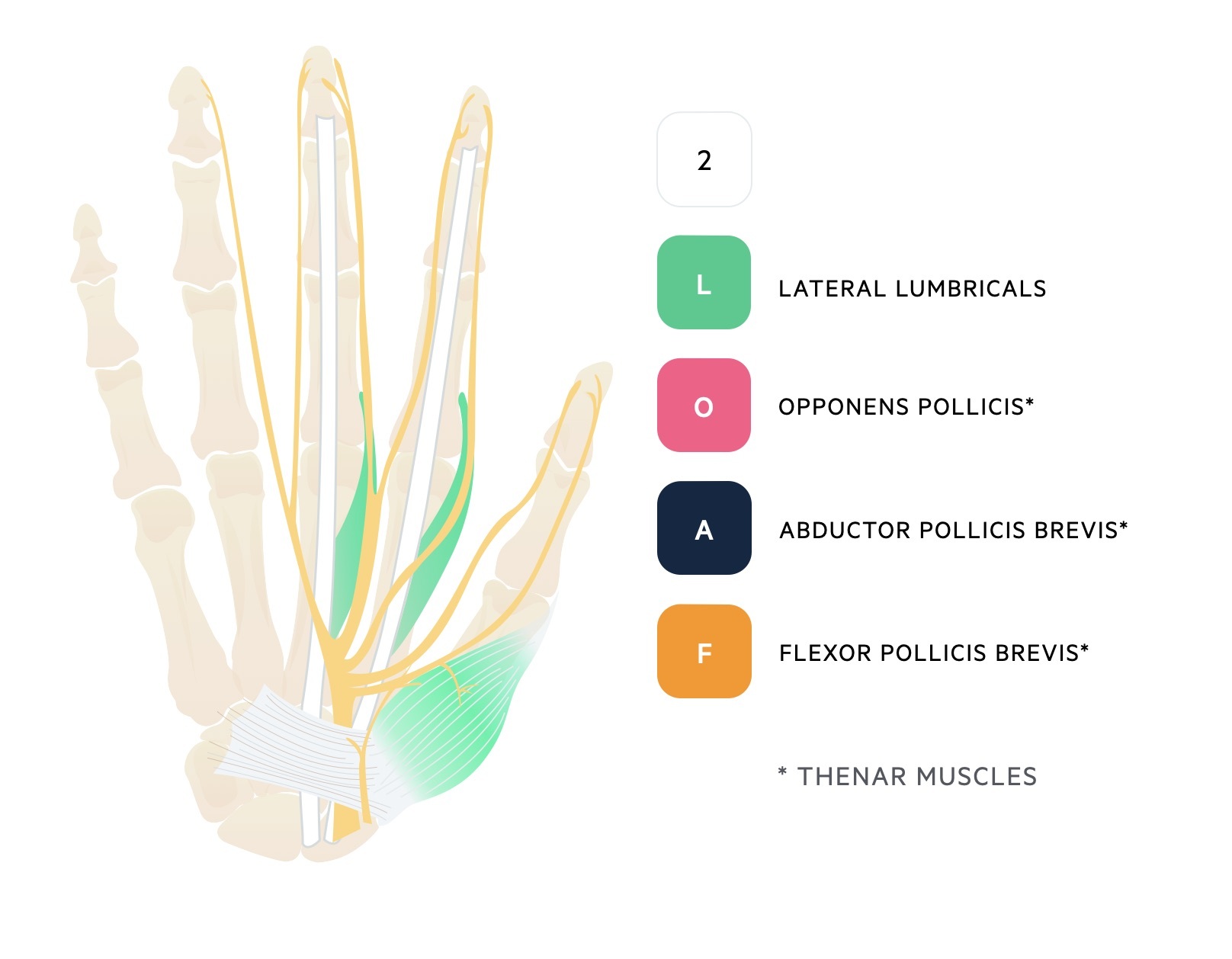 Risk factors
There are a number of risk factors associated with the development of CTS. These include:
Gender (female sex increases risk)
Diabetes mellitus
Osteoarthritis
Obesity
Hypothyroidism
Pregnancy
Trauma
There is also limited data on the role of genetic factors and environmental factors such as repetitive hand and wrist use or work with vibrating tools.
Pathophysiology
The precise cause of increased pressure within the carpal tunnel is unknown. However, evidence suggests it may be related to anatomic compression (e.g. fibrosis of the flexor tendons, mass lesion, or an anatomically small tunnel) and inflammation of the nerve itself in response to the compressive injury.