Angiotensin-converting enzyme (ACE) inhibitors are a commonly used class of antihypertensives. They are also frequently utilised in heart failure and chronic kidney disease.
ACE inhibitors cause a reduction in circulating angiotensin II & aldosterone.
Examples: Ramipril, Lisinopril.
Mechanism of action
ACE inhibitors act by blocking the effect of ACE, causing a reduction in circulating angiotensin II. Reduction of angiotensin II has numerous effects:
Reduced aldosterone secretion - involved in volume regulation via sodium and potassium excretion.
Reduced ADH secretion - anti-diuretic hormone (ADH) acts on the kidneys to increase water reabsorption (independent of sodium).
Reduced arterial vasoconstriction
Reduced sympathetic activity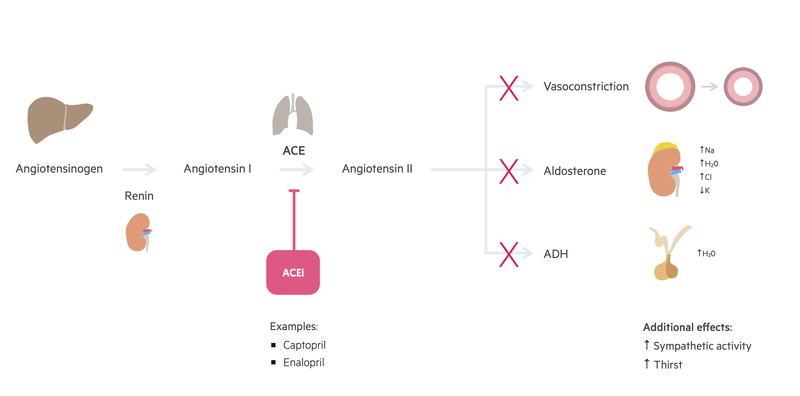 Adverse effects
A dry cough is a common side effect of ACE inhibitors. This is due to an increase in bradykinin within the lungs (ACE breaks down bradykinin).
Caution is also advised during intercurrent illnesses when using an ACE inhibitor. Their mechanism disrupts the kidneys autoregulation mechanisms and may prevent maintenance of adequate renal perfusion - resulting in an acute kidney injury (AKI). It is often advisable to stop ACE inhibitors during severe illness.
Other adverse effects include:
Dry cough
Headache
Postural hypotension
Rashes
Angio-oedema
Strongly teratogenic