​Management of hypertension is based upon NICE guidelines.
Modifiable risk factors
Lifestyle modification & patient education are important in treating hypertension.
Offer advice that targets the patient's modifiable risk factors.
Discourage excessive caffeine and alcohol, if appropriate offer smoking cessation advice.
Consider the need for anti-platelets or a statin.
Whom to treat
If clinic BP < 140/90 mmHg or ABPM < 135/85 mmHg, check BP at least every 5 years or more often if clinic BP close to 140/90 mmHg. If evidence of end-organ damage, consider other causes.
Antihypertensive drug therapy is initiated in patients:
Aged < 80 years with stage 1 hypertension and with one of the following; end organ damage, cardiovascular disease, renal disease, diabetes or 10-year cardiovascular risk ≥10%.
of any age with stage 2 hypertension
of any age with stage 3 hypertension (consider immediate treatment)
Consider treatment in patients > 80 years old with stage 1 hypertension if clinic BP is > 150/90 mmHg. However, take into account frailty and co-morbidities. Patients < 60 years with stage 1 hypertension can be considered for antihypertensive therapy even if the 10-year cardiovascular risk < 10%.
Specialist assessment
Patients with stage 3 hypertension (≥ 180/120 mmHg) should be referred for same-day specialist assessment if any features of accelerated hypertension are identified:
New onset confusion
Chest pain
Signs of heart failure (e.g. shortness of breath, fluid overload)
Acute kidney injury
Papilloedema
Retinal haemorrhage
In addition, any patient with suspected phaeochromocytoma needs same day assessment. If none of these features are present, patients should be urgently assessed for end-organ damage. If present, treatment should be considered immediately before ABPM/HBPM. If absent, blood pressure should be reviewed within 7 days in clinic.
Any patient aged < 40 years should be considered for specialist assessment to exclude a secondary cause of hypertension.
Medical therapy
Hypertension is managed in a step-wise fashion. If blood pressure is not controlled with each step, medication should be reviewed to ensure that the treatment is optimal before moving onto the next step.
For patients aged > 80 years, offer the same anti-hypertensive therapies as for people aged 55-80 years, however take into consideration comorbidities.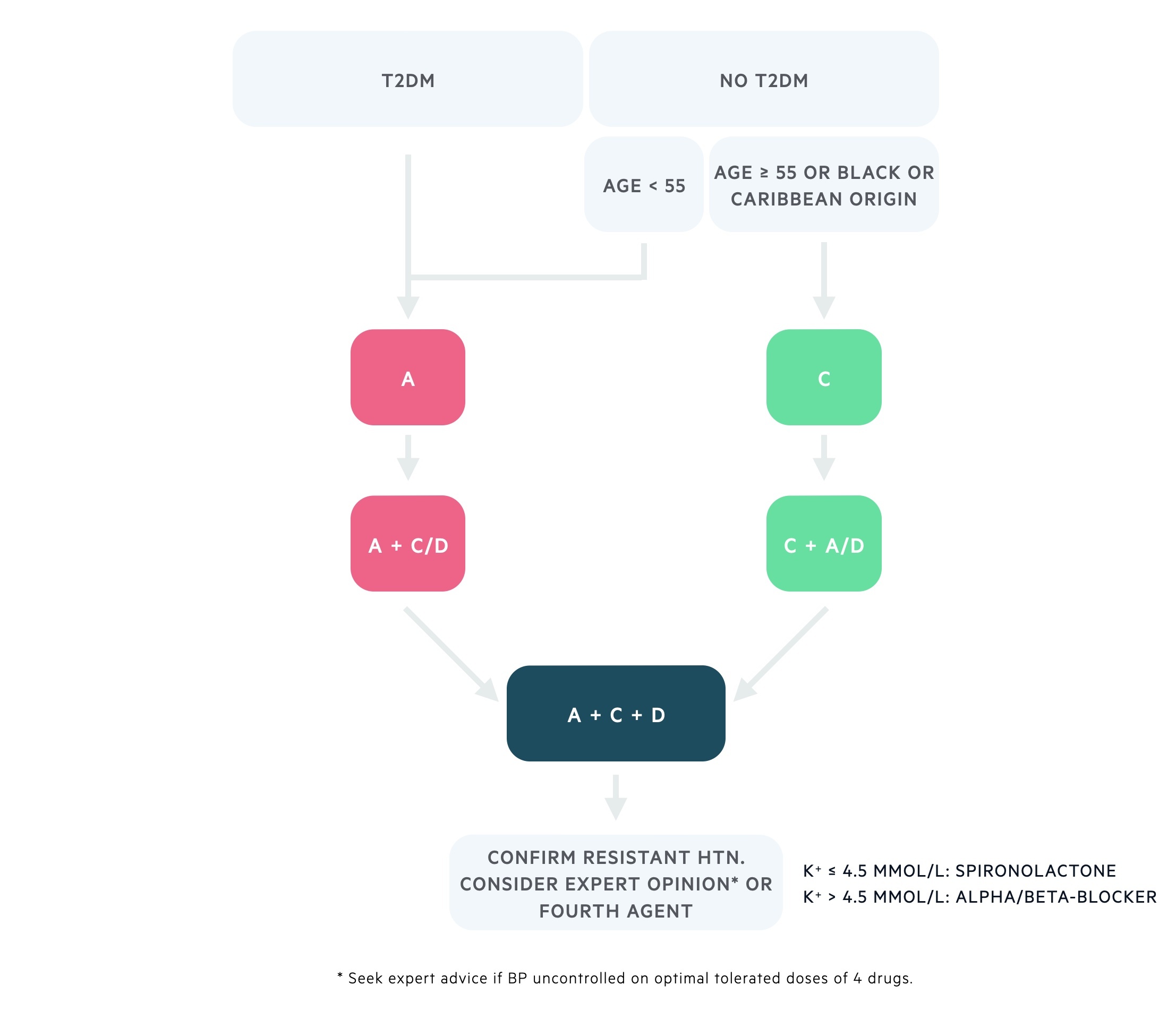 A = ACE-inhibitor / Angiotensin receptor blocker (ARB)
C = Calcium channel blocker (CCB)
D = Thiazide-like diuretic
T2DM = Type 2 diabetes mellitus
NOTE: if patients do not tolerate an ACE-inhibitor (e.g. dry cough), offer an ARB. A combination of ACE-inhibitor and ARB should NOT be used to manage hypertension.
Blood pressure targets
Patients < 80 years: clinic BP < 140/90 mmHg / ABPM < 135/85 mmHg
Patients ≥ 80 years: clinic BP < 150/90 mmHg / ABPM < 145/85 mmHg
For management of blood pressure in chronic kidney disease (CKD). See the NICE guidelines on CKD.