Acromegaly typically has an insidious onset and is often diagnosed late.
Clinical features may be related to:
Excess growth hormone secretion
Mass effects of a pituitary adenoma
Rarely features will reflect the less common causes of acromegaly such as carcinoid and lung cancer.
Growth hormone excess
Acromegaly leads to enlargement of hands, feet, lips and nose. Examination should look for wide spaced teeth, prognathism and frontal bossing. Men may note a deepening of their voice and some patients develop carpal tunnel syndrome.
As the condition, by definition, occurs following fusion of the epiphyseal growth plates, the strikingly tall stature that characterises gigantism is not seen.
GH and IGF-1 excess has systemic effects leading to a increased risk of a number of conditions:
Cardiovascular disease: There is an increased risk of cardiovascular disease and its complications. This includes hypertension, cardiomyopathy, left ventricular hypertrophy and heart failure.
Insulin resistance: Acromegaly results in increased insulin resistance and a risk of developing type 2 diabetes.
Obstructive sleep apnea: There is an increased incidence of OSA in those with acromegaly.
Organomegaly: There may be enlargement of visceral organs including the liver, kidneys, heart, prostate and lungs.
Colonic pathology: There appears to be an increased risk of colorectal cancer and diverticulosis.
Thyroid gland: Enlargement of the thyroid gland is common and may be either a diffuse enlargement or multinodular in nature. There may be an increased incidence of thyroid cancer.
Headache: This may be related to mass effect from a pituitary adenoma or as a result of GH excess itself.
Mass effects
Macroadenomas may result in mass effects. Headaches are commonly seen. Mass effects may also result in visual changes and abnormal pituitary function.
Visual loss: Visual changes develop in up to 10% of patients. Suprasellar extension of a macroadenoma can lead to direct pressure on the optic chiasm. The defect is classically bitemporal hemianopia.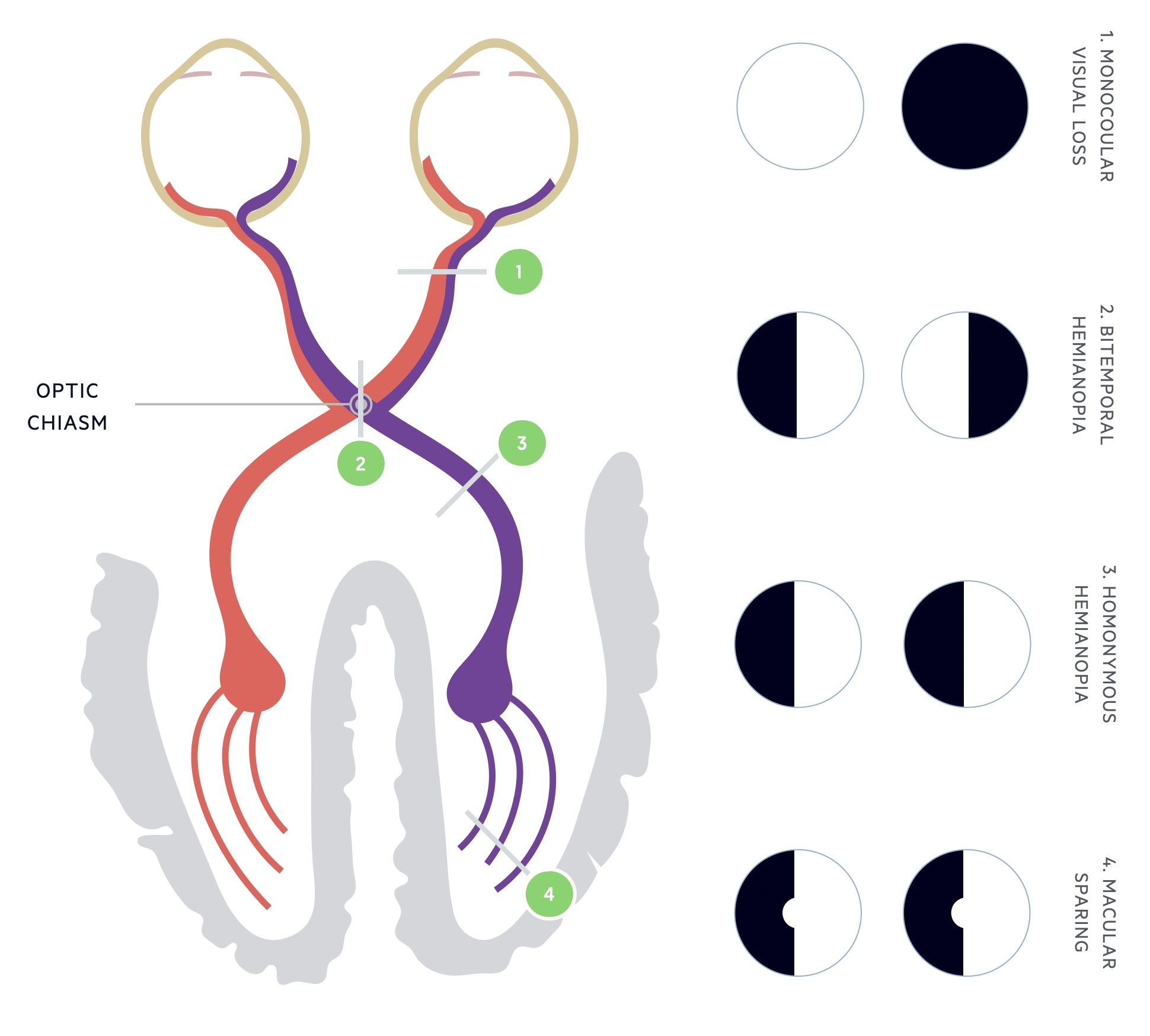 Pituitary function: A macroadenoma may impair the ability of the rest of the pituitary to function. In women menstrual dysfunction is seen, whilst men can be affected by erectile dysfunction. In up to 30% of patients concomitant hyperprolactinaemia is seen. Features of hyperprolactinaemia include galactorrhea, dysmenorrhoea, hypogonadism and infertility.