Causes of AR can be split into either primary disease of the aortic valve leaflets; or dilation of the aortic root.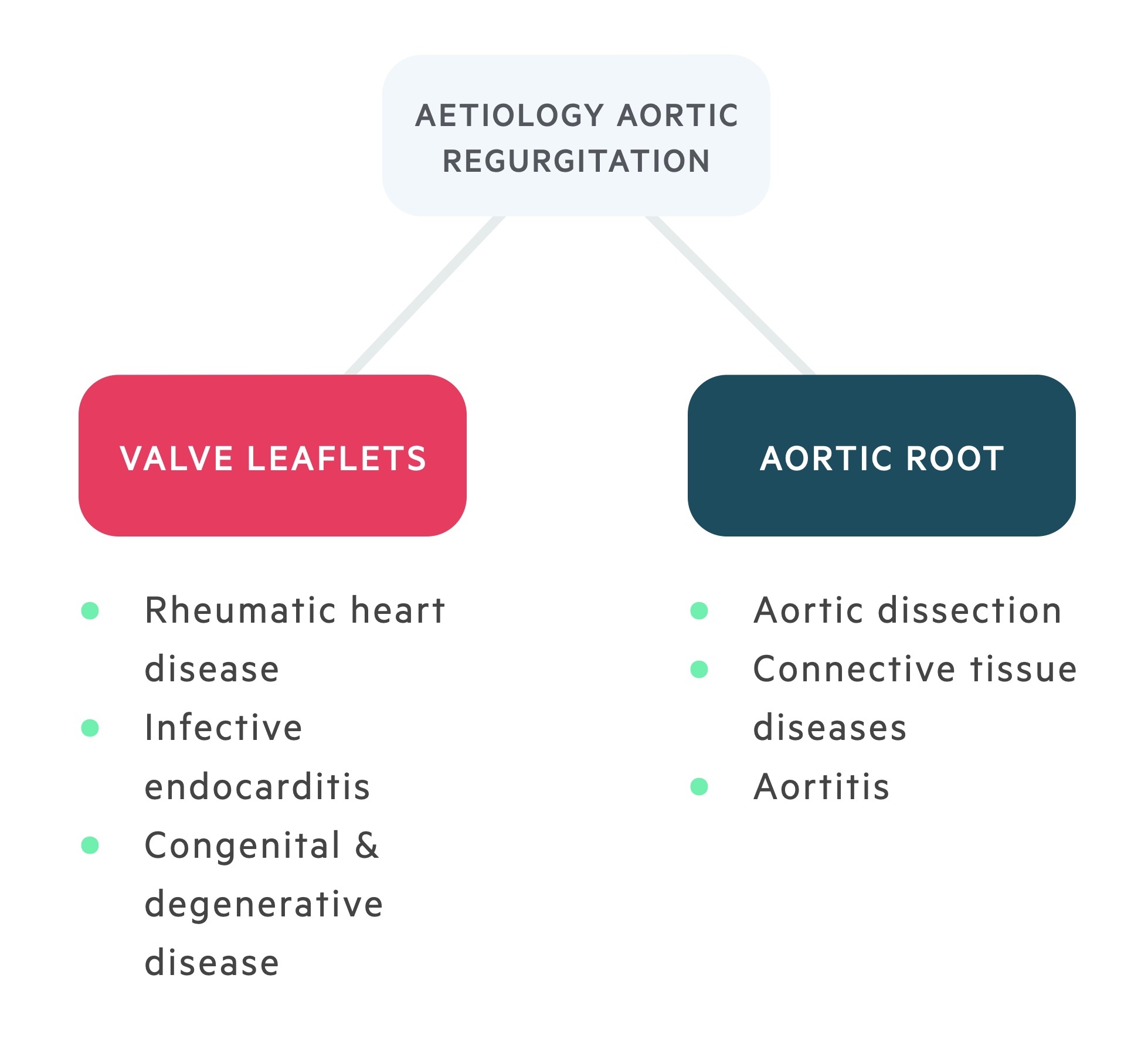 Valve leaflets
Rheumatic heart disease
An autoimmune condition which follows streptococcal (Group A) infection. Inflammation is a result of molecular mimicry. In effect, the immune system produces antibodies that confuse foreign- and self-antigens. Rheumatic heart disease results from cardiac inflammation with acute and chronic results.
Commonest cause in the developing world. Although an increasingly uncommon cause of valvular disease. Chronic disease leads to fibrosis and typically a stenotic valve though regurgitant valves may also develop.
Congenital & degenerative
Constitute the commonest causes of aortic regurgitation in the developed world.
Congenital (e.g. bicuspid, quadcuspid valve).
Degenerative (e.g. calcification).
Endocarditis
Inflammation of the endocardium, typically as a result of infection. Results in acute disease. Vegetations may cause flailing of the valve leaflets.
Infective causes include Strep. viridans, Staph. aureus, Enterococci.
Aortic root
Connective tissue disorders
Aortic regurgitation may feature in a number of connective tissue disorders. Aortic root diameter should be monitored in these individuals.
Marfan's syndrome - caused by a defect in the FBN1 gene.
Ehlers-Danlos syndrome - caused by collagen defects.
Aortitis
Aortitis refers to inflammation of the aortic root. May be associated with chronic inflammatory conditions such as rheumatoid arthritis (RA) and ankylosing spondylitis (AS). Also, may occur in Takayasu arteritis, or may complicate Giant cell arteritis.
Aortic dissection
Aortic regurgitation may complicate in Stanford A dissections, secondary to impaired leaflet coaptation or prolapse. Causes acute disease regurgitation and is a medical emergency.