The treatment of choice for limited disease is surgical or endoscopic resection.
Surgical resection, radiotherapy, chemotherapy, or a combination, may be used for patients with limited or locally advanced disease.
Limited disease (Staging: T1-2, N0, M0)
Locally advanced disease (Staging: T3-4 or N1-2, M0)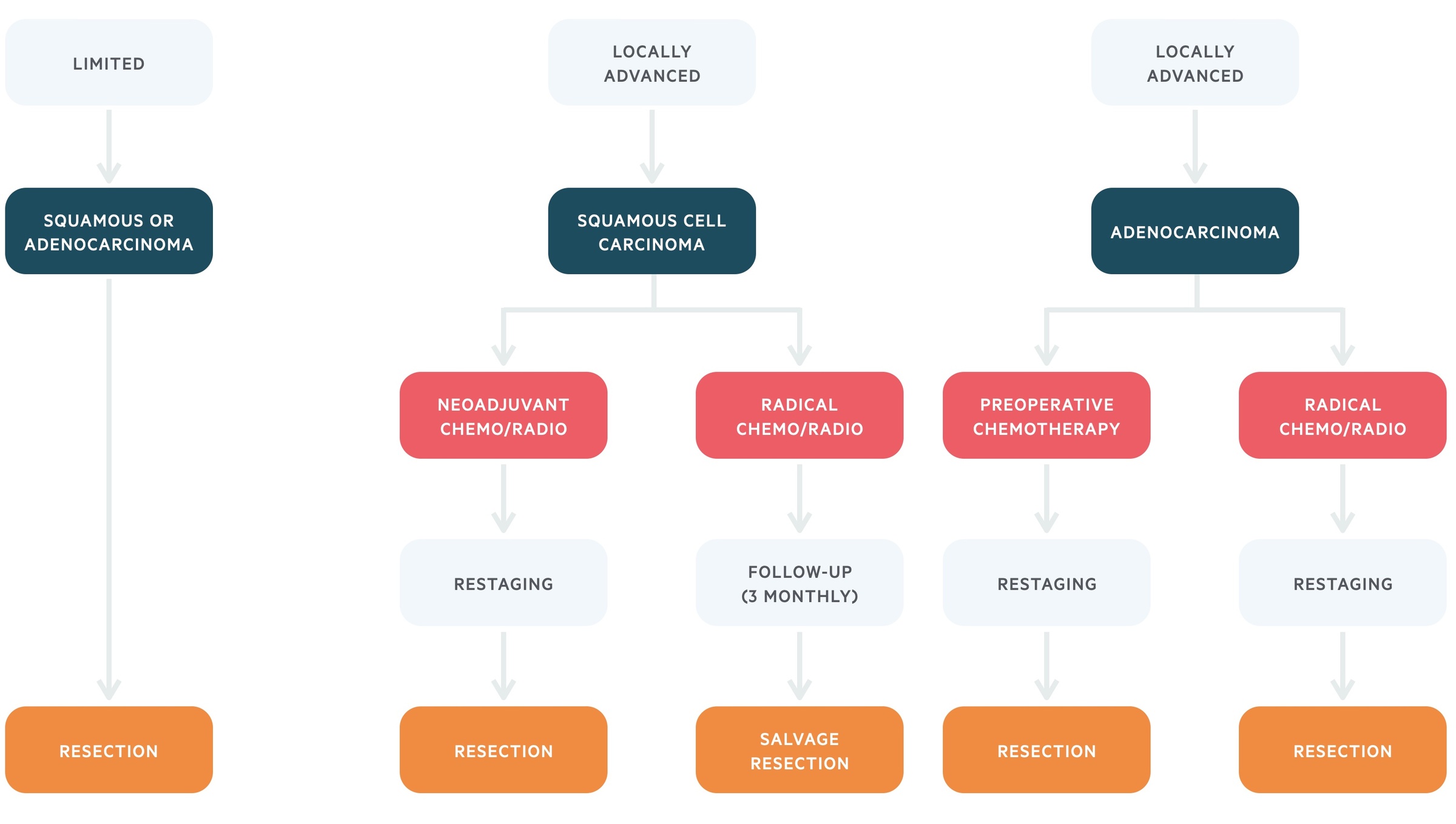 Treatment algorithm based on the European Society of Medical Oncology (ESMO) for limited or locally advanced oesophageal cancer
Surgery
Surgical resection of oesophageal cancer is the treatment of choice if the patient is fit to undergo an operation and the disease is limited. Surgery may be an option for patients with locally advanced oesophageal cancer. This can be considered following systemic anti-cancer therapy (e.g. chemoradiotherapy). The idea is to shrink the tumour, which then becomes resectable.
The surgical technique of choice is an oesophagectomy, which refers to removal of part of the oesophagus and subsequent joining of the remaining oesophagus to the stomach. If the tumour involves the GOJ or proximal stomach then an oesophago-gastrectomy or extended total gastrectomy may be undertaken. In addition to surgical removal of the oesophagus, lymph node dissection may be considered at the time of surgery.
Surgical resection is an option for:
Limited disease
Locally advanced disease (deemed resectable following neoadjuvant chemoradiotherapy)
Endoscopic therapy
Patients with limited disease may be suitable for endoscopic therapy to remove the oesophageal cancer.
Two options include:
Endoscopic mucosal resection (EMR)
Endoscopic submucosal dissection (ESD)
These are typically performed in specialist upper gastrointestinal centres any may require preoperative assessment with endoscopic ultrasound (EUS) to ensure no localised lymph node spread.
Systemic anti-cancer therapy
The two main systemic anti-cancer therapies used in both SCC and AC are chemotherapy and radiotherapy.
Squamous cell carcinoma: a combination of chemotherapy (e.g. cisplatin/5-fluorouracil) and radiotherapy may be given as neoadjuvant therapy to shrink the tumour prior to resection or as definite treatment. SCC is highly chemo/radio sensitive, which is why it can be used as radical therapy. Patients undergoing radical chemoradiotheray are followed-up regularly to assess whether a salvage resection should be undertaken.
Adenocarcinoma: either chemotherapy (e.g. cisplatin/5-fluorouracil) alone or in combination with radiotherapy should be given to patients as neoadjuvant therapy. If there is a response to treatment and the tumour shrinks becoming resectable on restaging then surgical intervention should be considered. Radial chemoradiotherapy (i.e. main treatment to cure cancer) is not an option in AC.
Palliative management
Palliative treatment should be considered in patients with locally advanced disease who are not operative candidates or not fit enough to undergo radical treatment (e.g. poor performance status, extensive co-morbidities).
Options include:
Radiotherapy: if tumour lies within a radiotherapy field that allows high-doses to be applied.
Chemotherapy: regimens depend on fitness of the patient.
Local tumour treatment: endoscopic stenting, palliative radiotherapy.
Best supportive care: focusing on symptom control only.
NOTE: oesophageal stenting involves endoscopically placing a stent within the oesophagus to keep the lumen open and prevent dysphagia.
Nutritional support
Patients being considered for radical treatment (e.g. surgical resection or chemoradiotherapy) need to have their nutrition optimised. This may mean temporary enteral or parenteral nutrition.
In patients undergoing chemoradiotherapy, they should be considered for enteral nutrition with placement of a radiologically inserted gastrostomy (RIG) tube. This is because chemoradiotherapy will damage the oesophagus leading to localised inflammation during treatment that will impair nutritional intake. A percutaneous endoscopic gastrostomy (PEG) is not suitable in these cases due to the risk of tumour migration from endoscopic pull through of the tube.