The majority of patients with CLL are diagnosed incidentally on a full blood count.
The principle investigation in CLL is the full blood count (FBC). This enables review of blood counts (i.e. haemoglobin, platelets, white cells) and the differentiation of white cells (e.g. lymphocytes, neutrophils).
As part of CLL work-up, patients require a thorough clinical examination and laboratory evaluation (i.e. blood tests). This enables confirmation of CLL, staging of the disease and assessment of disease-associated complications.
Clinical examination
Essential to determine the presence or absence of lymph node involvement including specific sites, splenomegaly and hepatomegaly.
Bloods
FBC: lymphocytosis (may be extremely high) and normocytic anaemia
Routine biochemistry: U&E, bone profile, LFTs
Blood film: discussed below
Haemolysis screen (at risk of AIHA): Direct antiglobulin test (DAT), haptoglobin, LDH, unconjugated bilirubin, reticulocytes
Immunoglobulins: at risk of secondary hypogammglobulinaemia
Cytogenetics and immunophenotyping
Immunophenotyping is used to confirm that lymphocytosis is secondary to circulating clonal B lymphocytes. Completed using flow cytometry of peripheral blood.
Cytogenetics involves looking for characteristic mutations. Specific mutations can be completed prior to treatment as it will influence decision making (e.g. TP53 mutation).
Blood film
A blood film will confirm the presence of lymphocytosis and characteristically shows smear or 'smudge' cells. These are artefacts due to damaged lymphocytes that occur during preparation of the slide.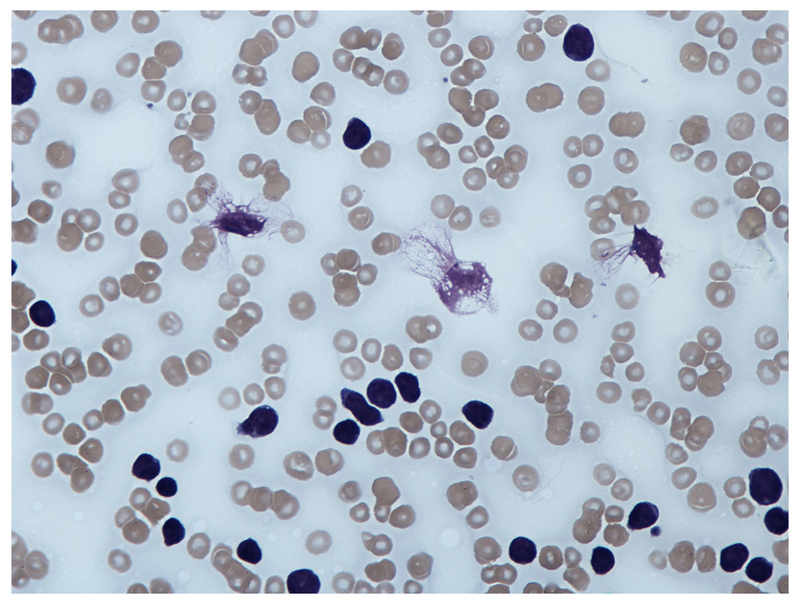 Blood film showing 'Smear cell'
Bone marrow assessment
Assessment of bone marrow by aspirate or trephine biopsy is usually not required unless there is concern for an alternative diagnosis. If completed, will show replacement of normal marrow with excess lymphocytes.
May be indicated to show complete response to treatment or to determine the cause of cytopaenias.
Imaging
Routine use of imaging (e.g. CT chest, abdomen, pelvis) is usually not required. However, CT may be indicated if concerns about lymphomatous transformation, to assess disease extent pre- and post-intensive treatment, or when a significant complication is suspected.
Ultrasound may be used to confirm hepatosplenomegaly. Chest x-ray may be useful to exclude an alternative diagnosis, assess for infection or look for pulmonary lymphadenopathy.
Other investigations
Lymph node biopsy: can be performed if the diagnosis is unclear or there is concern about lymphomatous transformation.
Virology: important prior to initiation of treatment. Hepatitis B, hepatitis C, HIV +/- CMV