Patients may be diagnosed incidentally, following presentation with typical clinical features, or during screening.
The diagnosis of ADPKD is primarily made on imaging with identification of multiple bilateral renal cysts. The principle imaging modality is ultrasound, but MRI and CT have an increasing role. Most newer ultrasound machines can detect cysts down to 0.5cm.
A definitive diagnosis can be made with genetic testing, but this is usually reserved for atypical cases (e.g. early severe disease, no family history) and up to 8% will not have an identified mutation (current genetic testing not sensitive to detect all mutation types).
Screening
Patients with a family history of ADPKD should be identified and offered screening. This involves investigating asymptomatic patients.
Ultrasound is main investigation used in screening. If ultrasound is equivocal, MRI can be used. Screening usually begins in adulthood.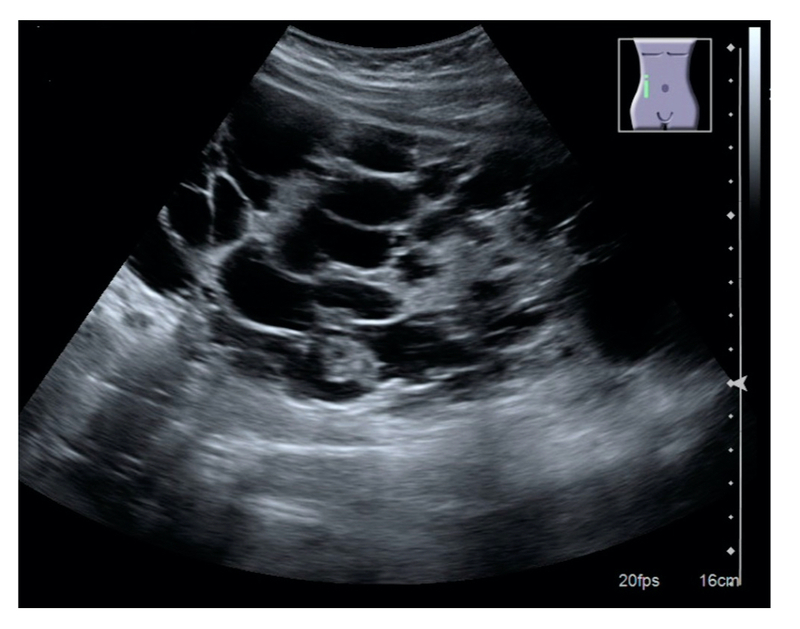 Ultrasound appearance of polycystic kidney
Ultrasonographic diagnostic criteria
If positive family history
< 30 years: ≥3 cysts (unilateral or bilateral)
30-39 years: ≥3 cysts (unilateral or bilateral)
40-59 years: ≥2 cysts in each kidney
These are all associated with a positive predictive value of 100% (odds of having the disease if you have a positive result).
If no family history is present, there is no established imaging based criteria. Generally, a diagnosis can be made in the presence of multiple bilateral renal cysts (e.g. ≥10 and ≥5mm in size) or bilateral renal enlargement with cysts. Diagnosis in this context is supported by presence of hepatic cysts.
Differential diagnosis
Several conditions may lead to cystic kidneys, which need to be excluded as part of the work-up.
Multiple benign cysts: cysts more common as we age
Localised cystic benign: unilateral disease
Acquired renal cystic disease: may be seen in patients with CKD on dialysis
Medullary sponge kidney: congenital disorder of collecting ducts and calyceal system
Other genetic conditions: e.g. autosomal recessive polycystic kidney disease, tuberous sclerosis, others