A number of important complications develop as a consequence of CKD, which include anaemia, hyperkalaemia, mineral and bone disorders, fluid overload and acidosis.

Anaemia
A normocytic normochromic anaemia is typical of CKD. This anaemia is normally multifactorial. A significant factor in advanced disease is a reduction in the production of erythropoietin (EPO), the hormone that drives erythropoiesis.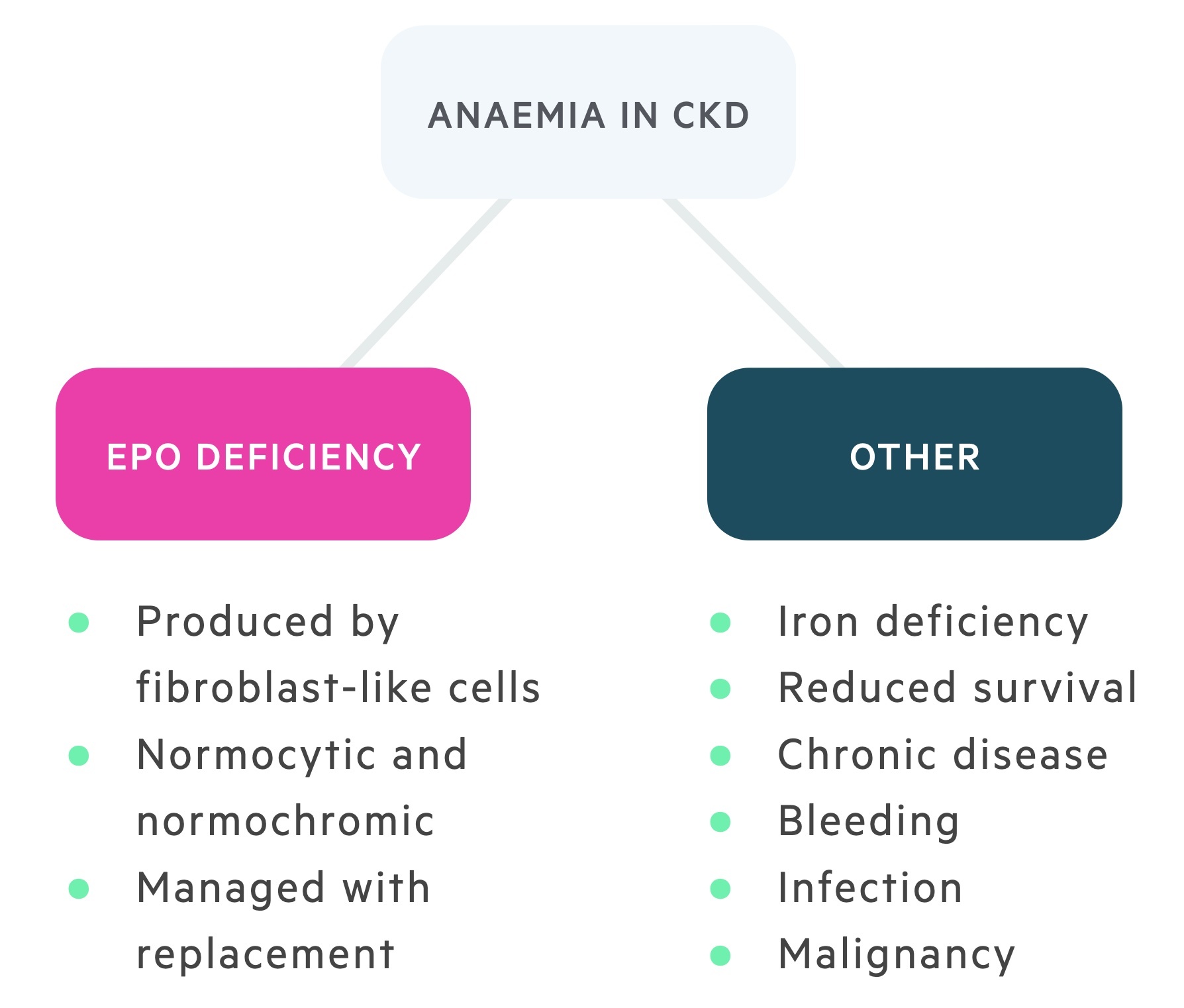 It is still important to assess patients for other potential causes of anaemia (e.g. iron-deficiency, folate deficiency), which can subsequently be corrected. The main management for anaemia in CKD is the use of erythropoietin-stimulating agents (ESA) such as epoetin alfa. In order for EPO therapy to be effective, patients need to have adequate stores of iron that should be regularly checked and replaced. In fact, initiation of EPO is not recommended until iron-deficiency has been managed.
Blood transfusions should be avoided where possible in patients who are being considered for renal transplantation. This is because of the risk of sensitisation (i.e. development of antibodies) to human leucocyte antigens (HLA).
The aspirational haemoglobin concentration in patients with CKD-associated anaemia is 100-120 g/L.
Hyperkalaemia
The ability of the kidneys to maintain adequate acid-base homeostasis and electrolyte balance diminishes with worsening renal function. Many medications, including NSAIDs and potassium-sparing diuretics, may worsen hyperkalaemia. Furthermore, uncontrolled metabolic acidosis may also worsen potassium handling.
Acute rises in potassium should be managed as a medical emergency. This involves stabilisation of the myocardium (with calcium gluconate) and driving potassium into the intracellular compartment (with insulin/dextrose). Chronic elevations in serum potassium can be managed with low potassium diets, potassium-binding resins and correction of acidosis. In fact, the use of newer potassium-binding resins (e.g. Patiromer, sodium zirconium cyclosilicate) may help to lower potassium levels and facilitate use of renoprotective drugs through their action of binding potassium ions within the gastrointestinal tract. This then allows the use of drugs such as ACEi and ARBs that would otherwise be contraindicated with high levels of potassium.
See our hyperkalaemia notes for more detail.
Mineral and bone disorders
In CKD, disorders of mineral and bone metabolism reflect a complex spectrum of pathology that results from abnormal calcium and phosphate handling. In health, the kidneys have an important role in the maintenance of calcium homeostasis. They are able to activate vitamin D (calcitriol), a fat-soluble vitamin important for absorption of calcium from the gastrointestinal tract. They are also involved in the reabsorption of calcium and excretion of phosphate.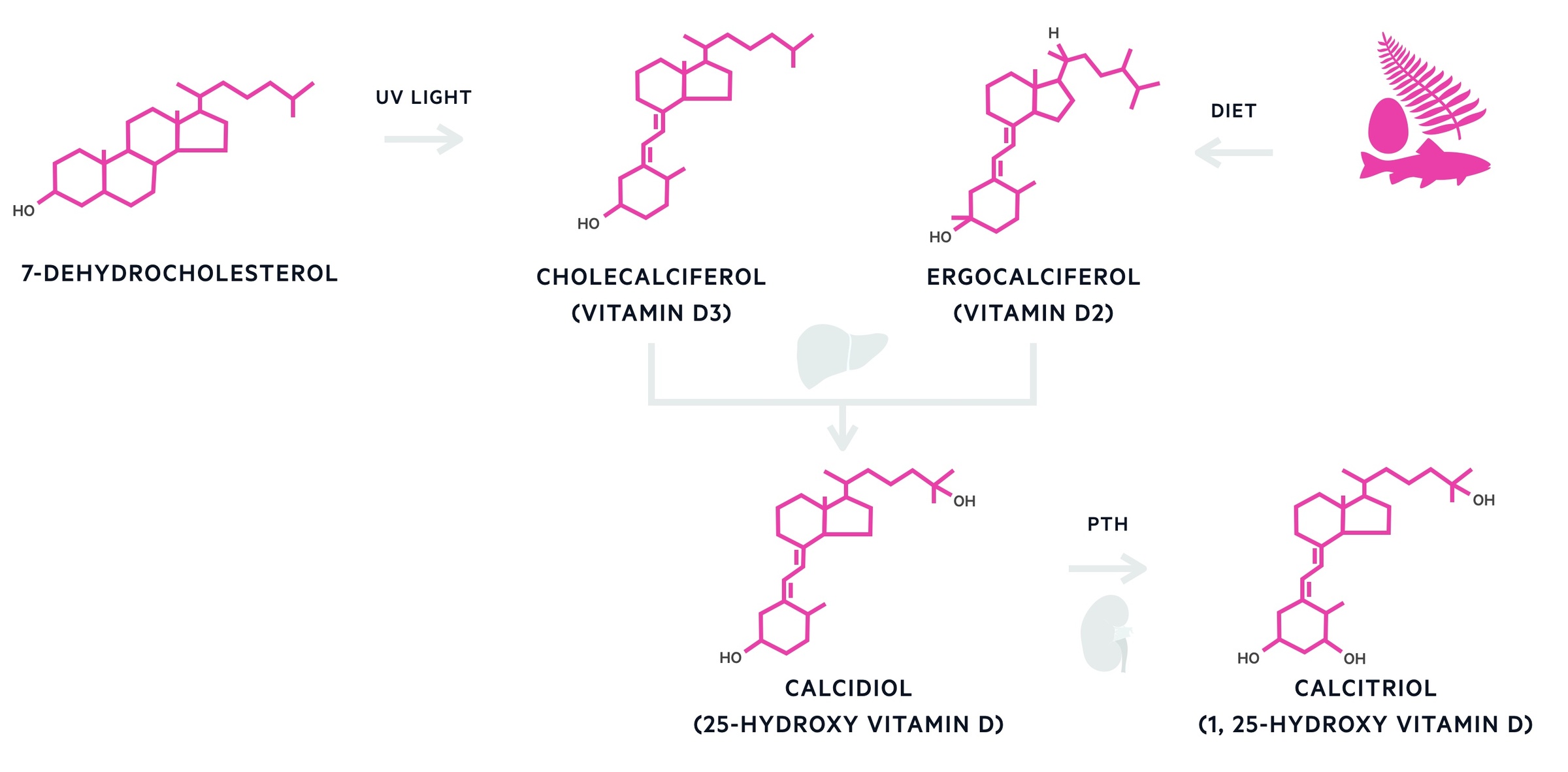 In disease, reduced kidney function (usually associated with a GFR < 30ml/min) leads to hypocalcaemia, hyperphosphataemia and hyperparathyroidism (secondary hyperparathyroidism). These biochemical abnormalities may then lead to boney pathology (e.g. adynamic bone disease, osteomalacia, osteoporosis and osteitis fibrosa cystica). The term 'renal osteodystrophy' is used exclusively for this type of bone pathology seen in CKD.
The management of mineral and bone disorders requires management of the underlying biochemical abnormalities.
Hypocalcaemia: dietary supplements and calcitriol.
Hyperphosphataemia: dietary restriction and phosphate binders (e.g. calcium acetate).
Hyperparathyroidism: calcimimetics or surgery.
Fluid overload
In the presence of significantly reduced GFR, the kidneys are unable to adequately controlled fluid volume. This leads to hypervolaemia and patients may have evidence of peripheral oedema, ascites, raised JVP, gallop rhythm and bilateral pleural effusions.
Fluid overload can be managed with a combination of fluid restriction, reduced sodium intake and the use of oral diuretics (e.g. furosemide).
Acidosis
Patients with CKD have an increased tendency to retain hydrogen ions because of abnormalities in their acid-base homeostasis. Acidosis may also exacerbate hyperkalaemia, further compounding the metabolic abnormalities seen in CKD.
Acidosis is characterised by a low pH and low bicarbonate levels. Oral sodium bicarbonate therapy may be considered in patients with an eGFR < 30 ml/min/1.73m2 and bicarbonate level < 20 mmol/L.