Beta-2 agonists, muscarinic antagonists and steroids offer symptomatic relief. Smoking cessation and oxygen at home offer decreases in mortality.
Medical management
Two types of bronchodilators are used in COPD; Beta-2 agonists (BA) and muscarinic antagonists (MA). They may be short-acting (SA) or long-acting (LA) in nature.
In disease in which these inhalers do not control symptoms, inhaled corticosteroids may be prescribed.
Medical management is stepwise. The below diagram is based on NICE clinical guidance 101.

Long-term oxygen therapy (LTOT) is reserved for patient who when stable:
Have Pa02 < 7.3 kPa. or
Have Pa02 < 8 kPa with any of:

Pulmonary hypertension
Peripheral oedema
Nocturnal hypoxaemia
Secondary polycythaemia
LTOT is required for at least 15 hours a day for a benefit to be seen. Patients who smoke should be explained the dangers of mixing oxygen and cigarettes.
Modifiable factors and physiotherapy
Lifestyle modification and patient education are important in the management of COPD. Patients should understand the benefits of smoking cessation.
The Fletcher and Peto graph shows the effects of smoking cessation. The green line follows the normal trajection of a healthy individuals FEV1 as they age. The red line shows the trajection of a smoker. The orange lines show the effect of smoking cessation - the FEV1 begins to fall at the rate of a non-smoker though existing damage is not reversed.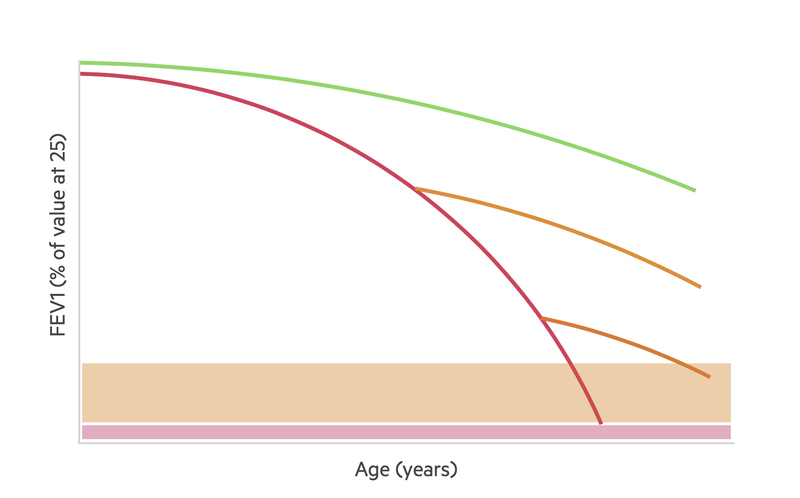 The annual flu and a one-off pneumococcal vaccination are recommended. Physiotherapy may play an important role.
Acute exacerbation
A decision should be made whether to treat in the community or in a hospital based on the severity of the exacerbation. An ABC approach should be used.
Exacerbations are typically treated with:
Bronchodilators: may be delivered by handheld devices or nebuliser.
Prednisolone: 30mg for 5 days.
Antibiotics: used when an infective cause is suspected.
Type II (hypercapnic) respiratory failure
Patients with COPD are at risk of developing type II respiratory failure i.e. PaO2 < 8 kPa and PaCO2 > 6.7 kPa. See notes titled 'Ventilation' for more details.
Oxygen therapy must be used carefully in patients with COPD, typically saturations of 88-92% are targeted. ABGs may be necessary to monitor for CO2 retention.
Venturi masks are ideal as they allow an exact FiO2 (fraction of inspired oxygen) to be administered.