Abnormal tachyarrhythmias derived from reentrant circuits involving the AVN are known as 'SVT'.
Confusingly, a supraventricular tachycardia (SVT) can refer to the origin of a tachyarrhythmia or a subset of abnormally fast heart rhythms that are due to reentrant circuits involving the AVN.
In clinical practice, the term SVT is reserved for these reentrant arrhythmias, which are broadly divided into two types: atrioventricular nodal reentrant tachycardia (AVNRT) and atrioventricular reentrant tachycardia (AVRT).
AVNRT
This is the most common SVT (50-60%), which typically occurs in patients with a structurally normal heart. It is due to additional conduction pathways within the AVN, which allows initiation of a reentrant circuit.
There is usually a rapid, narrow-complex tachycardia with absent P waves.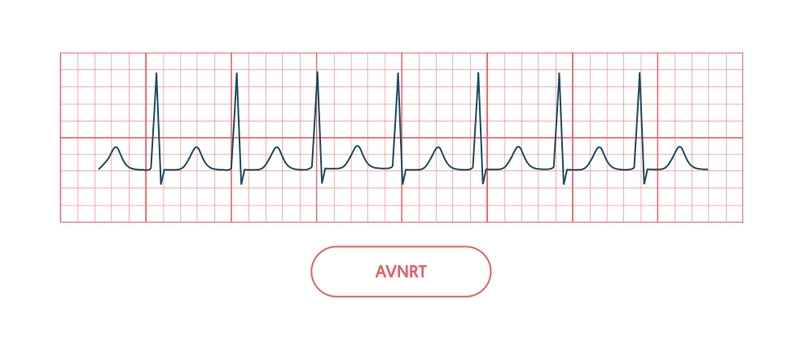 AVRT
This is the second most common SVT (30%), which usually presents at a younger age than AVNRT and can occur in children. It is due to an accessory pathway away form the AVN. These pathways may enable electrical impulses to pass antegrade (atria to ventricles) or retrograde (ventricles to atria), which establishes the reentrant circuit.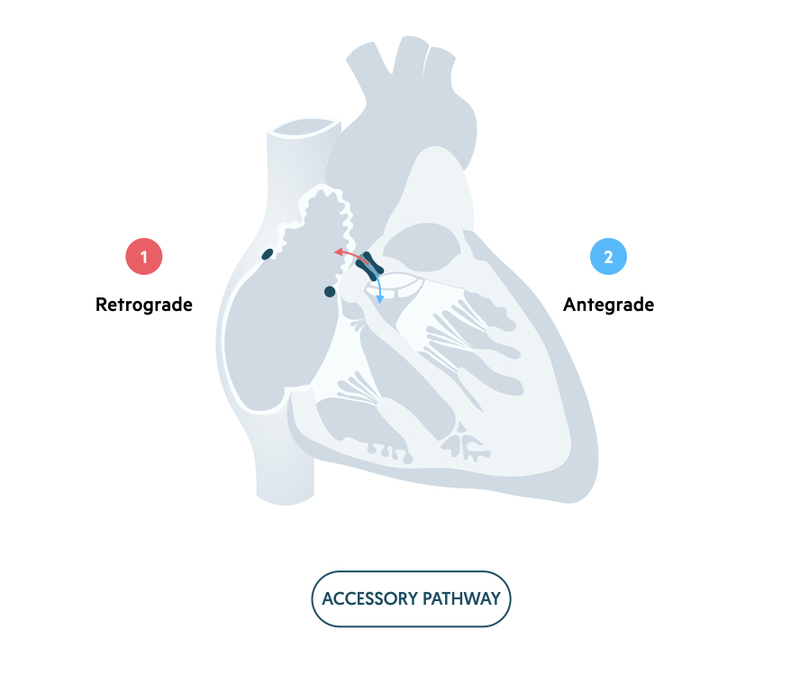 It can be difficult to distinguish AVRT from AVNRT on an ECG during the tachyarrhythmia. The characteristics of the ECG depends on the direction of electrical impulses via the accessory pathway during the tachyarrhythmia. We refer to these directions as orthodromic and antidromic.
Orthodromic (common): antegrade conduction via AVN, retrograde conduction via accessory pathway. Appearance similar to AVNRT. Rapid, narrow complex (QRS <120 ms) with absent P waves (or abnormal if retrograde conduction seen).
Antidromic (uncommon): antegrade conduction via accessory pathway, retrograde conduction via AVN. Appearance similar to VT. Rapid, broad-complex (QRS >120 ms) with absent P waves.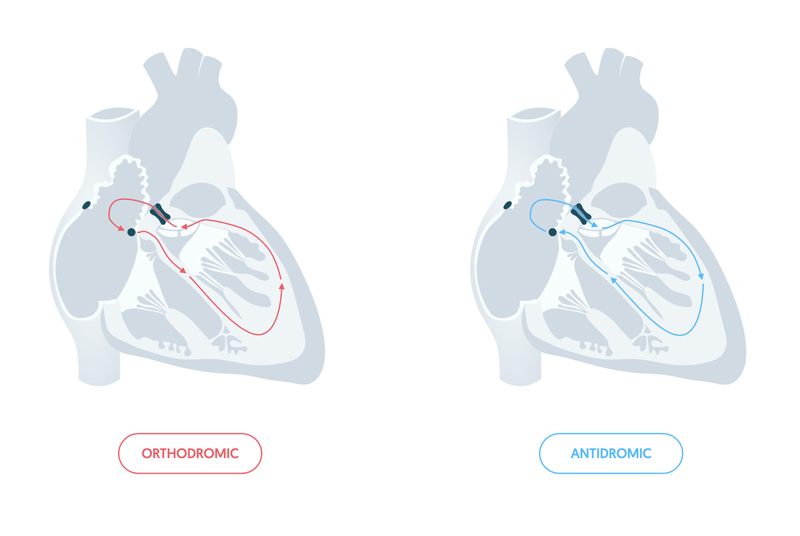 On a resting ECG, we may see evidence of an accessory pathway due to pre-excitation (early depolarisation of the ventricles). The classic pre-excitation syndrome that leads to episodes of AVRT is Wolff-Parkinson-White (WPW) syndrome.
Wolff-Parkinson-White syndrome
WPW is a preexcitation syndrome that is characterised by a congenital accessory pathway and episodic tachyarrhythmias.
The accessory pathway in WPW is usually referred to as the 'Bundle of Kent' and it can allow conduction antegrade or retrograde. If there is antegrade conduction during normal electrical activity it can be seen on the resting ECG. Retrograde only conduction 'conceals' the accessory pathway.
The ECG pattern in WPW is due to the early (i.e. pre-excitation) of the ventricles via the accessory pathway. This leads to a short PR interval as there is no AV conduction delay, which is followed by an early slurred upstroke in the QRS complex, called a delta wave. The remaining QRS complex is normal because the usual conduction via the AVN, His bundle and branches 'catches up' with the pre-excitated impulse.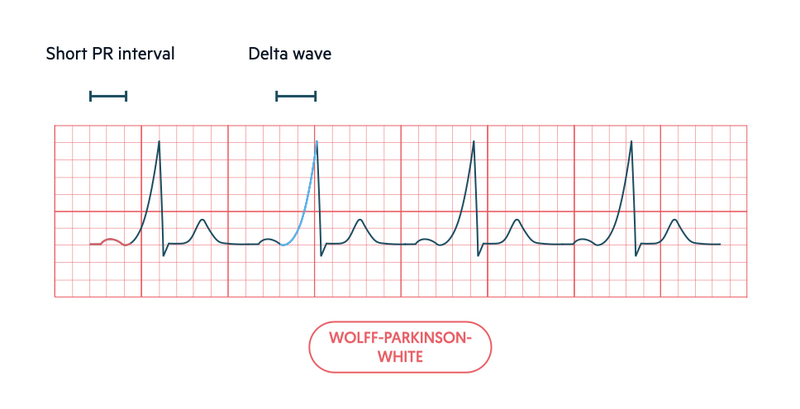 The main concern in WPW is development of AF, which may be conducted to the ventricles leading to a rapid ventricular response. This could deteriorate into ventricular fibrillation.