A number of antiarrhythmics do no fit in the Vaughan-Williams classification.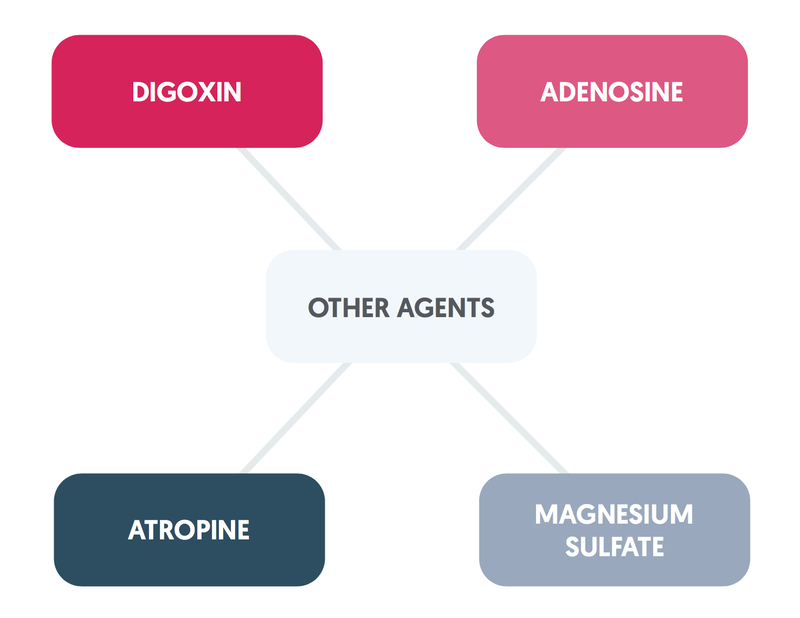 1. Digoxin
Digoxin is a cardiac glycoside derived from the foxglove plant. It inhibits a Na+/ K+ -ATPase pump on cardiomyocytes. This pump acts to take sodium out of the cell and pump potassium back, in a ratio of 3:2. This helps drive calcium out of the cell via an exchanger.
This reduction in extracellular calcium results in an increase in intracellular calcium levels. As such, the contraction is more forceful (digoxin is a positive inotrope).
Primarily excreted by the kidneys, care is needed in patients with renal impairment. Digoxin may cause ECG changes including ST depression and T-wave changes. Digoxin toxicity may cause PR prolongation and lead to arrhythmias. In addition, hypokalaemia potentiates the effects of digoxin.
Adverse events are common due to its narrow therapeutic window, these include:
Nausea and vomiting
Visual disturbances (yellow halos, changes to colour perception - see van Gogh's 'Starry night')
Insomnia and sleep disturbance
Proarrhythmic effects
Gynaecomastia (disputed)
2. Adenosine
Adenosine, a purine nucleoside, acts on the SA node to reduce heart rate and the AV node to slow conduction. It is used primarily to treat supraventricular tachycardias, particularly those with an AV nodal re-entry circuit. It is rapidly metabolised with a half-life of less than 10 seconds.
Adverse effects:
Sense of impending doom
Bradycardia, AV block
Flushing
Headache
Bronchospasm (avoid use in asthmatics)
3. Atropine
Atropine is a muscarinic antagonist that can be derived from the deadly nightshade plant. Atropine inhibits vagal activity alleviating parasympathetic depression of SA node activity, and as such the heart rate increases. It can be used to treat sinus bradycardia and AV block.
Adverse effects:
Nausea
Blurred vision
Dilated pupils, photophobia
Dry mouth
4. Magnesium sulfate
The antiarrhythmic mechanism is poorly understood. Used in the treatment of polymorphic ventricular tachycardia (torsades des pointes) and digoxin toxicity dysrhythmias (although is contraindicated in AV block or bradycardia).