MEN 1 is an autosomal dominant condition with a frequency of 1 in 30,000.
It is caused by a mutation to the MEN 1 tumour suppressor gene. The condition is characterised by a specific collection of endocrine tumours (the three P's). In addition to the three P's, cutaneous tumours such as angiofibromas are common.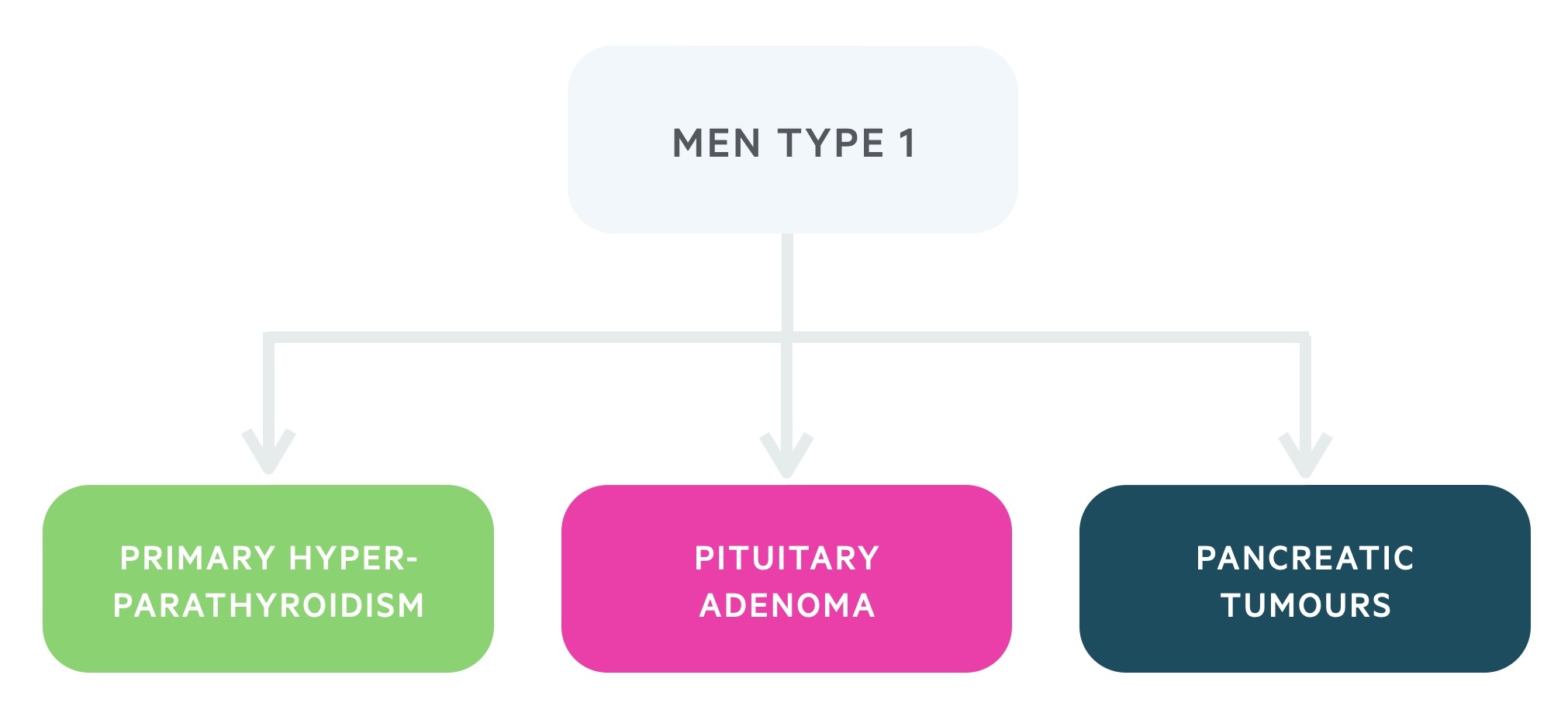 1. Primary hyperparathyroidism
This occurs in over 90% of patients with MEN 1. It differs from sporadic cases as it presents earlier and has an even sex distribution. Disease usually affects many, if not all, the parathyroid glands and has high rates of recurrence following surgical excision.
Parathyroid hormone has multiple effects on calcium homeostasis including the activation of vitamin D, increasing serum calcium levels. Patients may present with symptoms of hypercalcaemia.
For more information, see our notes on Primary hyperparathyroidism.
2. Pituitary adenomas
These affect around 50% of patients. They can affect a number of different cell types. They are more likely to be macroadenomas (and therefore have features of mass effects) than in sporadic cases of pituitary adenomas.
A number of cell lines may be affected:
Mammotrophs: Results in hyperprolactinaemia caused by a prolactinoma.
Somatotrophs: Acromegaly occurs due to excess growth hormone.
Corticotrophs: Results in the release of excess cortisol (Cushing's syndrome) through excess production of ACTH.
3. Pancreatic tumours
The two major pancreatic tumours that occur in MEN 1 are insulinomas and gastrinomas.
Insulinomas are tumours of insulin-producing beta cells of the pancreas. The excessive insulin release leads to a hyperinsulinaemic state and patients may present with episodes of severe hypoglycaemia. It should be suspected in the presence of high serum insulin and hypoglycaemia.
Gastrinomas are tumours of gastrin secreting G cells, which leads to excessive gastric acid secretions due to stimulation of parietal cells. Zollinger-Ellison syndrome is a condition characterised by a gastrinoma and recurrent peptic ulcers commonly associated with diarrhoea. Symptoms are mainly due to the peptic ulcers whilst the diagnosis is based on high serum gastrin levels with ulceration seen on endoscopy.