All patients presenting with an UGIB should initially be resuscitated with respects to airway (A), breathing (B) and circulation (C).
Resuscitation
Airway
Breathing

Saturations
Respiratory rate
Breath sounds

Circulation

Blood pressure & heart rate
ECG
Establish IV access (two wide-bore cannula)
Take blood (e.g. FBC, U&Es, clotting, LFTs, cross match)
IV fluid if appropriate (0.9% normal saline)
Consider blood products
Endoscopy
Following resuscitation, unstable patients should be transferred for an immediate endoscopy. It is recommended that all other patients have endoscopy within 24 hours of admission.
Management can then be divided according to 'non-variceal' or 'variceal' bleeding.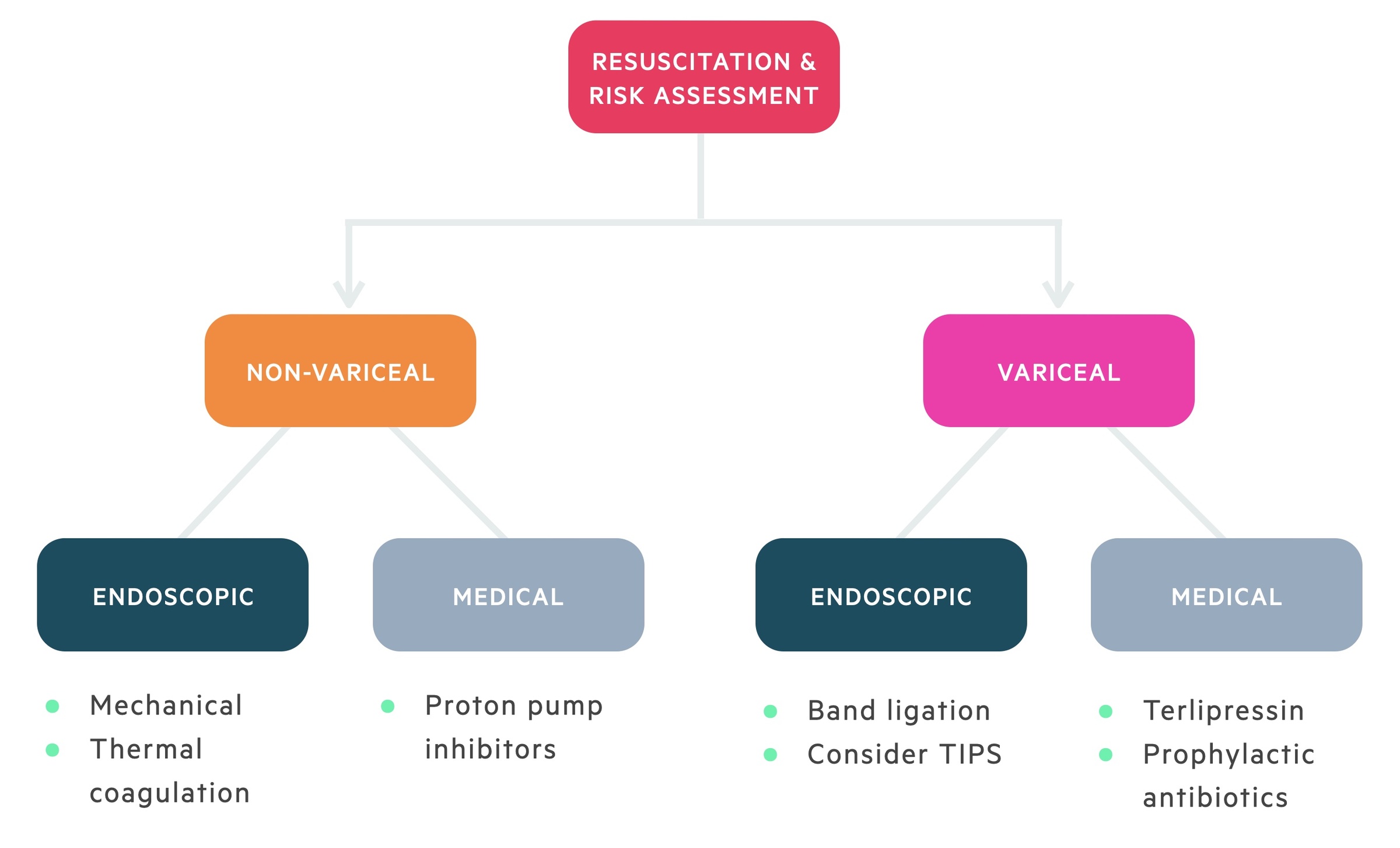 Non-variceal bleeding
The most common cause of non-variceal upper GI bleeding is peptic ulcer disease. The need for intervention depends on the characterisation of the ulcer, which can be classified using the Forrest classification (beyond the scope of these notes). Management below focuses mainly on that of peptic ulcer disease. Alternative pathologies may be treated slightly differently (e.g. argon photocoagulation for angiodysplasia).
A number of techniques can be employed at the time of endoscopy to treat non-variceal causes of UGIB. In general, dual therapy should be given (i.e. adrenaline plus another modality)
Mechanical (e.g. clips) with adrenaline
Thermal coagulation with adrenaline
Proton pump inhibitor therapy should be reserved for patients with a non-variceal UGIB with evidence of recent haemorrhage during endoscopy.
A repeat endoscopy should be completed in patients who re-bleed, or are suspected to be high-risk of re-bleeding. Unstable patients who re-bleed post-endoscopy should be offered radiological (e.g. embolisation) or surgical intervention.
Variceal bleeding
Pharmacological intervention
Terlipressin (IV injection)

Analogue of vasopressin (ADH)
Causes splanchnic vasoconstriction
This reduces portal pressures

Prophylactic antibiotic therapy

Reduces the risk of spontaneous bacterial peritonitis
Endoscopic intervention
Variceal band ligation (VBL)

Completed acutely. Patients then need to undergo variceal banding programme every 2-4 weeks until varices have gone.

Endoscopic sclerotherapy

Alternative option to VBL that involves injection of a sclerosing agent.
Failed intervention
Patients may re-bleed despite endoscopic therapy. An initial re-attempt of variceal band ligation may be appropriate. If these attempts fail, further options include:
Sengstaken-blakemore tube:

Bridging therapy, at risk of oesophageal necrosis if left > 24 hours.

Oesophageal stent:

Alterantive to Sengstaken-blakemore tube.

Transjugular intrahepatic portosystemic shunt (TIPS) procedure:

Interventional radiological procedure to create a shunt between portal and systemic venous circulation to reduce portal pressure.
A definitive treatment in appropriately selected patients.