Early risk stratification helps identify high-risk patients & need for prompt intervention. Two scoring systems are used in patients presenting with UGIB.

1. Rockall scoring
The Rockall score is comprised of both a pre- and post-endoscopy score that can be added together to give an overall value.
The pre-endoscopy score is composed of three sections:
Age (0-2)
Shock (0-2)
Co-morbidity (0-3)
Patients with a score of 0 are at low risk of re-bleeding and death. This group of patients (approx. 15%) may be discharged early or not admitted.
The post-endoscopy score is composed of two sections:
Diagnosis (0-2)
Bleeding (0-2)
This score can be remembered using the mnemonic ABCDe
Age
Blood pressure (shock)
Comorbidity
Diagnosis
Bleeding.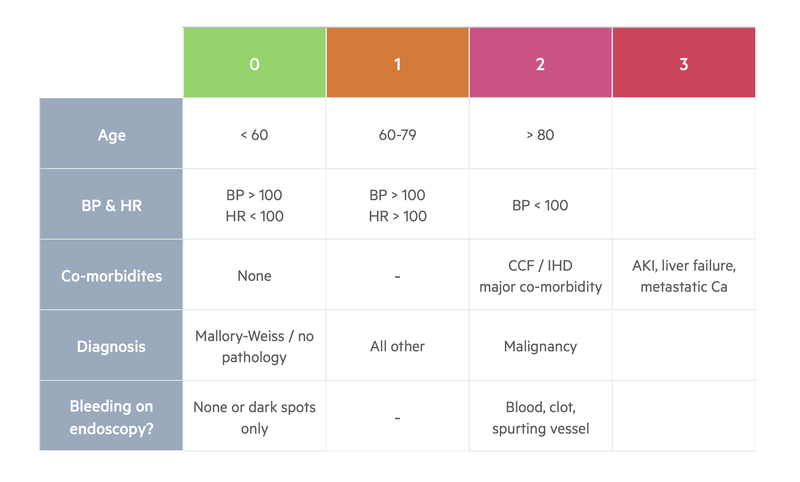 Blatchford score
The Blatchford score takes into account a number of different clinical findings, biochemical parameters and past medical history.
NICE recommends the use of the Blatchford score at first assessment, followed by the Rockall score post-endoscopy.
Similar to the Rockall score, a score of 0 on the Blatchford score is associated with a low risk of mortality and patients can be considered for early discharge and non-admission.