Diagnosis of hepatitis D is based of serological markers and HDV RNA levels.
Hepatitis D and B serological markers and viral levels are important to distinguish between both acute and chronic infection, as well as coinfection and superinfection.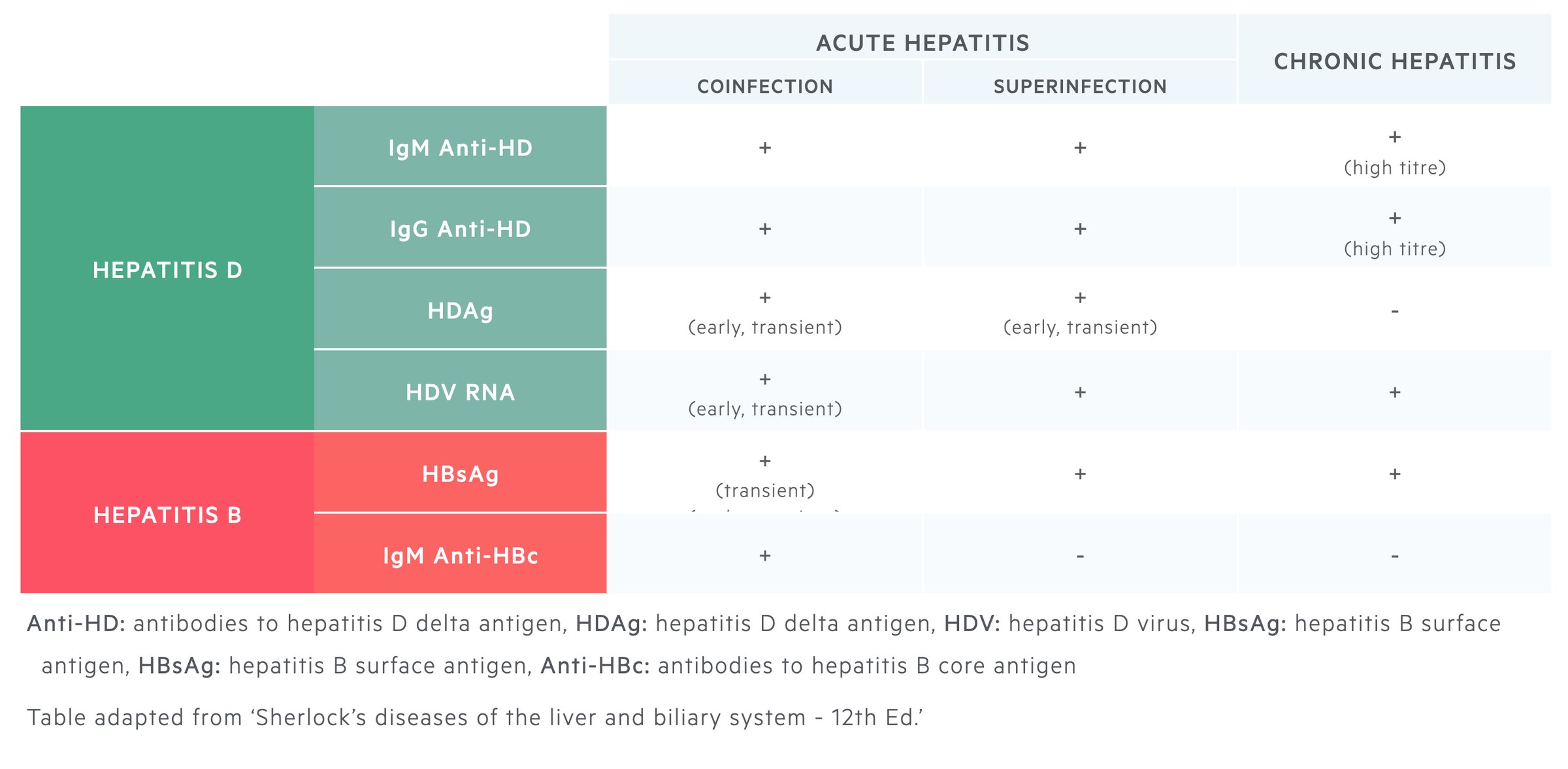 Coinfection
Characterised by markers of acute hepatitis B infection and acute hepatitis D infection.
Markers of acute hepatitis B: IgM antibodies to core antigen (IgM Anti-HBc) + HBsAg. Other markers include hepatitis B e antigen or the antibody directed against it (Anti-HBe) and IgG anti-HBc.
Markers of acute hepatitis D: IgM antibodies to delta antigen (IgM Anti-HD) +/- IgG antibodies to delta antigen (IgG Anti-HD). Serum HDAg may be transiently detected. HDV RNA usually detectable.
See hepatitis B for more information on the diagnosis of hepatitis B.
Superinfection
The absence or presence of IgM Anti-HBc at only low titres is the key differentiating factor between coinfection and superinfection.
Features of superinfection:
Hepatitis B markers: Low/Absent IgM Anti-HBc + IgG Anti-HBc + HBsAg.
Hepatitis D markers: Transient high HDAg levels + HDV RNA + IgM/IgG anti-HD.
Chronic infection
Chronic hepatitis D infection is characterised by persistence of IgM Anti-HD. High levels of this antibody are associated with HDV-induced liver injury and decrease in this antibody predict resolution.
IgG anti-HD, IgM anti-HD and HDV RNA levels are all found in chronic hepatitis D. HDAg is found in the liver, but due to interaction with antibodies, may not be detected in the blood.
Assessment of liver injury
Patients with evidence of acute hepatitis or chronic liver disease need a full liver disease screen requested and imaging of the liver (e.g. ultrasound or computed tomography).
Basic blood tests including full blood count, urea & electrolytes, bone profile, c-reactive protein, coagulation (inc. INR) and liver function tests are needed to assess for inflammation and the livers synthetic function.
Non-invasive tests (e.g. elastography) or invasive tests (e.g. liver biopsy) can be used to assess for the degree of fibrosis and/or presence of cirrhosis.