The facial nerve is divided into five branches, which collectively control the muscles of facial expression.
The facial nerve is the VII cranial nerve. The nucleus is located in the pons, which is part of the brainstem. The nerve root passes through the internal acoustic canal within the temporal bone in close proximity to the inner ear. It then enters the facial canal giving off several branches before exiting the skull via the stylomastoid foramen. It terminates into five terminal motor branches within the parotid gland.
Motor functions
Within the facial canal, the nerve to the stapedius is given off, to supply the stapedius muscle within the inner ear.
NOTE: A common exam question relates to the cause of hyperacusis in Bell's Palsy. This occurs due to weakness of the stapedius muscle though this particular sign is often absent.
The extracranial portion of the facial nerve contains the main motor root. Prior to reaching the parotid gland, three motor branches are given off:
Posterior auricular nerve
Nerve to the posterior belly of the digastric muscle
Nerve to the stylohyoid muscle
The facial nerve terminates within the parotid gland giving off five terminal motor branches:
Temporal
Zygomatic
Buccal
Mandibular
Cervical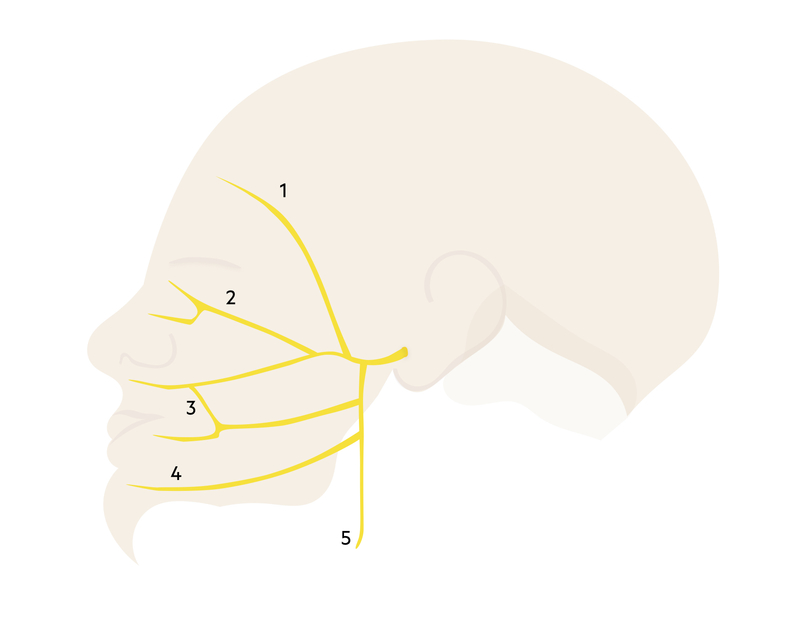 Parasympathetic functions
Greater petrosal nerve: arises in the facial canal. Provides parasympathetic supply to the lacrimal gland via the pterygopalatine ganglion.
Chorda tympani: arises in the facial canal. Provides parasympathetic supply to the submandibular gland and sublingual glands via the submandibular ganglion.
Special sensory functions
Chorda tympani: provides taste to the anterior two-thirds of the tongue.