Classifies the causes of anaemia based upon the underlying mechanisms.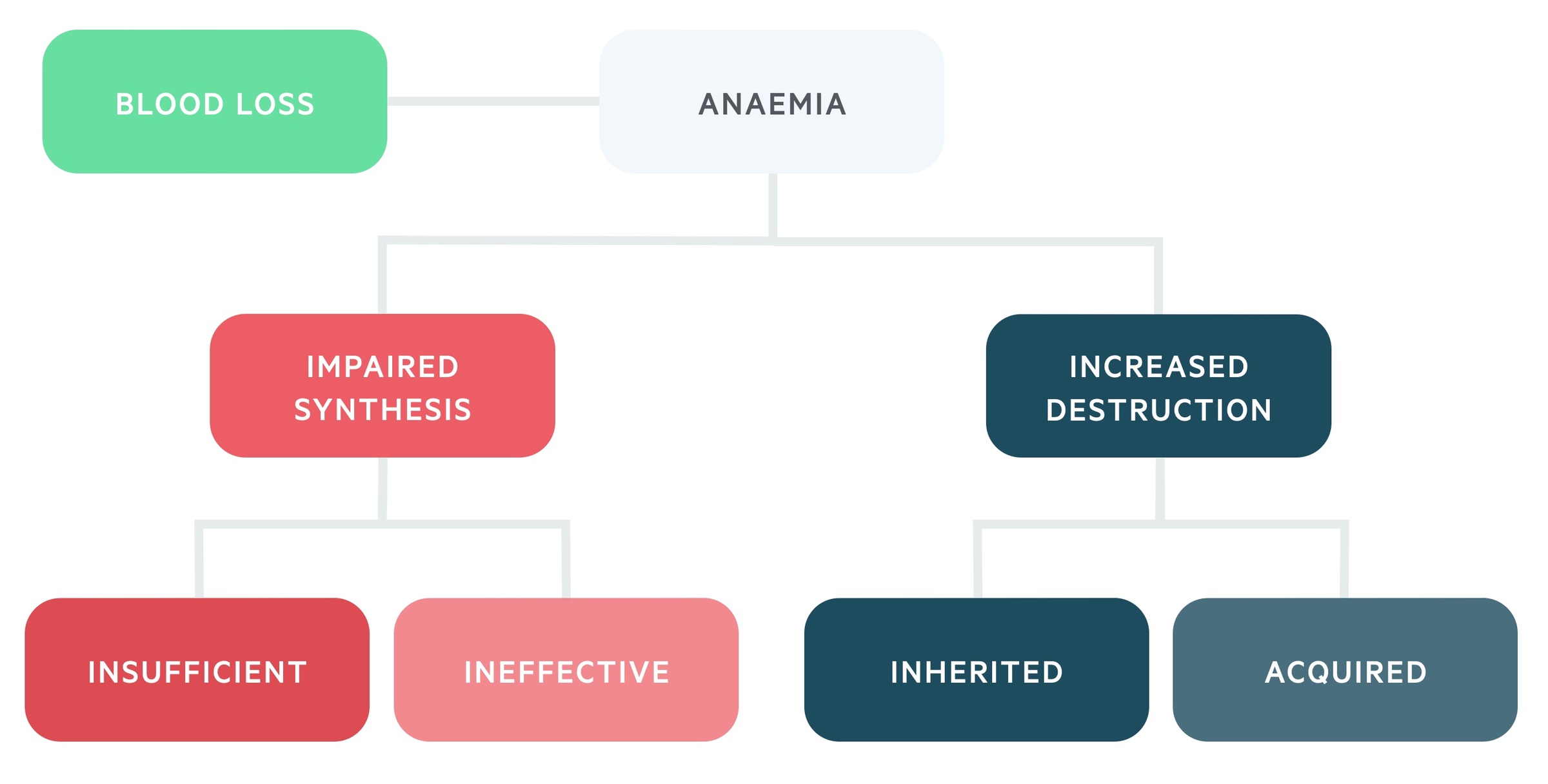 Impaired synthesis
Anaemia will develop if the rate of RBC production does not adequately meet the bodies requirements.
A decrease in RBC production can occur due to two main mechanisms:
Insufficient production of RBCs
Ineffective production of RBCs
Insufficient production of RBCs occurs when the normal erythropoietic process is reduced or inhibited. This may be due to a lack of required nutrients (e.g. iron), reduced hormonal influence (e.g. low EPO, hypothyroid), bone marrow suppression or bone marrow infiltration.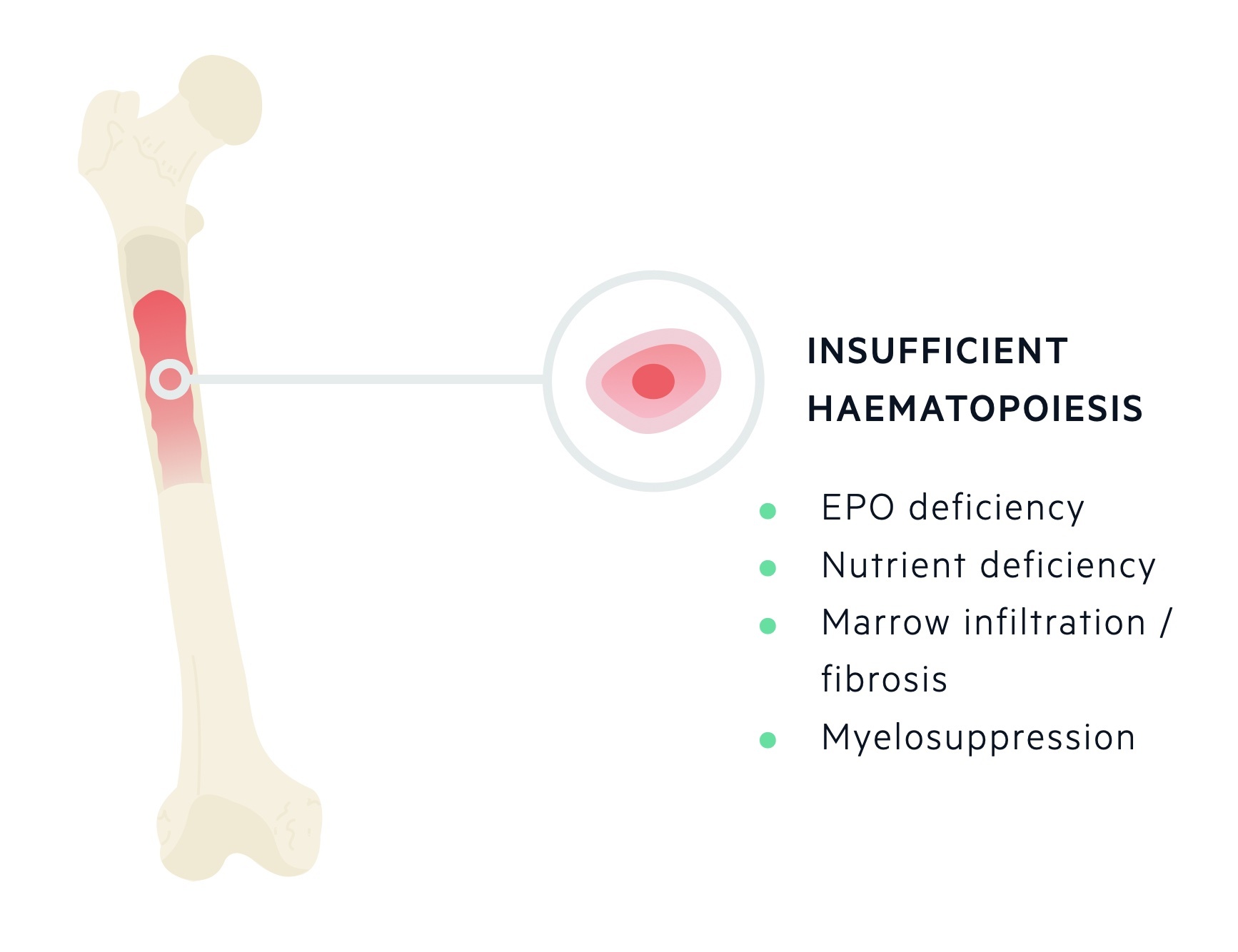 Ineffective production of RBCs occurs due to abnormal erythropoiesis. There is a marked increase in the erythroid cell line in the bone marrow, but erythroid precursors do not mature properly and subsequently undergo apoptosis. Conditions that lead to ineffective erythropoiesis include megaloblastic anaemias (e.g. folate and B12 deficiency), thalassaemias, myelodysplastic syndromes and sideroblastic anaemia.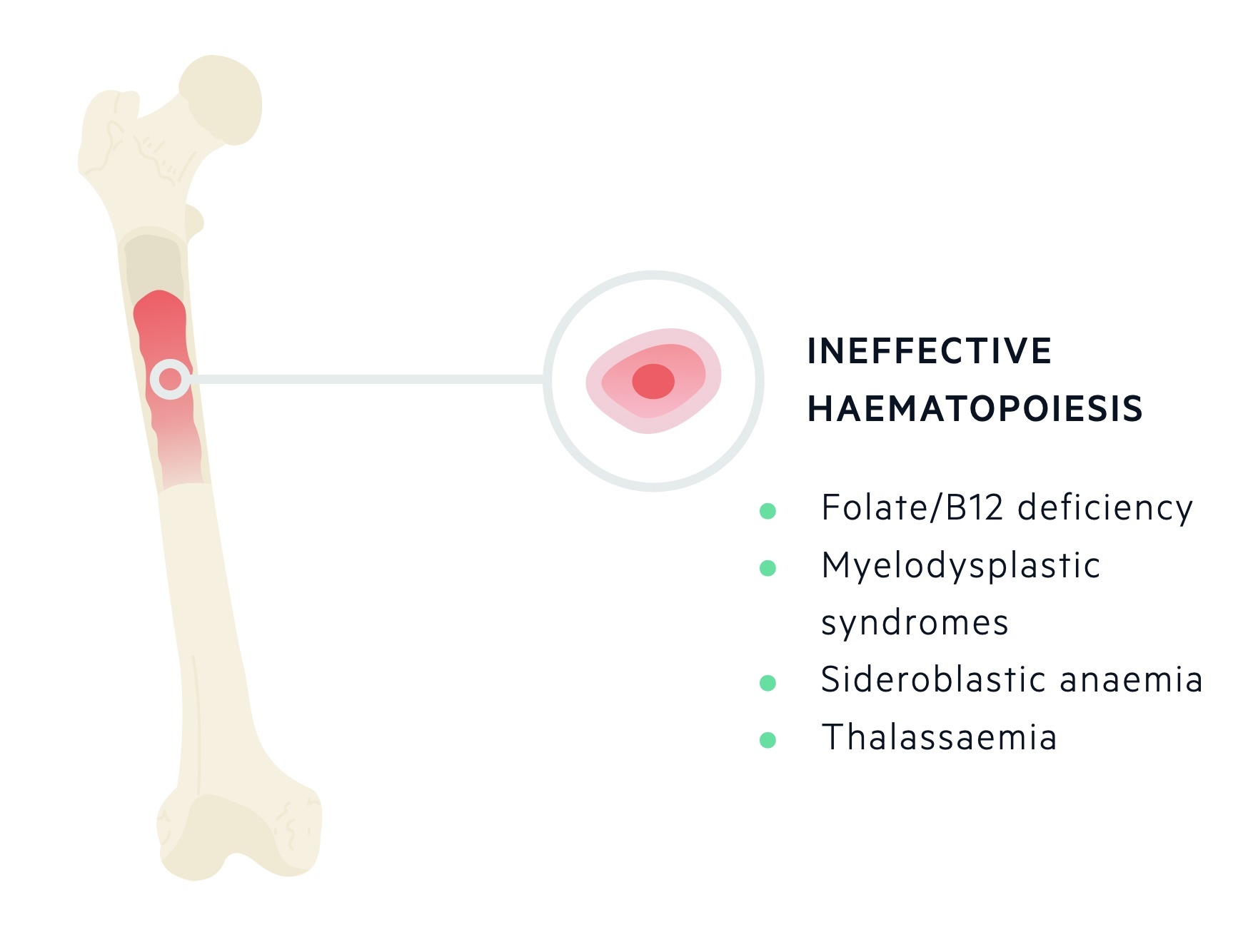 Increased destruction
Haemolysis refers to the destruction of red blood cells, which is broadly defined as a reduction in the lifespan of RBCs below 100 days (normal 110-120 days).
If RBC production in the bone marrow cannot keep pace with the level of haemolysis, then haemolytic anaemia with ensue. The haemolytic anaemias can be divided into inherited and acquired.
Inherited haemolytic anaemias can be further classified based on the site of inherited defect: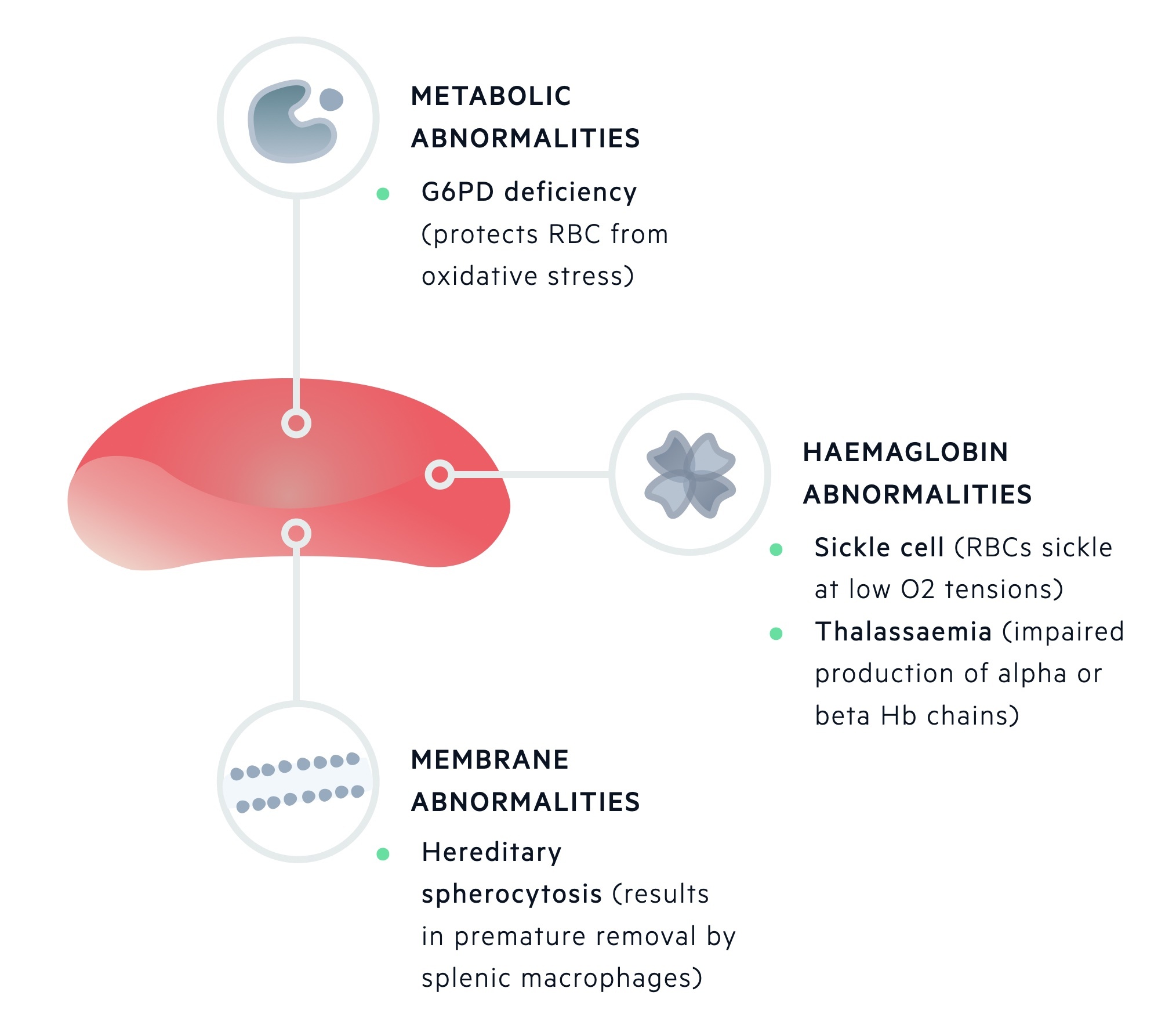 Acquired haemolytic anaemias can be divided into immune and non-immune:
Immune (e.g. warm and cold autoimmune haemolytic anaemia)
Non-immune (e.g. mechanical trauma, hypersplenism, infections, drugs)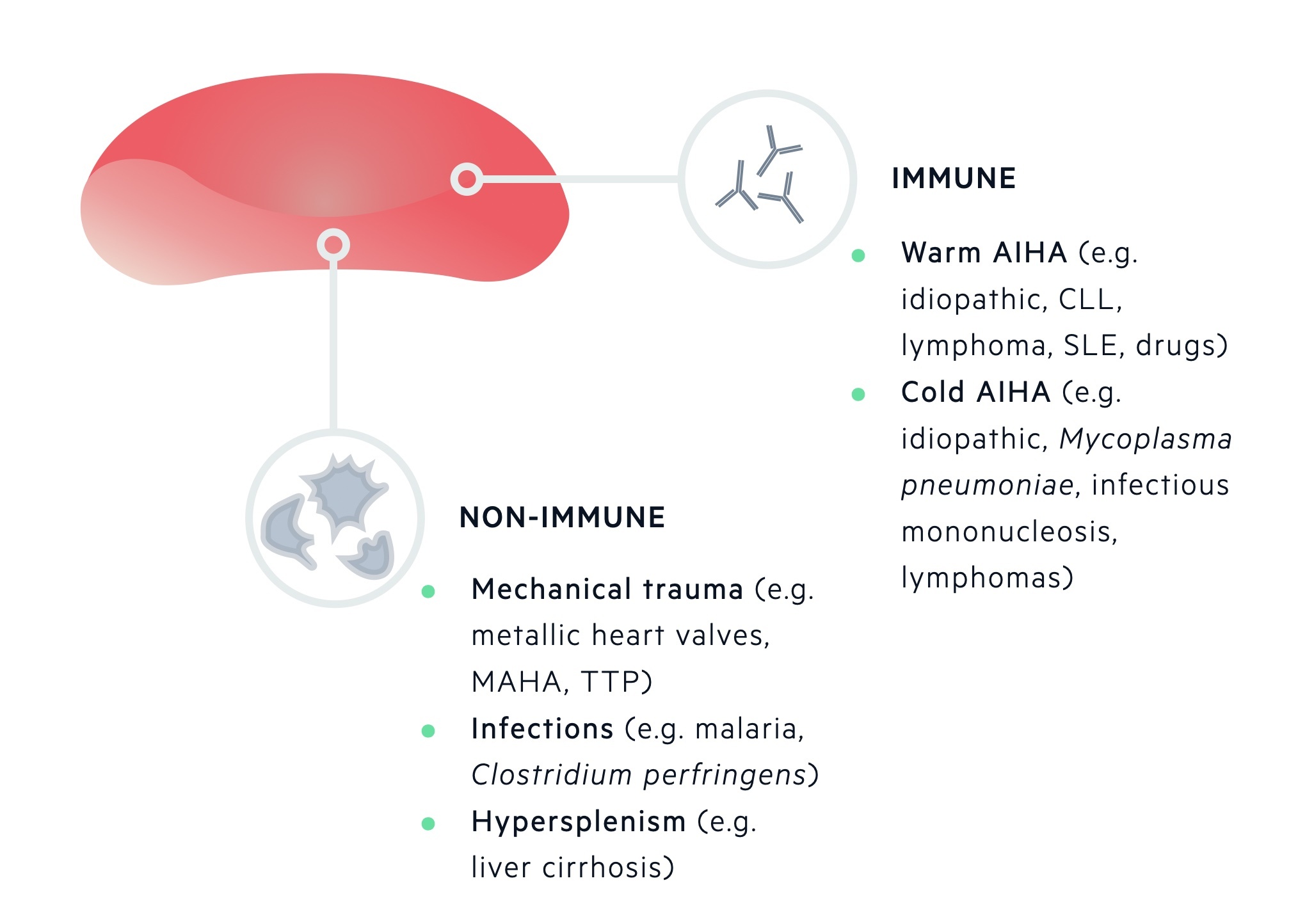 Blood loss
Blood loss is a common cause of anaemia, it may be obvious (e.g. trauma, haematemesis) or occult (e.g. gastrointestinal malignancy).
Erythrocytes form a major store of iron within the body. This means a loss of erythrocytes could lead to the development iron deficiency anaemia (IDA). Consequently, IDA commonly reflects blood loss from an unidentified source that requires further investigation.
Two common sources of blood loss include menstruation in young females and gastrointestinal bleeding in older populations.