Diagnosis of spontaneous SAH is suspected clinically and then confirmed on imaging or cerebrospinal fluid analysis.
SAH should be suspected in any patient with a sudden or rapid onset severe headache, which is classical of SAH. These patients require urgent assessment and computed tomography (CT) of the head.
Imaging
A plain CT Head is required to check for the presence of acute blood in the subarachnoid space. If performed within six hours of onset of symptoms (ictus), it has a sensitivity of 98.7% and specificity of 99.9% for detecting a subarachnoid haemorrhage. Additional imaging is required following diagnosis (discussed below).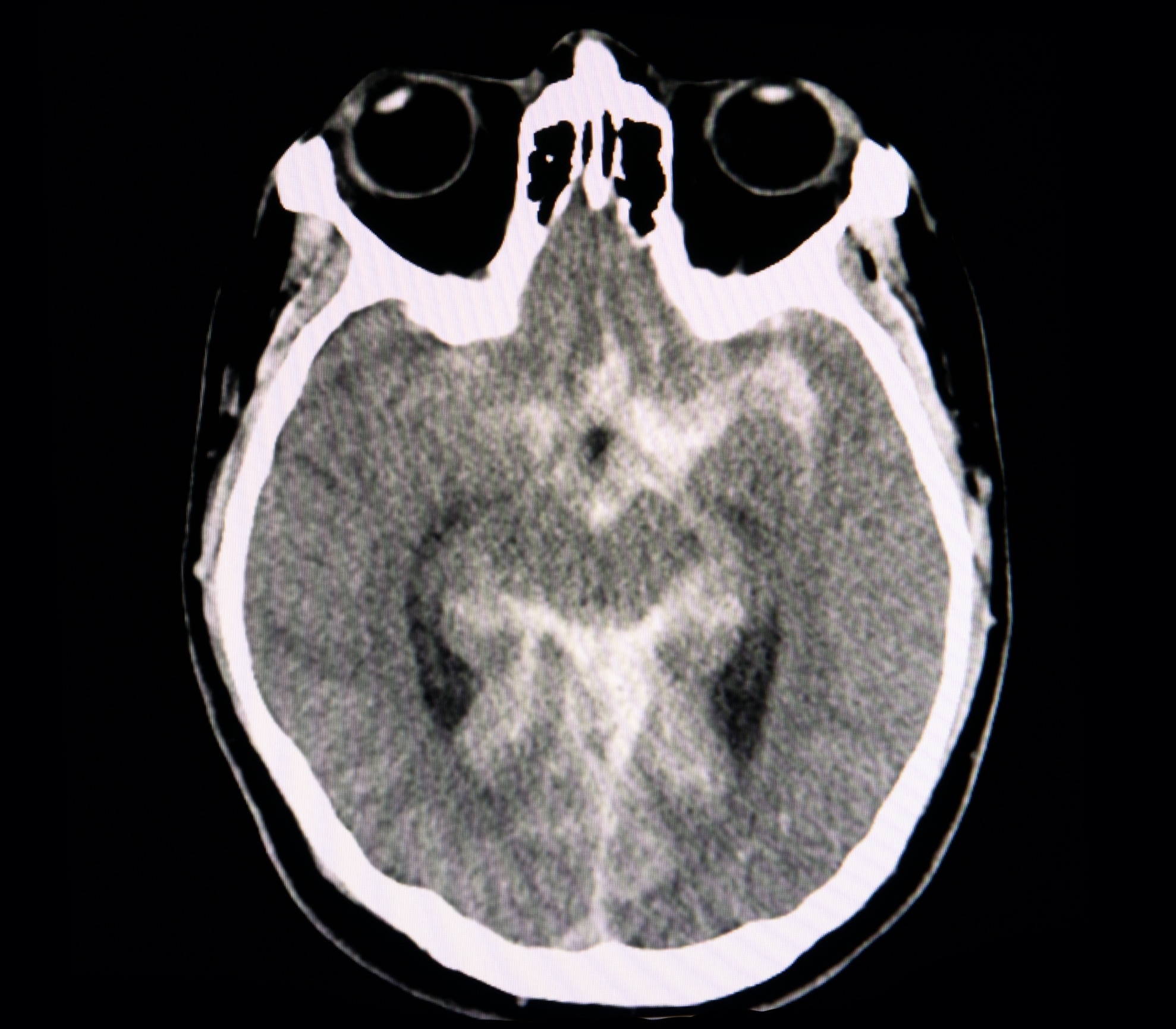 CT head showing subarachnoid haemorrhage
This high sensitivity and specificity declines over time. The sensitivity is only 58% at day 5. If CT is performed > 6 hours from symptom onset, then a lumbar puncture is required to exclude the diagnosis.
If a CT is performed within 6 hours of symptom onset and does not show a SAH, the risk of aneurysmal SAH is < 1%. A meta-analysis in 2016 showed that the risk of 'missed SAH' was < 1.5 in 1000 patients with SAH if no lumbar puncture was completed in patients meeting the following criteria:
Presentation: isolated 'thunderclap' headache
Timing: normal CT head <6 hours of headache onset
Interpretation: CT interpreted by an experienced radiologist
Clinical examination: Normal neurological examination
Therefore, the need for lumbar puncture should be a risk/benefit decision based on history, neurological status, and local pathways in patients presenting and being scanned within 6 hours. Current NICE guidelines published in November 2022 (NG228) advise that a lumbar puncture does not routinely need to be completed in this scenario.
Cerebrospinal fluid analysis
If a CT Head does not show any evidence of SAH then a lumbar puncture (LP) is required.
A LP is used to collect and assess the cerebrospinal fluid (CSF) for evidence of SAH. This is particularly important for patients presenting > 6 hours from onset.
Typically, haemoglobin and bilirubin are not found in CSF but after a SAH, red blood cells lyse and release oxyhaemoglobin which is converted to bilirubin. Oxyhaemoglobin on its own suggests a recent bleed or a traumatic lumbar puncture but the presence of both oxyhaemoglobin and bilirubin is suggestive of SAH. The LP should be delayed by 12 hours from symptom onset to improve the sensitivity of detecting red blood cell breakdown products (e.g. xanthochromia/bilirubin)
Four factors are important when completing a LP for SAH:
Opening pressure: elevated in SAH
Red cell count: elevated in SAH. May be seen in a traumatic LP. Sequential tubes (e.g. 1-4) can be taken to look for a fall in red blood cell concentration. A traumatic LP is supported by a significant reduction in red cells between the first and last tubes.
Xanthochromia (visual inspection): a breakdown product of haemoglobin. May be detected visually. At 12 hours post-SAH, 100% of patients will have xanthochromia. Lasts for ~2 weeks.
Bilirubin (spectrophotometry): spectrophotometry detects blood breakdown products, in particular, bilirubin. More sensitive than visual inspection. Samples must be protected from light and sent immediately to the laboratory for analysis. Lasts for ~4 weeks (if extensive bleed).
Further imaging
Once SAH has been established, angiography is needed to determine if there is any underlying vascular lesion. This involves a contrast scan called a CT Angiogram (intracranial). This helps to determine if there is any underlying aneurysm or arteriovenous malformation. Some aneurysms may go undetected on a CT angiogram, especially if the quality is poor.
The gold standard is digital subtraction angiogram (DSA). This is an invasive procedure which requires an arterial puncture (femoral or radial) and insertion of a guidewire and contrast. This procedure is both diagnostic and therapeutic as aneurysms can be investigated but also secured to prevent a re-bleed using coils and other various interventional devices.