Gastric secretions are coordinated by a series of neurohormonal mechanisms.
Approximately 2 litres of gastric secretions are produced each day. Gastric secretions are crucial for digestion and absorption of nutrients from our diet. The control of digestion is divided into three stages: cephalic, gastric and intestinal.
Cephalic
The cephalic stage of digestion occurs prior to the entry of food into the stomach. During the cephalic stage, there is an increase in hydrochloric acid and pepsinogen.
Higher cortical functions, senses (e.g. taste, smell), chewing and swallowing all drive the increases in gastric secretions. These processes lead to vagal stimulation which increases ACh release. ACh acts directly on parietal and chief cells triggering them to secrete HCl and pepsinogen respectively. It can also act indirectly via endocrine cells (e.g. G cells and enterochromaffin-like cells).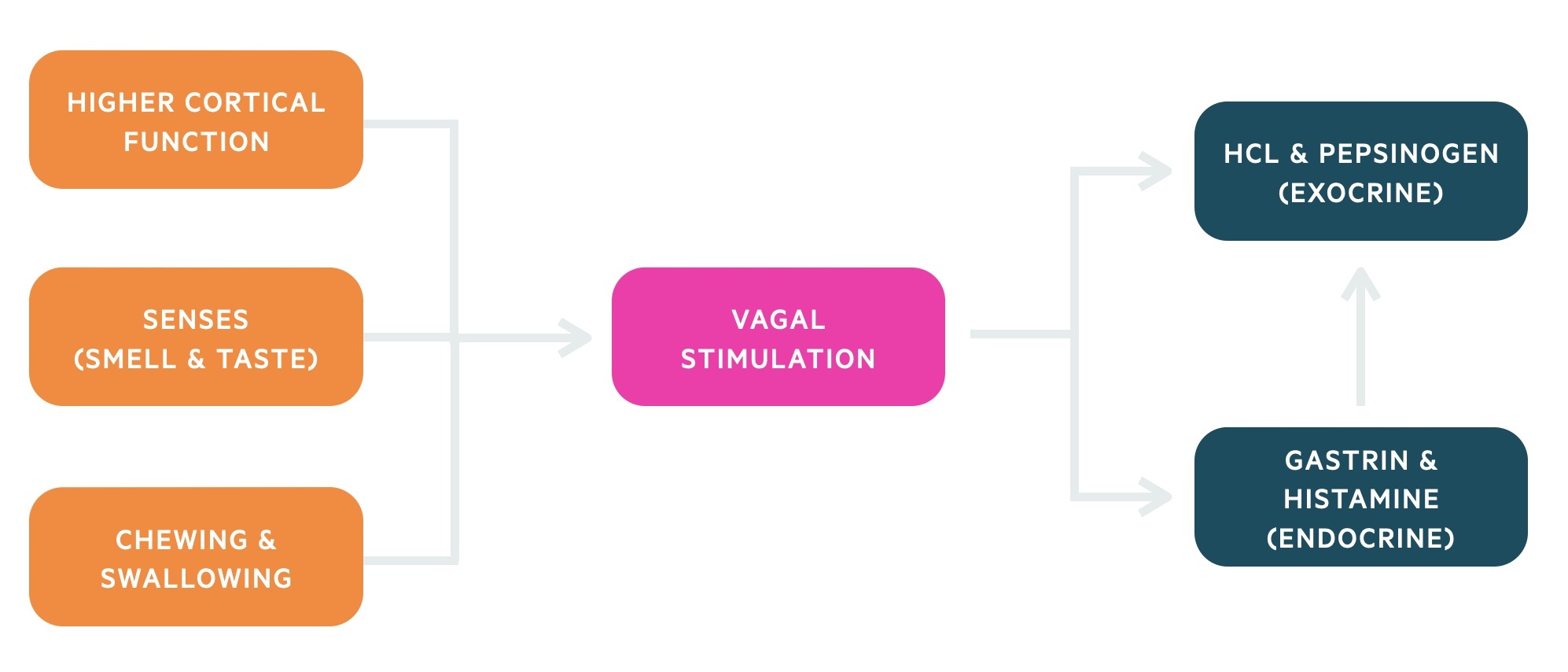 Gastric
The gastric stage features a significant increase in gastric secretions and follows food entering the stomach. Food entering the stomach leads to stimulation of the enteric nervous system and endocrine cells. Protein is the most powerful stimulus during the gastric stage of digestion.
Ultimately, there are many overlapping pathways that occur during the gastric phase of digestion, this culminates in increased secretion of two key products: pepsinogen and hydrochloric acid.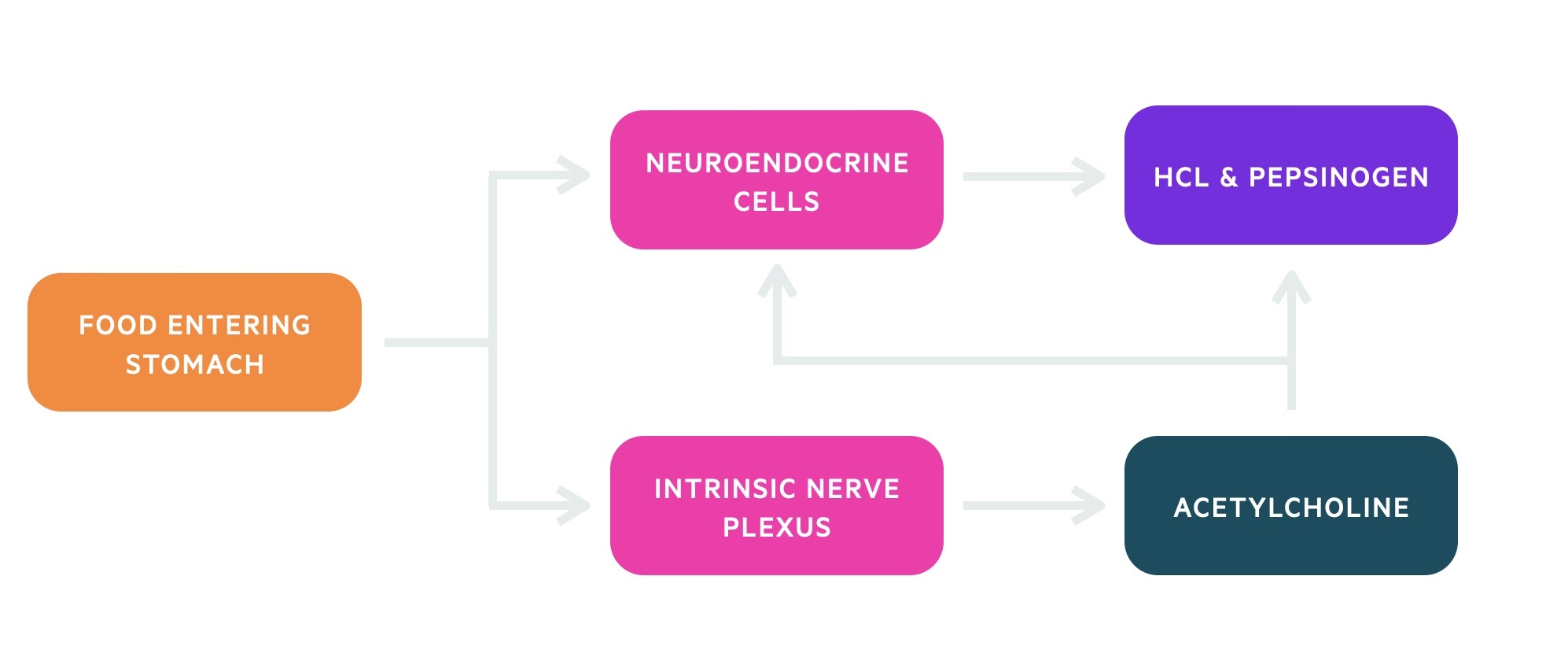 Hydrochloric acid (HCl), a strong acid, has numerous important functions within the stomach. It helps denature proteins and its low pH is key to the innate immune defence. It is also critical for the activation of the proenzyme pepsinogen into the active enzyme pepsin.
Pepsin is important in the breakdown of polypeptide chains into small peptide fragments. Pepsin is able to autocatalyse itself, this mean pepsin can activate pepsinogen. This leads to a significant increase in the availability of the active enzyme.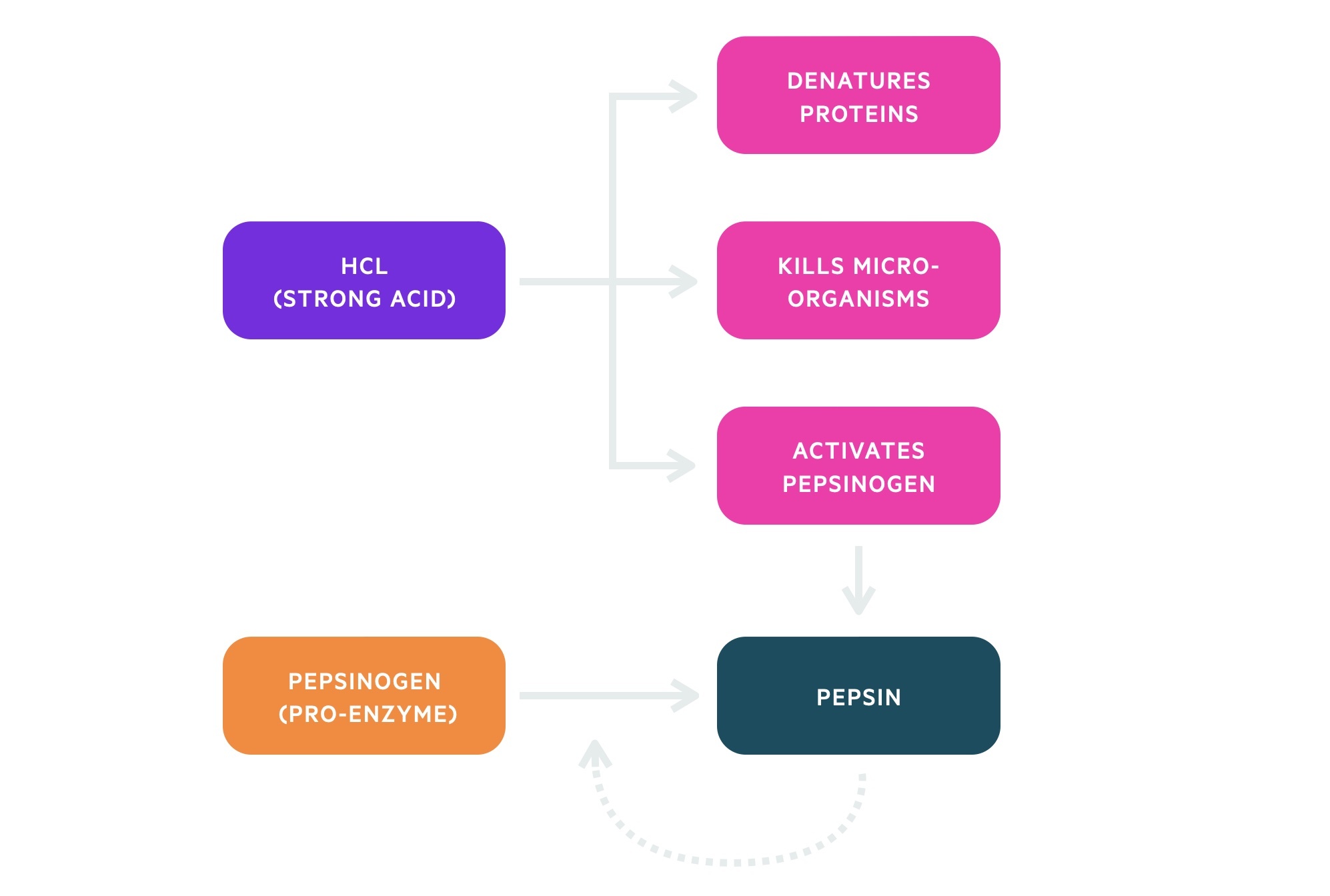 Intestinal
The intestinal stage of digestion is the final phase, which is chiefly inhibitory of gastric secretions. Gastric emptying of chyme into the duodenum stimulates the release of hormones from endocrine cells and activates local neurones.
Activation of D cells leads to the release of the inhibitory hormone somatostatin. This leads to a decrease in gastric secretions. Additionally, the loss of food from the stomach reduces the stimulus for further gastric secretions.