The four main functions of the small intestines include absorption, secretion, digestion and motility.
Secretion
The small intestines secrete up to 1-2 litres of digestive juices per day. These digestive juices are called the succus entericus, and they are the combined secretory product of goblet cells.
Digestion
The small intestines are important for the digestion of lipids, carbohydrates and proteins. Enterocytes contain a number of key enzymes on their luminal surface, which helps break large molecules into smaller fragments or single units that can be absorbed.
Carbohydrates are broken down by disaccharidases such as maltase, sucrase and lactase. These enzymes break disaccharides into single monosaccharide units.
Sucrase converts sucrose into glucose and fructose, maltase converts maltose into two glucose molecules and lactase converts lactose into galactose and glucose.
Proteins can be acted on by the enzymes enterokinase and aminopeptidase. Enterokinase converts trypsinogen into trypsin, which renders it active. Trypsin is then able to activate procarboxypeptidase and chymotrypsinogen.
Lipid digestion begins in the small intestines with the emulsification of fat by bile and the secretion of pancreatic lipase.
Motility
The motility of the small intestines is divided into two important mechanisms; segmentation and migrating motility complex (MMC).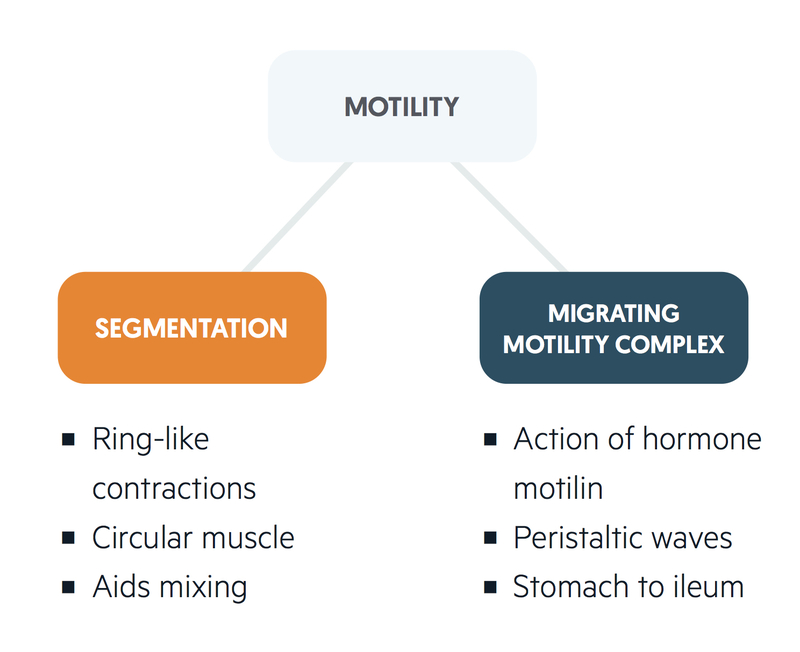 Segmentation is the process of ring-like contractions of the small intestines that help to mix and propel intestinal content. These contractions occur due to oscillating circular muscle contraction. They are controlled by the basic electrical rhythm (BER).
The BER refers to oscillations in membrane potential that bring the muscle closer and further from threshold potential.
During times of fasting, segmentation stops and the MMC takes over, which is described as the 'intestinal housekeeper'.
Peristaltic waves are generated, initially in the stomach, and cause a wave of depolarisation throughout the digestive tract, which moves intestinal content forward.
Over 100-150 minutes the remaining intestinal content is swept towards the colon. The cycle can then be repeated once finished. The MMC is regulated by the hormone motilin.
Absorption
Absorption is the primary function of the small intestines. It describes the transfer of nutrients from our diet into the circulation.
We have specialised mechanisms for the absorption of many substances including carbohydrates, proteins, lipids, iron and calcium. These cellular processes are all described in further detail below.